01. Sweden Sweden -
mp3
02. Cheese My Dad -
mp3
03. Fell In Love With A Woman Twice My Size
04. I Am Eleven Years Old, I Have No Animals
05. Signed Up For Games And Theory
06. High Tech Towers
07. Shut Up Or Chaque Jour
08. This Is Not A Teaser
09. Illuminati
10. Viper
Reorded and mixed at Lablaza by Dieter Hallén and Alarma Man.
Mastered at Music A Matic by Örjan Hendriksson and Henryk Lypp.

Erinnert sich jemand an Schweden? Erinnert sich jemand an Umeå, an Luleå? Erinnert sich jemand an ein ungeheures musikalisches Potenzial, an ein Gefühl der nahenden Veränderung aller Dinge? Weiß jemand noch, wie diese Spannung an Intensität verlor, wie sie nach und nach der Eitelkeit, den Befindlichkeiten und dem leichten Weg geopfert wurde? Kann noch jemand sagen, wann man das letzte Mal von Rockmusik aus Schweden nicht einfach nur bestens bedient, sondern komplett umgeblasen wurde, überrascht und geschüttelt und verbrannt und neu geboren?

Oder anders gefragt: Will mal wieder jemand?

Als Haken schlagende Dampfwalze, als Erlöser mit Turboboost, als apokalyptische Lässigkeit blasen Alarma Man solche rhetorischen Fragespielchen einfach weg und um und beiseite. Was bleibt, ist die Antwort: Ja, ich will. Und: Ja, ich will noch mehr. Vier zappelige junge Männer aus den wirreren Ecken Göteborgs geben noch mehr, geben wohldosiert schlichtweg Alles, und davon viel. Nimm Refused und Breach als Ansatz, nimm Don Caballero als Idee, transportiert nach 2006 und mit den Erkenntnissen, Ergebnissen, Schleudertraumata der letzten Jahre Post- und Indiestyle unterfüttert. Blas es auf, beschleunige, mach dir ein Bild und lass es von Alarma Man zerhauen. Ja, ich will noch mehr.

Niklas Fors, Viktor Lager, Carl Fredriksson, Andreas Litfeldt - sechzehn Saiten und ein Schlagzeug in ständiger Bewegung, rasant mitreißend und dauerhaft fantastisch. Gekonnt vereint die Band Death Metal, Indiepopästhetik und Hardcore und schafft es, sie alle durch Spielfreude und Geschwindigkeit tüchtig zu verwirren, zu beleidigen und neu strahlen zu lassen. Alarma Man sind Irrgartenmathematik, Arpeggiopunk und Action voller Action. Sie sind, was gebraucht wird. Ja, ich will. Wie war die Frage?

Do you remember Sweden? Do you remember Umeå or Luleå? Do you recall a monstrous musical potential, a feeling of the oncoming change of everything? Do you remember how this tension lost intensity, how by and by it was sacrificed to vanities, self-interest and the easy way? Can you say when rock music from Sweden did not only serve you in the best way possible, but blew you away, suprised you and shattered you and burnt you and gave you a new life?

Let's cut it short: Care for another try?

A zig-zagging steamroller, a turbo-boosted saviour, an apocalyptic nonchalance, Alarma Man blow all these rhetorical questions up and away. It's the answer that remains: Yes, I do. Yes, I do want more. Four fidegty young men from Gothenburgs mazy corners will give you more. In exact doses, they'll give you Everything – and a lot of it. Take Refused and Breach as a basis, take Don Caballero as an idea, teleported to 2006 and supported by the insights, results and whiplash injuries of post- and indierock's past few years. Make it big, make it fast, get a picture of what we mean – and let Alarma Man hack it apart. Yes, I do want more.

Niklas Fors, Viktor Lager, Carl Fredriksson, Andreas Litfeldt – sixteen strings and a set of drums in constant motion, rapidly stirring and steadily fantastic. Skillfully blending death metal, indie pop aesthetics and hardcore, the band manages to confuse and insult these genres with speed and pure Spielfreude, making them shine again. Alarma Man are labyrinth math core, arpeggio punk and action full of action. There are what we need. Yes, I do. What was your question?
GET THIS NICE RECORD!

CD via Sinnbus Shop
Audio files via iTunes | musicload

LINKS:

alarmaman.com
myspace.com/alarmaman
uts,m! booking

COVERPICTURE:

cover_blue.jpg (1200 kb)
cover_red.jpg (1200 kb)

BANDPICTURES: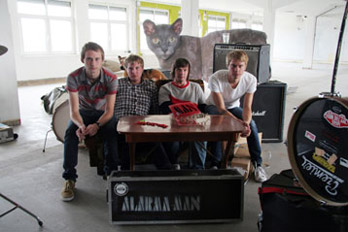 bandpicture 01 (1800 KB)
bandpicture 02 (2100 KB)
press kit zip: Info/Cover/Pictures (5000 KB)

VIDEO:


DATES:

No dates at the moment
RELATED RELASES:


Alarma Man
Love Forever
read more...