So geht die schöne Rückkehr. mit ihrem dritten Album lassen sich Ampl:tude erneut bei Sinnbusrecords blicken. Erneut drücken sie auf Bastelklangtuben, erneut setzen sie Strom und Harmoniefreude zu feinem Elektroklingklang zusammen. schnell und lebendig im eigenen Studio aufgenommen, glänzt »der Igel an der Orgel«mit sparsamer Diskohaftigkeit, freundlichem Wellenformquietschen, Top Fun und Kleiner Katze. das ganze rumpelt, zittert und feiert ab dem 26.01.2007 in der Nähe guter Menschen.

Das Herz im Laserlicht. Ampl:tude sind zurück und schaffen erneut, was wie sie kein anderer schafft: Ausgelassenes Dancefloorhalligalli und privatimen Topmoment in einem Atemzug, Stromcoregedöns und Lieblichkeit im selben Raum. »Der Igel an der Orgel«, so nennen sie ihr drittes Album. Und zum dritten Mal entlocken sie hier einem verträumten Instrumentenpark Ideen, Klänge und Lieder, die in alle Himmelsrichtungen und doch bestens Hand in Hand gehen. Keyboard, MS20, Piano, Rechner und Geräusch denken laut und gemeinsam über das Leben, die Musik, freundliche Tiere und das dichte Zusammenrücken nach. Und gehen dann mit den Gedanken tanzen.

Der Nintendopapst im Ohrensessel. Der Trancenation-Couchtisch. Ampl:tude bringen Zeug und Zeug zusammen. Und statt der Breitwandigkeit von »Auf Hören« regiert hier ein charmantes Hingeworfensein, eine liederliche Leidenschaft, die den Hits und Superstücken Herz und Seele gibt. Zwischen freundlicher Hausmusik und hibbeligem Clubverweis britzelt Spannung, die sich schließlich in vielen schönen Funken entlädt. Ob Auge, Ohr und Tanzbein dann lieber die eröffnend schiefliegende Presetparty »Onkel Uhu ist Krank«, die trügerische Neuer-Morgen-Idylle von »Darin ist er der Größte«, die überraschenden »Top Fun« Puschen oder die kleine Timbaland-Katze feiern, sollen sie unter sich ausmachen.

Zbigniew Libera am Spielzeugklavier. Ampl:tude verstecken Geschichten und Geschichte zwischen Beat und Synthiesäge. Der Referenzpool der vier Vier verbirgt Untiefen unter ansehnlicher Klarheit, und weder das Fehlen von Signalfarben noch der Verzicht auf die dicke Sendungsbewusstseinshose macht sie weniger tückisch. Und dann und doch sind sie auch immer wieder die gute, freundliche Tüftelband, die Lone Gunmen im Vierviertelboot, die dich am Haarschopf aus dem Referenzmeer ziehen und mit freundlichem Klaps auf die Tanzfläche schicken.

Der Igel an der Orgel. Ampl:tude halten ihr drittes Werk kurz und schlüssig. Rhythmus, Hit und Albernheit spielen fröhlich wechselnd Frontsau, nehmen sich zurück, springen wild nach vorn. Einige der besten Ampl:tudestücke aller Zeiten sind das, Weltallreiseeindrücke, Neuerfindungen, Nebenprodukte der Weltherrschaftsforschung. Wir lieben es.
This is the nice return. Ampl:tude come up with their third album, showing their face again on Sinnbusrecords. Once more, they kick off the handicrafts fuzz. Once more, they combine current and harmonic glee into fine electric jingles. recorded quickly and lively in their own studio, »Der Igel An Der Orgel« shines with sparing discoisms and the friendly squeaks of waveforms. There is top fun and there is a little cat. all this will rumble, shiver and party near good people from january 26th, 2007.

The heart in laser light. Ampl:tude are back, creating once more what no one creates like them: The jolly dancefloor ruckus and the private top moment in one breath, electrocore fuss and loveliness in one room. They call their third album »Der Igel an der Orgel«, and for the third time they make a dreamy pool of instruments produce ideas, sounds and songs. These go in all directions, yet always hand in hand. Listen to the keyboard, the MS20, the piano, the computer and the sounds, thinking aloud about life, music, friendly animals and moving together. And watch them dance to the sound of thought.

The nintendo pope in the easy chair. The trancenation coffee table. Ampl:tude join stuff with stuff. And whereas »Auf Hören« tried a cinemascope approach, the new record goes for a charming sketchiness and a sloppy passion that gives heart and soul to its hits and its super songs. There is a tension crackling between family music and nervous club references, discharging in many beautiful sparks. Let your eyes and ears and dancing feet decide which spark is the loveliest. Is it the lopsided opening preset party »Onkel Uhu ist Krank«? The deceptively idyllic new morning of »Darin ist Er der Größte«? The suprising »Top Fun« upsy-daisy? Or could it be »Die kleine Katze« - the little Timbaland cat?

Zbigniew Libera on the toy piano. Ampl:tude have hidden stories and histories inbetween beats and synthie saw. The four Four's intertext pool conceals its tricky shallows under a pretty clarity. And neither the lack of neon signs, nor the absence of a monstrous sense of mission makes them less treacherous. And then and yet, again and again, Ampl:tude are the nice and friendly puzzle band, the Lone Gunmen in their common-time-boat, coming to pull you out of the sea of references by your hair, and to send you off to the dance floor with a friendly pat.

The hedgehog on the organ. Ampl:tude keep their third creation short and concise. Rhythms, hits and follies happily take turns being front pig, modesty, ferocity. These are some of the best Ampl:tude songs ever. These are space trip impressions, new inventions and by-products of world domination research. We love it.
GET THIS NICE RECORD!

CD Sinnbus Shop
Audio files via iTunes | musicload

LINKS:

www.elektro-on.de
COVERPICTURE:

cover album 300 dpi /cmyk
cover album 72 dpi

INFOS / BANDPICTURES: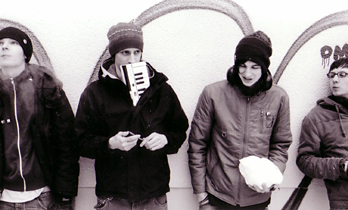 amplitude_picture (651 kb)

VIDEO:

Ampl:tude - Das Gute Alte Gedöns
Lenght: 04:03
Directed by Ampl:tude & Naivsuperfilm




Download Video (Quicktime required, right click and saves as...)

Das Gute Alte Gedöns for Ipod amplitude_ipod.m4v (46900 KB)
Das Gute Alte Gedöns (QT small) amplitude.mp4 (33700 KB)
Das Gute Alte Gedöns (QT big) amplitude_groß.mp4 (63320 KB)


DATES:

No dates at the moment
RELATED RELASES:


Ampl:tude
Auf Hören
read more ...

Ampl:tude
Dichter Zusammenrücken
read more ...