Drei junge Berliner und eine entzückende Leichtigkeit legen sich auf Debütvinyl. Mit vier Stücken eröffnen Ter Haar aus Karlshorst eine absehbar erfreuliche Diskografie, die die Rhythmustheorie lächeln lassen und der Welt Instrumentale in den Mund legen wird. Schlagzeug, Gitarre und Bass treiben Ideen und Liedcluster über die Tanzfläche direkt ins Herz und rücken dem, der sich instrumentensatt wähnte, den Blick aufs Buffet zurecht.

Ein Debüt im schönstmöglichen Format. Eine unverschämt junge Band, die viel gibt und viel verspricht. Mit Verve, Witz und Leichtsinn zerwirbeln Ter Haar das Erbe des hüftsteifen Paten Postrock. Sie setzen ihm mit ungestümer Rhythmusmathematik und fein strukturiertem Frickelpop zu, sie gießen Loops und Harmoniespiele nach und gönnen ihm Hooks und instrumentale Mitsingmomente. So wird der Weg zum Lied zum Lied und die Rhythmusstudie zum Tanzflächenfüller. Ter Haar sind Philipp Koller, Jonathan Saal und Hannes Kaschell sind Gitarre, Bass und Schlagzeug sind alles, was man an diesem Ende wieder einmal braucht.

Aufgenommen wurden die Stücke der Berliner von Thom Kastning (Kate Mosh, sdnmt Seidenmatt, Kid Alex) im Studio Bellevue. In wenigen Herbsttagen dokumentierten die Vier, was diese Band live so umwerfend macht: Die Frische, die Bewegung, das spannende Spiel. Ter Haar haben den Mut, sich im Moment treiben und die Musik machen zu lassen, und das Gespür für den Augenblick, in dem dann doch die Wucht und Kraft dreier Freunde gefragt ist, ein Lied und seinen Hörer ins aufregende Leben, ins All, in die tanzende Menge zu katapultieren.

So frei und stimmig funktioniert dann auch ihr Vier-Song-Debüt überall dort, wo es drauf ankommt: Im Kopf, in den Beinen, im Genick, in den Mundwinkeln und im Herzen. Die gutgelaunte Siebenviertelmelancholie "Harry Me" ebenso wie das so passend getaufte "Pif Paf Poltrie", die zärtliche Pluckerei der "Lieboleure" genauso wie die abschließende Instrumentalrockoper "Saying Less Yes But Therefor More OK". Sie greifen ineinander, scheinen im kleinsten Part ebenso wie im großen Ganzen.

Ter Haar sind Echtzeitoverdubs und Liveloops, sind sechs Ohren, sechs Hände, sind Aufblühen und Entzücken. In ihrem Spiel miteinander lassen sie sich Raum, zerren sie sich in entgegengesetzte Richtungen, lassen sie ab und an die Musik gefährlich ins Straucheln kommen, um sie und das Ding an sich dann doch mit größter Sicherheit und Freude nach Hause zu bringen. Mehr davon bitte bald.
Three young Berliners and a charming ease trickle onto debut vinyl. Four songs inaugurate the foreseeably enchanting discography of Ter Haar from Karlshorst. They'll make rhythm theorists smile and they'll make the world sing instrumental songs. Drums, bass and guitar shoo ideas across the dance floor, directly into people's hearts, making those that thought they had their helping of instruments reconsider the buffet. Ter Haar's self-titled debut will be out on sinnbusrecords May 11, 2007.

A debut in the finest format possible. An outrageously young band, promising much and dealing out plenty. Vigorously, witty and playfully, Ter Haar twist and shake arthritic godfather Post Rock's heritage. They harry it with raucous rhythmic algebra and finespun tinker pop, they administer loops and fay harmonics, they treat it to hooks and instrumental singlong moments. Thus, the creation of a song becomes the song, and the rhythmic study becomes a dance floor hit. Ter Haar are Philipp Koller, Jonathan Saal and Hannes Kaschell are guitar, bas and drums are everything you will need this time.

Their songs were recorded by Thom Kastning (Kate Mosh, sdnmt Seidenmatt, Kid Alex) at his Studio Bellevue. Within a few autumn days, the four of them documented the elements that make Ter Haar the stunning live act they are: Their vitality, their movements, their exciting interaction. They have both the courage to let go and let music have its way, and the intuition to know just when it takes the joint energy and force of three friends to catapult a songand its listener into a thrilling existence, into outer space, into a dancing crowd.

In the exact same way, unhampered and coherent, their four-song debut stimulates every important receptor: Your head, your legs, your neck, the corners of your mouth and your heart. This is true for the happy seven-quarter melancholy "Harry Me" as well as for the appropriately named "Pif Paf Poltrie", the tender pulse of "Lieboleure" or the concluding instrumental rock opera "Saying Less Yes But Therefor More OK". They intertwine and let their smallest part shine as bright as the complete whole.

Ter Haar are real-time overdubs and live loops, six ears, six hands, bloom and rapture. In making music, these three give and take their space, they drag each other in different directions and sometimes even trip their music up, just to catch it and take it home with the greatest care and the deepest joy. And we know they've got more coming.!
GET THIS NICE RECORD!

10" record via Sinnbus Shop
Audio files via iTunes | musicload
LINKS:

www.terhaarmusic.de
www.myspace.com/terhaar
www.inkmusic.de (Booking)
COVERPICTURE:

ter haar 10inch cover cmyk 300dpi (4160 kb)
ter haar 10inch cover 72pi (136 kb)

Artwork by Carmina Traud - www.fraugrau.de

INFOS / BANDPICTURES: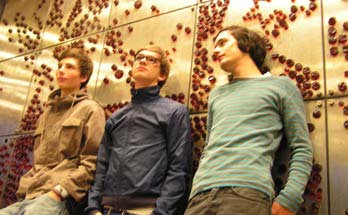 ter haar bandpicture (724 kb)

DATES:

No dates at the moment

RELATED RELASES:


Ter Haar
Delta
read more ...

Ter Haar
A Fryhole E.P.
read more ...