1. Tip Toe Walk (feat. JK + Gunnar Spies)
2. I Like Holden Caulfield
3. Queen (feat. Mariechen Danz)
4. Soldiers (feat. Kam:as & Mariechen Danz)
5. Head In My Hands (Nonostarversion)
Release: 02.05.2008

Next Time, neues Kapitel. Bodi Bill sind noch nicht fertig. Vielmehr liegt hier vor, was eigentlich hätte nach dem Album kommen müssen. Fünf Stücke um ihr zweites Album "Next Time" herum und aus diesem heraus. Zusätzliches, neues, neu angegangenes Material. Ein erschlagend schönes "Tip Toe Walk" in einer anderen Lesart, mit "Head In My Hands" in der Nonostar Version ein Querverweis zu anderen Arbeitsweisen, ein Schulterschluss. Und schließlich die Erweiterung des eigentlich fertigen Bildes: "Queen" und "Soldiers" als zwei komplett neue Stücke. 

Next Time, nächster Teil. Bodi Bill sind in Schwung. Hier sind Ausblick und Ergänzung zu gleichen Teilen. Als Aus- und Weiterformulierung offener Punkte sowie als Verlängerung des eigentlichen Anliegens. "Tip Toe, I Like Holden Caulfield" erscheint am 02.05.2008.


Next Time, new chapter. Bodi Bill are not done yet. What we have here should have come after the album. Normally. Five tracks build around their second album "Next Time". Additional material, new ideas. There is "Tip Toe Walk" in a different reading as a song of striking beauty. There is "Head In My Hands" (Nonostar Version) as a cross reference to a different kind of working, yet from the same hands. And finally there´s an expansion of what had been taken as finished:  "Queen" and "Soldiers" are two completely new songs.

Next Time, next part. Bodi Bill are full of go. Here are forecast and amendment in one piece. Here´s a continuation, a dealing with remaining questions, a renewal of the original concern. "Tip Toe, I Like Holden Caulfield" will be released on may, 2nd 2008.  
GET THIS NICE RECORD!

CD via Sinnbus Shop

LINKS:

www.bodibill.de
www.myspace.com/bodibill
four artists booking

COVERPICTURE:

Tip Toe E.P. Cover 300 dpi (2600 kb)
Tip Toe E.P. Cover 72 dpi (348 kb)


INFOS / BANDPICTURES: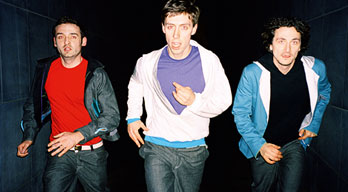 bodi bill bandpic 1 - (2700 kb)
bodi bill bandpic 2 - (4036 kb)
bodi bill bandpic 3 - (2789 kb)
bodi bill bandpic 4 - (10789 kb)
bodi bill bandpic 5 - (12000 kb)

Pictures by David Fischer (www.davidfischer.org)
DATES:

No dates at the moment

RELATED RELASES: