Da steht es also in voller Größe im Raum, so kryptisch wie offensichtlich, so aufregend und doch auf der Hand liegend. Nach der Grundsteinlegung mit ihrer beachtenswerten 10" im letzten Jahr und der eindrucksvollen Nachjustierung in Form der Single »A Fryhole« zeigt sich nun in voller Länge, worauf zu warten sich gelohnt hat. Lebendige (Post)Rockadaption trifft auf die Spielfreude und die Energie dreier junger Menschen, die mehr wollen. An der Kante zum subtilen Hit und lässig aus der Hüfte auf Knall zielend liegt hier nun ein neuer Entwurf zeitgemäßer und zeitloser Gitarrenmusik vor. Herzlich willkommen: Ter Haar - ∆ (delta).

Und was für ein Sprung! Völlig selbstverständlich und mühelos verbindet die Band verzwickte Knotigkeiten und baut sie zu anständigen Bodenfegern aus. Nennen wir es Postrock 2.0, nennen wir es die Schlitzohrigkeit jener, die mit all dieser Musik von Anfang an gewachsen sind, die niemandem und am wenigsten sich selbst etwas erklären müssen. Hier kann es gleich in die Vollen gehen. Unverkrampft wird Fragil-Schöngeistiges der brausenden Abfahrt überreicht, zieht man nervöse Quirligkeit und - nun ja - Popmusik unter einen Hut. Und über allem oder um alles herum steht neuerlich der Gesang, als Verbinder zwischen den ungleichen Ansätzen, als Brückenschlag zwischen zwei Generationen Sinnbus: neben Phil Koller singen auch Thom Kastning (Kate Mosh) und Fabian Fenk (Bodi Bill) auf diesem Album. Die nächste Generation Sinnbus sitzt hier in den Startlöchern, nutzt die Strukturen, baut auf das Erreichte auf und verspricht ein herrliches nächstes Jahr!


Here it is in full size, cryptical and obvious at the same time, exciting and thrilling. After paving the way with last year´s remarkable 10" vinyl and impressively re-adjusting their music with their single »A Fryhole« the full-length album underlines what waiting for was worth: Lively (post) rock adaption meets the enthusiasm of three young men who are eager to get that little bit extra. On the egde of a subtle hit, shooting from the hip, here is a new blueprint of contemporary and timeless guitar music. Welcome: Ter Haar - ∆ (delta).

What a step they made! The band effortlessly connects tricky enmeshments just to develop honest floorfillers. Call it postrock 2.0, let it be the audacity of those who have grown up with this kind of music, who just don´t have to explain to someone, least to themselves. They can go into the thick. With an easy mind they hand the fragile over to the ruction, they juggle nervous liveliness and - well, pop music.

And newly there´s the singing above and all around it, as a connector between the uneven approaches, as a bridging of two generations of Sinnbus: Next to Phil Koller there are Thom Kastning (Kate Mosh) and Fabian Fenk (Bodi Bill) singing on this album. The next generation is ready to start, to use the structure and build on what has been achieved so far. And all in all they promise an exquisite next year!

 
GET THIS NICE RECORD!

CD / LP (red vinyl!) via Sinnbus Shop
Audio files via iTunes | musicload

LINKS:

www.terhaarmusic.de
www.myspace.com/terhaar
www.inkmusic.de (Booking)
COVERPICTURE:

∆ Cover 72 dpi (268 kb)
∆ Cover 300 dpi (1890 kb)

Artwork by w://them
INFOS / BANDPICTURES: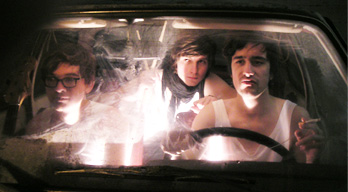 ter haar bandpic 1 - (2700 kb)
ter haar bandpic 2 - (4036 kb)
ter haar bandpic 3 - (2789 kb)

Pictures by Ter Haar
DATES:

No dates at the moment

RELATED RELASES:


Ter Haar
A Fryhole E.P.
read more ...

Ter Haar
s/t 10inch
read more ...