1. A Fryhole
2. Joni Versaal
3. A Fryhole (RMX Apes Aping Apes)
4. A Fryhole (RMX Cutoffcutoff!)
Release: 15.08.2008

Mit der Single »A Fryhole« liefern Ter Haar jetzt den Vorboten zu ihrem im Herbst erscheinenden ersten Album. Die einfach alles versprechende, junge Band war seit dem Erscheinen der 10"-EP im letzten Jahr permanent unterwegs, hat viel gespielt, beim Immergut Festival oder bei der Pop Up staundende Gesichter hinterlassen, die Schule beendet und mit unglaublicher Lässigkeit umwerfende neue Stücke geschrieben.

»A Fryhole« ist ein formidabler Diskokracher und kommt gemeinsam mit einem Bonus Song und zwei hervorragenden, tanzbaren Remixen Die auf der 10" bereits kaum versteckte Affinität zur Tanzbarkeit steht nun endlich absolut gleichberechtigt neben der sympathischen und nach wie vor ungestümen Frickelei der Band. Außerdem strahlt seit neustem empathischer Gesang über all dem. Ein Aufsehen erregender Vorgeschmack auf das von Kate Mosh Frontmann Thomas Kastning produzierte kommende Album! Nun setzen die jungen Brüder von SDNMT und Proberaum-Kumpels von Trip Fontaine an, um aus dem nahen künstlerischen Umfeld heraus und aus Einflüssen wie Battles, Don Caballero und Q And Not U die nächste Generation einer unbeschwerten und ungestümen (Post-)Rockmusik zu formulieren.


With the "A Fryhole" - EP there´s a first announcement of Ter Haar after last year´s 10"-EP. At the same time this is a preview on the first full-lenght of this young, promising band. Ter Haar have spent the last year on the road, leaving a wondering audience behind on important german festivals like Immergut or Pop Up, finishing school and simply writing dazzling new songs.

"A Fryhole" is a formidable hit accompinied by another new song and two superb remixes. The band´s passion to danceable music, that has barely been hidden on the 10", has now become emancipated. Still the band plays it´s likable, hasty kind of music recently adding vocals. A spectacular foretaste of the whole album, which again has been produced by Kate Mosh – Singer Thomas Kastnisng. The young brothers of SDNMT and rehearsal room companions of Trip Fontaine prepare to rearrange their influences from Battles to Q And Not U to frame a next generation of light-hearted and vehement (post-) rock music.  
GET THIS NICE RECORD!

CD via Sinnbus Shop
Audio files via iTunes | musicload

LINKS:

www.terhaarmusic.de
www.myspace.com/terhaar
www.inkmusic.de (Booking)
COVERPICTURE:

Cover 72 dpi (2600 kb)
Cover 300 dpi (348 kb)

Artwork by Kheira Linder / www.meedchen.de
INFOS / BANDPICTURES: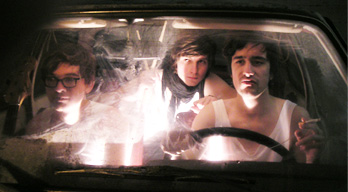 ter haar bandpic 1 - (2700 kb)
ter haar bandpic 2 - (4036 kb)
ter haar bandpic 3 - (2789 kb)

Pictures by Ter Haar
DATES:

No dates at the moment

RELATED RELASES:


Ter Haar
Delta
read more ...

Ter Haar
s/t 10inch
read more ...