1. Play, Play
2. Mission
3. Fields
mp3
4. Clear Day
5. It's About Waiting
6. Stare
7. Fire Walk With Me
8. Ghostly
9. We Were So Unsatisfied
10. The Office
Recorded and mixed by Thierry Van Osselt at Planet Roc, Berlin
Mastered by Julien Grandjean at Jetlag, Vevey

Release: 13.02.2009

Zwei tolle Alben bisher, mehrere Touren durch Europa, von John Peel im Radio gespielt, beste Freunde von Honey For Petzi und verantwortlich für einige unserer All-Time-Lieblingslieder: Toboggan aus Lausanne sind seit langem eine feste Größe in unserem musikalischen Kosmos. Nun haben sich unsere Wege endlich gekreuzt! Mit Freude annoncieren wir die Veröffentlichung von SR031: Toboggan - E Brutal

Ursprünglich aus dem Umfeld des Qualitätlslabels Gentlemen stammend, zum Teil Mitglied oder Dauergast in den dort beheimateten Bands (Maude Oswald spielt bei Favez, Jérémie Conne bei Rosqo, Valérie Niederoest sang auf Honey For Petzis "Angel's Camp"), spiegelt auch die Musik von Toboggan das breite Spektrum der Musikszene ihrer Heimatstadt wider: Verspieltheit und Raffinesse einer zeitlos angelegten Rockmusik verbinden die drei SchweizerInnen mit der tiefen und düsteren Melancholie einer treibenden und fast chansonhaften Harmonik, das Transparente und Leichte eines Popsongs bricht sich an der traurigen, emotionalen Seite modernen Postrocks, der unaufdringlich erzählende Gesang von Valérie Niederoest führt durch eine weit verzweigte und intime Musik, die so zurückhaltend wie doch überwältigend überbordend ist. Gegossen in die direkten und dichten Aufnahmen von Thierry Van Osselt (im Planet Roc, Berlin) versammelt die Band auf "E Brutal" zehn bewegende und zugleich packende Stücke, die sicher zu keinem anderen Label besser passen würden!


Two great albums so far, tours through Europe, played on John Peel's legendary BBC radio show, best friends with Honey For Petzi and responsible for some of our all-time-most-favourite-songs: Toboggan from Lausanne became a fixed parameter within our musical cosmos. Now our paths have crossed finally! With delight we announce the release of SR031: Toboggan - E Brutal

Being part of the environment around swiss high quality label Gentlemen and being members or a permanent guest in some of those bands (Maude Oswald plays in Favez, Jérémie Conne plays in Rosqo, Valérie Niederoest sang on Honey For Petzis "Angel's Camp"), the music of Toboggan reflects the broad spectrum of their hometown's music scene: The playfullnes and finesse of timeless rockmusic combined with the deep and gloomy melancholy of an impellent and almost chanson-like harmony, the transparancy and easiness of a pop song broken by the sad and emotional part of modern postrock, Valérie Niederoest's discreet and narrative voice leading through a complex and intimate music: On "E Brutal" Toboggan collect ten touching and enthralling songs, chary and fragile but so overwhelmingly exuberant at the same time. Cast in the direct and compact recordings of Thierry Van Osselt (at Planet Roc, Berlin) the band collects 10 touching and compelling songs on "E Brutal" that surely would not fit better to any other label!

 
GET THIS NICE RECORD!

CD via Sinnbus Shop
Audiofiles via iTunes | musicload
LINKS:

www.thetoboggan.com
www.myspace.com/thetoboggan
www.daskombinat-booking.de

COVERPICTURE:

E Brutal Cover 72 dpi (101 kb)
E Brutal Cover 300 dpi (3,9 mb)

Artwork by David Löwe

INFOS / BANDPICTURES: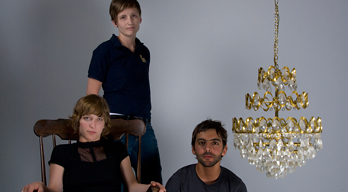 toboggan bandpic 1 - (6,4 mb)
toboggan bandpic 2 - (3,2 mb)
toboggan bandpic 3 - (3,9 mb)

Pictures by Julien Barras
DATES:

No dates at the moment