Wieder einmal schließt ein Kreis. Mit We Vs. Death aus Utrecht sind wir schon seit langer Zeit befreundet, nun sind wir stolz, sie endlich auch auf Sinnbusrecords begrüßen zu können. Obwohl bereits in Benelux über ihr dortiges Label Beep Beep veröffentlicht, führt für uns kein Weg an diesem Album vorbei. Dies sein ein unbedingter Tipp, das müssen wir Euch allen zugänglich machen, hier ist etwas aus unserem Umfeld, das gehört werden muss! "A Black House, A Cloloured Home" erscheint am 19.02.2010.

Düster und grimmig, und doch präzise und aufgeräumt, We Vs. Death verschwenden keine Zeit an unnötige Spielereien. Auf das absolut wesentliche konzentriert zeichnet die Band auf ihrem inzwischen zweiten Album ein dicht gewobenes, ein dunkles aber vielschichtiges Bild von zunächst unscheinbarer, auf den zweiten Blick aber zwingender, schlichter und anmutiger Eleganz und haucht ganz nebenbei dem so genannten Postrock wichtige Impulse, nichts weniger als Leben und nicht zuletzt tatsächliche Relevanz ein. Ergreifende Miniaturen aus Gitarren und einem schweren Schlagzeug, darüber erzählen abwechselnd die mit ruhigem Gestus gespielte Trompete und die auf diesem Album neu hinzugekommene Stimme von der Zuversicht im Verzagen, dem Licht in der Traurigkeit.

We Vs. Death müssen niemandem und am wenigsten sich selbst etwas beweisen. Hier spielt eine Band, die um die halbe Welt tourte, die um ihre eigene Qualität weiß: Musik zu schreiben und zu spielen, Musik von ergreifender Offenheit, Substanz und unmissverständlicher Schönheit. Musik wie ein Zuhause. You are now the sun.


And another circle is complete. We have been friends with We Vs. Death for quite a while. Now, we are proud to finally have them on Sinnbusrecords. Although their album has already been released in Benelux on their local label Beep Beep, there's no way we can let thispass. This is a special tip, we have to make this accessible to all of you. This is something coming from our friends and peers that needs to be heard! "A Black House, A Coloured Home" will be released feb. 19th 2010.

Gloomy and grim, yet precise and orderly, We Vs. Death don't waste their time on needless gimmicks. Focusing on the essential, the band creates a dark but complex image on their second album. Inconspicuous at first, but full of plain and forceful elegance upon a closer look. Casually, they invigorate so called post rock, adding nothing less than life and actual relevance. Stirring miniatures made from guitars and massive drums, an unhurried trumpet and vocals - a new addition on this album - telling about confidence within desponding, the light within the sadness.

We Vs. Death don't have to prove anything to anyone, least of all to themselves. Here is a band that toured half the world, that knows about its own qualities: writing and playing music, music of a touching candidness, of matter and of unmistakable beauty. Music like a home. You are now the sun.
GET THIS NICE RECORD!

CD / LP (transparent orange vinyl!) via Sinnbus Shop
Audio files via iTunes | musicload

LINKS:

www.wevsdeath.nl
www.myspace.com/wevsdeath
www.beepbeep.nl

COVERPICTURE:

A Black House... CD Cover 300 dpi (1,2 MB)
A Black House... CD Cover 72 dpi (370 KB)
A Black House... LP Cover 300 dpi (1,1 MB)
A Black House... LP Cover 72 dpi (365 KB)

BANDPICTURES: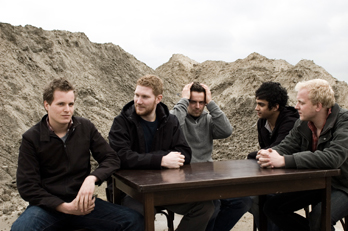 We Vs. Death Bandpic (2,9 MB)
DATES:

No dates at the moment