Ein Hohelied an das Ausprobieren, Selbermachen und die Freundschaft, ein Obelisk aus Steinen und Mülltüten und den Kleinigkeiten am Wegesrand. "What?" ist das dritte Album von Bodi Bill.

- What? - 
Die Band, für die wir den Atem anhalten, setzt wieder an, beginnt das Gespräch von neuem und lädt ein zum Wechsel der Perspektive. Was geschieht mit den Dingen, wenn sie aktiviert werden? Der Stein mag zum Werkzeug werden, das Geräusch zum Lied. Bodi Bill beantworten die Frage mit zehn ausgesprochen unterschiedlichen Stücken, denen vor allem ein undogmatischer Wille gemeinsam ist, zu anderen Ansätzen zu ermuntern. Die Band begibt sich auf eine frohe Reise mit offenem Ergebnis, voller Enthusiasmus und Neugier und dem unwiderstehlichen Drang, alles in die Hand zu nehmen, was ihr unterwegs begegnet. Es zu schütteln, aneinander zu klopfen und umzudrehen, um wenigstens einmal drunter zu schauen.

- Friends -
Where are you from? Mit ihren beiden Alben "No More Wars" und "Next Time" sowie dem für das internationale Publikum zusammengestellten Album "Two In One" wachsen Bodi Bill aus dem Nichts und ohne großes Geschrei an und in die Herzen der Hörer, machen sich dort unverzichtbar und bringen sie mit schöner Regelmäßigkeit zum Überlaufen. Aus dem Freundeskreis ihrer Heimatstadt Berlin heraus spielen sie sich kleinteilig und leidenschaftlich Stück für Stück, Herz um Herz durch ganz Europa. Bodi Bill zu hören, heißt sie ganz allein entdeckt zu haben, sie zu behalten und mit allen zu teilen: mit all den anderen in den auseinanderbrechenden Clubs und vor allem mit der Band selbst.

- The Net -
Strengths needing direction. Bodi Bill ist dabei eine Band, die im Zusammenhang funktioniert. Und die für sich und ihren Ausdruck eigene Kanäle etabliert hat. Ein moderner musikalischer Eklektizismus, ihr Artschool-Background und ein fruchtbares Umfeld als Zuhause bringen sie in die luxuriöse Position, jeden Aspekt ihres Outputs selbst zu bestimmen. Es geht um Ideen und kreative Prozesse, die nicht in Abgeschiedenheit stattfinden, sondern in der Kommunikation. Es geht um Aufmerksamkeit, Austausch und Interaktion. Kurz: um den intakten Mythos vom gemeinsamen Größerwerden und dabei trotzdem Freunde zu bleiben. Für Bodi Bill ist inzwischen zur Realität geworden, was zu oft Experiment bleibt. Entsprechend selbstbewusst hält "What?" dabei eine ganze Menge Bälle in der Luft: der mühelose Spagat zwischen den Szenen, Charme, Offenheit, Kompromisslosigkeit, Frische und Relevanz. Die Musik konfrontiert auf zivilisierte Art, ist so verstörend wie anregend und besitzt die Angewohnheit, sich schillernd zu verändern, Form und Funktion zu wechseln. Sie bietet sich an und stellt doch eher Gegenfragen als Antworten zu geben. Und vor allem aber ist sie: schön.

Nun also What? Es ist ein gutgelauntes What?, Come on and shout it out loud!


An ode to trial-and-error, to DIY and to freindship. An obelisk made of stones, garbage bags and bits and trinkets found along the way. "What?" is the third album from Bodi Bill.

- What? -
The band we hold our breath for restarts the conversation and offers a change in perspective. What happens to things that get activated? A stone may become an instrument, a sound becomes a song. Bodi Bill answer this question with ten markedly distinct pieces sharing an undogmatic will to encourage and foster new methods and approaches. The band starts a joyful and open-ended journey, full of enthusiasm and curiosity and an irresistable urge to take hold of everything they come across on the way. Shaking, knocking together and turning things upside down to glimpse at what is underneath.

- Friends - Where are you from?
With their first two albums, "No More Wars" and "Next Time", as well as the international compilation "Two In One", Bodi Bill have made themselves indispensable. Out of the blue and without much clamor, they grew into the hearts of their listeners, making them burst, again and again. Straight from their circle of friends in their home town Berlin, they impulsvely slogged it out throughout Europe, piece by piece, heart by heart. Listening to Bodi Bill means discovering them on your own, keeping them forever and sharing them: with all the others in all those crowded clubs and most of all with the band themselves.

- The Net - Strength needing direction
Bodi Bill are a band that works within contexts, that has established its own channels of expression. A modern musical eclecticism, their art school background and a fertile home soil are the basis of that luxurious position to control every aspect of their output. This is about ideas and creative processes as a form of communication, not isolation. It's about mindfulness, exchange and interaction. In short: it's about the very intcat myth of mutual growth and friendship at the same time. What often remains a mere experiment has already become reality for Bodi Bill. Accordingly, "What?" pulls it all off with great self-confidence: the balancing act between different scenes, charm, openness, being fresh, uncompromising and relevant. The music confronts you in a civilized way, as disturbing as stimulative, constantly changing form and function. It offers its services, but still it rather poses new questions than giving answers. And most of all: it's beautiful.

What? It's a cheerful What?, come on and shout it out, loud!
GET THIS NICE RECORD!

CD / LP via Sinnbus Shop
Audio files via iTunes | musicload

LINKS:

www.bodibill.com
www.myspace.com/bodibill
managemant[at]bodibill.com
booking[at]bodibill.com
COVERPICTURE:

What? Cover 300 dpi
What? Cover 72 dpi

BANDPICTURES: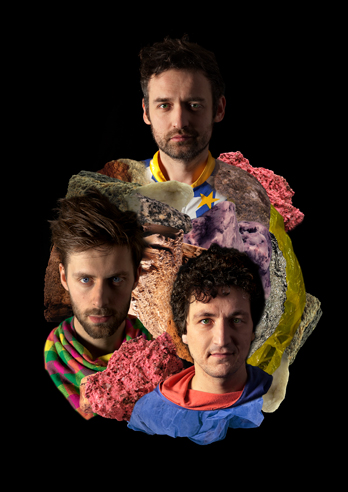 Bodi Bill Bandpic 01
Bodi Bill Bandpic 02
Bodi Bill Bandpic 03
Bodi Bill Bandpic 04

DATES:

No dates at the moment
RELATED RELASES: