01. What?
02. I Like Holden Caulfield feat. Siriusmo
03. Hotel (La Boum Fatale Remix)
04. Brand New Carpet (Pat Ferry Remix)
Produced, mixed and mastered by Anton K. Feist and Bodi Bill.

Release: 02.09.11 (D/AT/CH/FR/BE/NL/LUX)
Bodi Bill hatten einen aufregenden, arbeitsamen Sommer, haben alles mitgenommen vom Kellerclub bis Rock am Ring, von DIY-Blog bis MTV UK, haben buchstäblich an jeder Steckdose ein Konzert gegeben und sich keine Pause gegönnt. Und nun, auf dem Höhepunkt dieses Sommers ein kleines Geschenk, nicht zuletzt an sich selbt. Ein kleines, großes Stück Musik für die glücklich Erschöpften. Erstes Sonnenlicht hinter den Häusern. Morgenluft in einer noch schlafenden Stadt, Ruhe für die dröhnenden Ohren. Ein Augenblick in einer zerbrechlichen Zwischenwelt.

Vier tolle Stücke für tolle Momente und als Dank für die verrückten, zurück liegenden Wochen. Ein wissendes Lächeln unter uns. Kurz bevor die Stadt wieder in ihrer Häßlickeit erwacht, kurz bevor der Rummel wieder von vorn beginnt.


Bodi Bill had an thrilling and intense summer. Playing shows in all different kinds of venues, from basement clubs to Festivals such as "Rock am Ring", from DIY-Blogs to MTV UK without any break. Therefore, they rewarded themselves with a small and at the same time big chunc of music. Picturing the sunset behind houses, the morning scent of a sleeping city and peace for the booming ears. A moment, which exists in a fragile twilight world.

Four extraordinary pieces of music serve as equipment for memorable moments and as a thank you gift for the past few weeks. They create a well-knowing smile, just before the ugliness of the city awakens and the commotion starts all over again.
GET THIS NICE RECORD!

CD-EP via Sinnbus Shop
Audio files via iTunes | musicload | Bandcamp

LINKS:

www.bodibill.com
www.myspace.com/bodibill
managemant[at]bodibill.com
booking[at]bodibill.com
COVERPICTURE:

What EP Cover 300 dpi
What EP Cover 72 dpi

BANDPICTURES: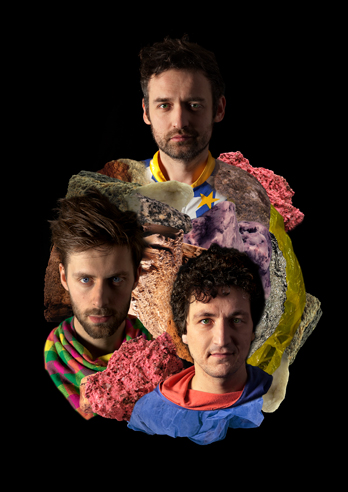 Bodi Bill Bandpic 01
Bodi Bill Bandpic 02
Bodi Bill Bandpic 03
Bodi Bill Bandpic 04

DATES:

No dates at the moment
RELATED RELASES: