Mit diesem schönen musikalischen Kleinod begrüßen wir ein neues Mitglied in unserer Familie. Herzlich willkommen: My bubba & Mi!

My bubba & Mi haben sich in Kopenhagen kennengelernt, ein Italiener sah sie dort zufällig, lud die drei bezaubernden Damen aus Island, Schweden und Dänemark ein, in Italien zu spielen, wo sie dann ihr erstes Album "How It's Done In Italy" aufnamen und so ging es immer weiter. Nun spielen sie in der ganzen Welt...

Die Single "Bob" nun sei ihr Einstand auf Sinnbus. Zwei graziöse Schönheiten angenehm reduzierter Folkmusik und fragilem Zweigesang. Zurückgelehnt, warm und über alle Maßen charmant. Eine wehklagende Ode an Männer, deren Größe über die Geschichten von BBQ Bob, Cinnamon Sam und Crocodile Dundee erzählt wird und ein Stück, das die Band schon immer spielt, das aber bereits 1975 vom vorherigen Liebhaber der Mutter des Ex-Mannes der Frau von My's Vater geschrieben wurde: Bob Dylan. Begleitet von einer ausgiebigen Tuor in diesem Sommer ist dies eines der großen Versprechen für die kommende Zeit!


With this beautiful musical treasure we welcome a new member to our family: My bubba & Mi!

My bubba & Mi met in Copenhagen, an Italian guy heard them by accident, invited the three enchanting ladies from Iceland, Sweden and Denmark to play in Italy, where the recorded their debut album "How It's Done In Italy" then and so on. Now they tour the world...

"Bob" - their new single - is the first sign of life on Sinnbus. Two graceful beauties of delightfully reduced folk music and fragile vocal harmonies. Laid back, warm and exceedingly charming. A slow moaning ode to men, explaining their greatness through the stories of BBQ Bob, Cinnamon Sam and Crocodile Dundee, and a song the band played live ever since, but that was written in 1975 by My's father's wife's ex-husband's mother's previous lover; Bob Dylan. Accompanied by extensive touring this is one of the big promises!
GET THIS NICE RECORD!

CD via Sinnbus Shop
Audio files via iTunes | musicload

LINKS:

mybubbaandmi.com
www.kumpelsandfriends.com (Booking)

LISTEN:


COVERPICTURE:

Bob Cover 300 dpi
Bob Cover 72 dpi

BANDPICTURES: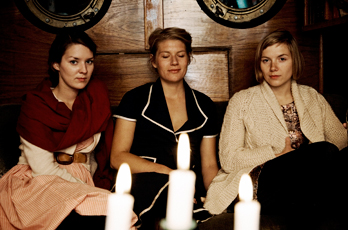 My bubba & Mi Bandpic 01
DATES:

No dates at the moment
RELATED RELASES:


My bubba & Mi
Wild & You
read more ...