Diese reizende neue EP von My bubba & Mi, "Wild & You" birgt fünf neue Lieder in einer schimmernden Blumenhülle. Diese kribbelnden, seidenartigen Stücke wurden in sehnsüchtigen Frühlingstagen gebohren und wuchsen im Frühsommer während der Proben für eine Tour mit den Tangarine Twins in einem dichten Obstgarten zu voller Größe heran. Kurz danach aufgenommen, ist hier nun ein kleines Juwel zu genießen, genau zur richtigen Zeit, genau zum Beginn der kalten Jahreszeit.

"Wild & You" wird am 07. Oktober veröffentlicht und von einem historischen Video zu "Through & Through" vorgestellt werden. Aber zu zunächst kommt erst ein mal eine herzliche Willkommens-Tour durch Deutschland, die Niederlande und Italien im September.
This juicy new EP by My bubba & Mi, "Wild & You", holds 5 new tunes in a shimmering flower sleeve. These tickling, silky like songs were born in spring days of longing, and became fully grown in a dense fruitful garden while rehearsing for a tour with the Tangarine Twins early this summer. Recording them shortly thereafter, here is now a lovely little jewel to savor and sip, right on time for cold dark fall.

"Wild & You" will be released on Oct. 7 and introduced by a historic video for single "Through & Through". But first a warm welcoming tour in Germany, the Netherlands and Italy in September.
GET THIS NICE RECORD!

CD via Sinnbus Shop
Audio files via iTunes | musicload

LINKS:

mybubbaandmi.com
www.kumpelsandfriends.com (Booking)

COVERPICTURE:

Wild & You Cover 300 dpi
Wild & You 72 dpi

BANDPICTURES: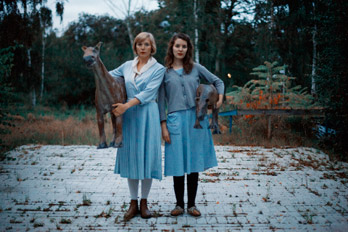 My bubba & Mi Bandpic 01
My bubba & Mi Bandpic 02
My bubba & Mi Bandpic 03

Video:


DATES:

No dates at the moment
RELATED RELASES:


My bubba & Mi
Bob
read more ...