Wie lang dauert eine Momentaufnahme? Steckt das Wesen der Musik im nonchalanten Wurf eines Augenblicks oder im feinteiligen Basteln an Details in den Monaten danach? "Damwild", die erste EP von La Boum Fatale, ist das Dokument von Freundschaft, die durch die gemeinsame Arbeit gewachsen ist. Und eines von Veränderung.

Zunächst lernen Antonio de Spirt and Levente Pavelka sich und ihre jeweiligen musikalischen Vorlieben 2010 in Hamburg während ihres Medientechnikstudiums kennen. Und erkennen schnell die Gelegenheit, miteinander die Band zu starten, die beide immer haben wollten: elektronisch, experimentell, fetzig, geradeaus. Egal, ob es am Ende Popmusik oder Schranz ist. Auch wenn weder der eine noch der andere ein Instrument beherrschte; es stellt sich schnell heraus, dass sie keines benötigen würden. Außerdem stößt ziemlich bald Alexander Trattler zu La Boum Fatale, der sich als Teil des Digital Arts - Kollektivs Elektropastete um den visuellen Output kümmert und schnell als ein fester Bestandteil ins Gefüge der Band wächst.

Vor allem aber entdeckten sich die drei Akteure als wohltuender Ankerpunkt in der sie umgebenden Nerdigkeit ihres Studienganges. Als Möglichkeit, wieder mal locker und nicht wahnsinnig zu werden. Dann doch lieber hin und wieder auf den Zufall vertrauen. Das sich Verlaufen provozieren und Dinge bewusst falsch machen. Ausgefuchste Tüftelei vs. Schuss aus der Hüfte. Selten entsteht die Musik doch aus ihrer eigenen Genre-geschichte. Neo-Dubstep, Post-Postrock-House - gleich, wonach La Boum Fatale am Ende klingen mögen, so beziehen sie ihren eigentlich Zauber bei weitem eher aus der gewaltigen Schönheit der brachial verzerrten Gitarren von Deftones' "White Pony" oder dem leicht überdosierten Kitsch von M83, der spröden Intimität eines Arthur Russell oder der unverplüschten Direktheit der früheren Tocotronic. Und tragen damit zu einem zeitlosen Entwurf zeitgeistiger Musik bei, reichen weiter, regen an und halten den Ball am Rollen. In ihrer persönlichen und nahen, in ihrer einladenden Art. Als sich Pevelka 2013 schweren Herzens entschließt, La Boum Fatale zu verlassen, so wird der entstehende Freiraum durch eine noch deutlichere Ausformulierung der visuellen Komponente der Band genutzt: alles ist im Fluss.

Und natürlich sind wir - Label und Band - glücklich, uns gefunden zu haben. Baten La Boum Fatale ihr Berliner Lieblingslabel Sinnbus zunächst um Ratschlag, an wen sie sich denn mit dieser Musik nun wenden könnten, fielen allen mit einem Male die Schuppen von den Augen. Wir selbst können ja alles veröffentlichen, was uns umwirft. Und mit La Boum Fatale beschreiben wir nun gemeinsam ein neues Blatt.

Nach dem lässigen Versprechen, das La Boum Fatale mit ihrer Single "AAA" gaben, folgt nun endlich das lange Format, um dieses Versprechen doppelt lässig einzulösen.


How long is a snapshot? Where to find the essence of music? In a nonchalant move of a single moment or in the fragmented bricolage in the following months? "Damwild", La Boum Fatale's first EP, is the document of a friendship, that has grown by working together.

Antonio de Spirt and Levente Pavelka get to know each other and their respective musical preferences in 2010 in Hamburg during their studies of media technology. Soon they realize the possibility of having exactly this band both of them always wanted to have: electronic, experimental, cool, straigt forward. No matter if it will be pop music or kind of scabby in the end. Even if both of them did not know how to play any instruments. They would not need to, as it turned out.

Most of all they were discovering each other as being calming fixed points while being surrounded by the nerdiness of their studies. As a possibility to let loose instead of going mad. To rather trust in coincidence once in a while. To provoke going astray or doing things wrong on purpose. Shrewd tinkering vs. a shoot from the hip. Music rarely comes from its own genre history. Neo-Dubstep, Post-Postrock-House - whatever La Boum Fatale may sound like, their actual magic sources by far more from the massive beauty of the Deftones' brutely distorted guitars in their "White Pony" era, the slightly overdosed kitsch of M83 or the brittle intimacy of Arthur Russel. This way they contribute their part to an ageless draft of zeitgeisty music, pass on, encourage and keep the ball rolling. In their own personal, inviting way.

And not least, we - label and band - are glad we have gotten together. Initially La Boum Fatale were asking their most favourite Berlin label for advice whom to go to with this record, when suddenly the scales fell from our eyes. We can release what ever we want to, what ever blows us away. And with La Boum Fatale we will start this new chapter.

Following the cool promise made by "AAA", their first single, here's the long one finally to keep it. "Damwild" is out on june 29th. 2012.




GET THIS NICE RECORD!

Sinnbus Shop: CD | LP
Audio files via iTunes | Beatport | Bandcamp

LINKS:

www.laboumfatale.com
www.facebook.com/laboumfatale
www.soundcloud.com/la-boum-fatale
www.oha-music.com (Booking)
www.elektropastete.de (Live Visuals)
COVERPICTURE:

Damwild 300 dpi
Damwild 72 dpi

BANDPICTURES: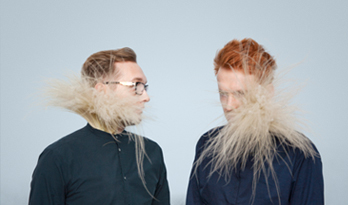 La Boum Fatale Pic 01
La Boum Fatale Pic 02
La Boum Fatale Pic 03

VIDEO:


DATES:

No dates at the moment
RELATED RELASES:


La Boum Fatale
Two Remixes
read more ...

La Boum Fatale
AAA
read more ...