LA BOUM FATALE sind ganz neu. Und ganz neu bei Sinnbus. Wir freuen uns daher schon wieder einmal darüber, schon wieder einmal die Zusammenarbeit mit einer tollen Band zu beginnen!

Antonio de Spirt und Levente Pavelka - die beiden Köpfe hinter La Boum Fatale - begegneten sich 2010 in Hamburg, wo sie beide Medientechnik studieren. Als La Boum Fatale haben sie bisher Remixes für Bodi Bill, Mimas oder Hundreds angefertigt.

In seinen eigenen Stücken verbindet das Duo Electronica, House, Garage und Dubstep in vielschichtigen Arrangements zu tiefen und atmosphärerischen Listening-Schönheiten. Die vorliegende Single sei dafür eine erfreuliche Vorschau. Das schönste Stück Electronica, das jemals nicht mit Absicht den Finger in die Wunde der Zeit legte. Der augenscheinliche Spaß sei erlaubt: Wir haben hier drei große A. Die bleiben werden. Mit Garantie. Und Hand drauf!

Im Juni 2012 erscheint das Debütalbum von La Boum Fatale auf Sinnbus.


LA BOUM FATALE are brand new. And brand new on Sinnbus. We are looking forward to starting something new with an amazing band!

Antonio de Spirt and Levente Pavelka - the two behind La Boum Fatale - met in 2010 in Hamburg where they both study media engineering. As La Boum Fatale they have done remixes for Bodi Bill, Mimas or Hundreds.

In complex soundscapes the duo builds up Electronica, House, Garage and Dubstep to deep and atmospheric listening beauties. "AAA" may be a delectable preview of what's coming soon. The most beautiful piece of Electronica that unintentionally strucks the nerve. The obvious joke may be allowed: What we have here is triple A. Made to last. Guaranteed. Shake on it!




GET THIS NICE RECORD!

Sinnbus Shop: CD
Audio files via iTunes | Beatport | Bandcamp

LISTEN:

"AAA (Single Edit)"
LINKS:

www.laboumfatale.com
www.facebook.com/laboumfatale
www.soundcloud.com/la-boum-fatale
www.oha-music.com (Booking)
www.elektropastete.de (Live Visuals)
COVERPICTURE:

AAA 300 dpi
AAA 72 dpi

BANDPICTURES: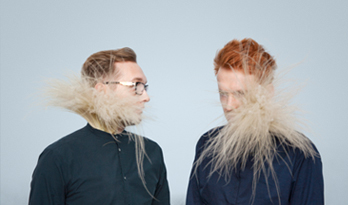 La Boum Fatale Pic 01
La Boum Fatale Pic 02
La Boum Fatale Pic 03

Pictures by www.ingopolster.com

VIDEO:


DATES:

No dates at the moment
RELATED RELASES:


La Boum Fatale
Damwild
read more ...

La Boum Fatale
Two Remixes
read more ...