Die Dinge auf das Wesentliche zu reduzieren, bedeutet nicht, auf etwas zu verzichten. Solange das übrig bleibt, was wirklich zählt - oder es im besten Falle freilegt. ME AND MY DRUMMER haben die Reduktion weit voran getrieben. Man sieht kaum mehr eine Band musizieren, hier stehen zwei Vertraute eng bei einander. Sind abwechselnd Liebespaar und wieder getrennt, umkreisen einander im Boxring wie im Ballsaal. Da ist eine unglaubliche Stimme, die um ihr Leben singt, auffordert, herausfordert und träumt und die auf einer dichten, erzählenden Musik Fahrt aufnimmt, gehalten und weiter getragen wird. Mit einem auf das Innerste eingedampften Instrumentarium - ein Schlagzeug, ein Piano - geht diese Stimme eine intime, zärtliche Verbindung ein, unmittelbar und von fast brutaler Nähe, und erzeugt einen berauschenden Sog - ursprünglich, raffiniert, hypnotisch, leichtfüßig, für sich stehend - der mit all dem am Ende nur spielt - vor allem mit sich selbst.

Wir sind stolz, diese wundervolle Band bei Sinnbus zu begrüßen. ME AND MY DRUMMER werden im 2012 zusammenmit Einar Stray auf Tour gehen, vorher arbeiten sie im Radio Buellebrueck Studio zusammen mit Tobias Siebert an ihrem Debütalbum. Am 20.01.2012 erscheint als Vorbote die Single "You're A Runner". Es darf ein aufregendes Jahr 2012 erwartet werden!


Scaling back to essentials does not mean giving anything up - as long as what is left or even laid bare is what truly matters. ME AND MY DRUMMER have really pushed this act of reduction. It's hardly a band you are watching here, it's two confidants in close contact. Ever-changingly, they are a loving couple, they separate, they circle each other in the boxing ring and in the ballroom. Here's an incredible voice, singing for her dear life, making requests and demands, challenging you, dreaming and floating on a dense musical ride, picking up speed and gaining momentum.

This voice forms a tender, intimate, immediate alliance with a set of instruments reduced to its core. Almost brutally close, they create an intoxicating undertow - pristine, refined, mesmerizing, light-footed - that after all really just wants to play with everything and itself.

We proudly welcome this wonderful band to Sinnbus. ME AND MY DRUMMER will be on tour in 2012 w/ Einar Stray. Before that they record their upcomimg debut album at Radio Buellebrueck Studio studio with Tobias Siebert. On jan 20th we the single "You're A Runner" will be released as the promising herald. This will be an exciting 2012!






GET THIS NICE RECORD!

Sinnbus Shop: CD
Audio files via iTunes | musicload

LISTEN:

"You're A Runner"
LINKS:

www.meandmydrummer.com
www.facebook.com/meandmydrummer
Booking: info@meandmydrummer.com
COVERPICTURE:

You're A Runner 300 dpi
You're A Runner 72 dpi

BANDPICTURES: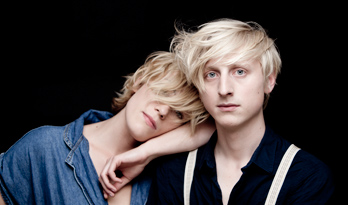 Me And My Drummer Pic 01
Me And My Drummer Pic 02
Me And My Drummer Pic 03

Pictures by Olga Kessler
Me And My Drummer Pic 04
Me And My Drummer Pic 05
Me And My Drummer Pic 06
Me And My Drummer Pic 07
Pictures by Thomas Kierok
VIDEO:




DATES:

No dates at the moment
RELATED RELASES: