Wieder einmal sei gemeinsamen Freunden gedankt: Rue Royale wurden uns vor Zeiten von The Black Atlantic und I Might Be Wrong dringend empfohlen und seither turteln wir in losen Abständen umeinander herum. Im Herbst haben sie ohne Zögern mit ihrer düsteren, schweren Version von Hundreds' "Fighter" einen wesentlichen Beitrag zu deren Variations-Album beigesteuert. Und nun heißen wir diese tolle Band endlich auch mit einem eigenen Album auf Sinnbus willkommen: Am 16.03.2012 erscheint "Guide To An Escape".

Seit sie 2006 beginnen, als Rue Royale zusammen Musik zu machen, bleibt den Eheleuten Brookln und Ruth Dekker kaum Gelegenheit, Luft zu holen. Unentwegt sind sie unterwegs, buchen sich selbst durch die halbe Welt und hinterlassen allerorts Begeisterung und greifbares Glück. Und insgesamt mehrere tausend Stück liebevoll in Heimarbeit angefertigter CDs. Nach zwei Jahren setzt das anglo-amerikanische Paar alles auf eine Karte, wagt den Schritt zur Vollzeit-Band und zieht von Chicago nach England. Von dort aus touren die zwei seitdem auf beiden Seiten des Ozeans landauf landab, spielen unzählige Konzerte auf Festivals, in Clubs und in Wohnzimmern und nutzen die kurzen Pausenzeiten dazwischen, um ihre hinreißende Musik aufzunehmen.

Und diese Musik erzählt dabei in zurückhaltenden, fragilen Stücken von andauernder Rast- und Haltlosigkeit, vom Reisen, Heimweh und dem ständigen Weiter-Müssen, dient als Beweis, Tagebuch und Selbstversicherung zugleich. Im ständigen Aufbruch und Ankommen für einen nur kurzen Moment ist sie ein verlässlicher Zufluchtsort: Zärtliche, intime Miniaturen in warmen Tönen, getragen vom oft zweistimmigen Gesang und einem ruhigen, gleichmäßigen Puls. Voll vom Blues der Fernstraßen und der Melancholie, die in vorbei ziehenden Lichtern fremder Leben lauert, zeichnen Rue Royale auf diesem Album mit wenigen Mitteln bedrückende und ergreifenden Momentaufnahmen ihres unablässigen Unterwegsseins.


Once again we have to thank our mutual friends: Rue Royale have been strongly recommended to us by The Black Atlantic and I Might Be Wrong some time ago and since then, we gently got to know each other. Unhesitatingly they have contributed a significant part to Hundreds' "Variations" record last fall with an impressive, dark and heavy version of "Fighter". And now, finally, it is time to welcome Rue Royale with their very own record: on march 16th 2012, "Guide To An Escape" will be released on Sinnbus.

Since 2006, when married couple Brooklyn and Ruth Dekker started to make music under the name Rue Royale, they did not have much time to catch breath.They have been travelling endlessly and tirelessly half around the world, booked themselves many gigs and have left excitement and tangible happiness behind. Not to mention thousands of lovingly handcrafted records. After two years, the Anglo-American couple put all their eggs into one basket, became a full-time band and moved from Chicago to England. From there, the two have been touring both sides of the ocean all the way up and down, playing countless festivals, venues and living rooms and used the short breaks between to nothing else then recording their enchanting music.

And this music is all about travelling, about homesickness, about the steady need to move on, aimlessness and restlessness. In a chary and fragile way it is evidence, diary and self-insurance at the same time. Being shelter in a reality of constant departure and arriving. At least for a short moment. Gentle, intimate miniatures, in warm shades, mostly carried by the two voices choir in a calm, steady pulse. Full of a highway blues feeling and the melancholy of passing lights, Rue Royale take touching snap shots of their unresting journey.


Pour les jeunes mariés Brookln et Ruth Dekker, tout va très vite depuis leurs débuts sous le nom de Rue Royale, en 2006. Ces amoureux aiment aussi la route, celle qui les mène de concert en concert - qu´ils programment d´ailleurs eux-mêmes. De scène en scène, ils distribuent autour d´eux un enthousiasme évident, une euphorie palpable - mais aussi des milliers de disques réalisés avec passion, chez eux, à Nottingham.

Deux ans plus tard, les deux anglo-américains se lancent pleinement dans l´aventure, décident d´y consacrer tout leur temps et quittent Chicago pour l´Angleterre. De là, ils reprennent la route vers la scène, sillonnent l´Europe et l´Amérique sans relâche: festivals, clubs, cafés se suivent dans un rythme effréné. Quand ce n&ecute;est pas sur scène, leur talent s´exprime en studio, où le temps libre est consacré à leacute;enregistrement de leurs compositions enchanteresses.

Leur musique est elle aussi un mariage: unique et délicat. Aérienne, légère, elle révèle une exaltation, une douce effervescence. Evoquant leurs voyages, le mal du pays et l´appel incessant de la route, elle est à la fois reflet de leur talent, journal intime et expression sincère. Refuge sûr dans une vie de déplacements, leur musique dévoile des images tendres, intimes et chaleureuses, harmonieusement portées par leurs voix souvent associées. Le couple exprime avec intensité mais simplicité ces moments uniques d´une vie de voyages.

Dans la lignée des Mumford & Sons et d'Angus & Julia Stone, suivez Rue Royale à travers leur Guide to an escape, enivrant de liberté.


GET THIS NICE RECORD!

Sinnbus Shop: CD | LP
Audio files via iTunes | musicload

LINKS:

www.rueroyalemusic.com
www.facebook.com/rueroyalemusic
www.karsten-jahnke.de (Booking)
COVERPICTURE:

Guide To An Escape Cover 300 dpi
Guide To An Escape 72 dpi

BANDPICTURES: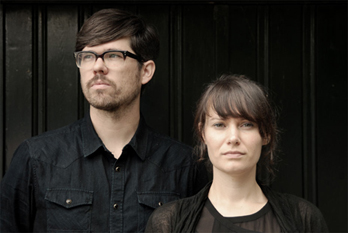 Rue Royale Pic 01
Picture by Brookln Deeker

Rue Royale Pic 02
Rue Royale Pic 03
Rue Royale Pic 04
Pictures by Michel Masquelier

Rue Royale Pic 05
Rue Royale Pic 06
Rue Royale Pic 07
Rue Royale Pic 08
Pictures by Claudio Pfeifer and Stephane Leonard
VIDEO:


DATES:

No dates at the moment
RELATED RELASES: