Mit ihrer Single "Have No Fear" begannen The/Das ihren Sommer mit einem nervösen und unterkühlten Stück und läuteten für sich eine wilde und arbeitsame Zeit ein. Die fast zeitgleiche Veröffentlichung ihres Mini-Albums "Speak Your Mind Speak" auf Sinnbus und des grandiosen, rastlos treibenden Supertracks "Outfashioned" auf der gleichnamingen EP auf dem italienischen Technolabel der Stunde Life And Death legte dabei den Kurs für die kommenden Monate fest: ein schweißtreibender Spagat zwischen zwei musikalischen Welten und deren Gepflogenheiten und Ritualen: leicht distanzierte, elektronische Popmusik auf der einen und sorgsam ausformulierter, raffinierter Listening-Techno auf der anderen Seite. Ein Tanz auf mehreren Hochzeiten, ein Ritt durch die halbe Welt.

Wie auch schon vorher mit Bodi Bill sind Fabian Fenk und Anton Feist nun mit The/Das überall unterwegs, spielen als Band Live-Shows oder legen als DJ Team auf, ob auf der Miami Music Week oder dem Detroit Movement Festival, in Moskau und auf Festivals in Italien. Und es folgen spannende Kollaborationen, von denen drei - Remixes von Uffe, Benjamin Damage und Vaal - als "Mind Speak Remixes" EP auf dem bandeigenen Label Krakatau Records veröffentlicht wurden.

Vor allem wuchs aber auch die Lust, in all dem Radau und Gewimmel einen kleinen, ruhigen Punkt zu setzen und sich für den Moment entspannt zurück zu lehnen. Mit "It's True" erscheint nun am 13.09.2013 ein sanftes, augenzwinkerndes Stück Musik für den Einzug in die Zielgerade dieses Sommers. So hektisch dieser für The/Das auch verlief, so ruhig und versöhnlich lassen sie ihn nun allmählich ausklingen.


With their single "Have No Fear" The/Das began their summer with a nervous and chilly piece. At the same time it rang in a wild and hardworking time for them. The simultaneous release of their mini-album "Speak Your Mind Speak" on Sinnbus and the amazing, restlessly drifting supertrack "Outfashioned" on the Italian Techno label Life And Death fixed the targets for the coming months: a sweat-inducing split between two musical worlds and their customs and rituals: slightly distanced, electronic pop music on the one hand and carefully formulated, subtle listening-techno on the other hand. With loads of irons in the fire, a ride through the whole world.

As beforehand with Bodi Bill, Fabian Fenk and Anton Feist are on the road everywhere, play live shows as a band or just DJ-sets, whether at the Miami Music Week or the Detroit Movement Festival, in Moscow or at festivals in Italy. Exciting collaborations were to come, out of which three - Remixes by Uffe, Benjamin Damage and Vaal - were released on the band-owned label Krakatau Records as "Mind Speak Remixes" EP.

Above all the passion grew to set a quiet spot inside the noise and bustle and lean back for the moment. With "It's True" a gentle, winking piece of music is released on the 13th of September while the summer is hitting its home stretch. As hectic as this was for The/Das, as calm and conciliating they let it fade away bit by bit.






GET THIS NICE RECORD!

Audio files via Beatport | iTunes | Bandcamp

LINKS:

www.the-das.com
www.facebook.com/TheDas.TXL
www.soundcloud.com/thedas-txl


COVERPICTURE:

It's True 300 dpi
It's True 72 dpi

BANDPICTURES: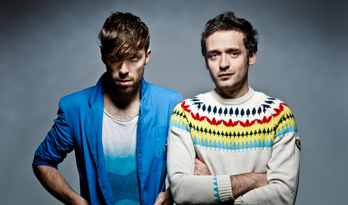 The/Das Pic 01
The/Das Pic 02


Pictures by Anna K.O.
DATES:

No dates at the moment
RELATED RELASES:


The/Das
My Made Up Spook | Digital
Audio files via
Beatport
|
iTunes
|
Bandcamp
read more ...

The/Das
Speak Your Mind Speak
read more...