01. The Gold Route
02. The Gold Route (Toby Dreher Remix)
Release: 25.10.2013 (DE/AT/CH), 28.10.2013 (world), 25.11.2013 (UK)
Listen:

Mit "The Gold Route" veröffentlichen UNMAP die erste Single ihres Debütalbums »Pressures«. Die irisch-deutsche Band um die Künstlerin Mariechen Danz und Alexander Stolze (Bodi Bill, Dictaphone) entwirft auf diesem Album ihren eigenen Ansatz von aktueller Popmusik aus treibendem Electro-Soul, modernem R&B, Trip Hop und bedacht gesetzter Electronica und verbindet diesen inhaltlich mit Gedanken über soziale Strukturen und Hierarchien, über die Grenzen von Sprache, Subjektivität und Objektivität.

So ist auch "The Gold Route" als eines der Herzstücke des Albums ein atemloser Monolog über die Konsequenzen von individuellen Entscheidungen auf dem Weg zum vermeintlichen Glück. Über Arbeit, Versagen, das Kämpfen, Niederlage und Einsicht, das Ausbeuten und Instrumentalisiertwerden. Gold ist das Glück, Blei die Arbeit und das, was bleibt, ist ein Kupferfleck. Eingebettet in dunkel pulsierenden Kammer-Pop von eigenartig verstörender Intimität.
With "The Gold Route" UNMAP release the first single of their debut album "Pressures" (release 02.12.2013). On this record the Irish-German band around artist Mariechen Danz and Alexander Stolze (Bodi Bill, Dictaphone) creates their own approach to current pop music of impelling electro-soul, modern R&B, triphop and cautiously used electronica. They combine this with thoughts about social structures and hierarchy, the borders of language, subjectivity and objectivity.

This way "The Gold Route" - as a core part of the album - became a breathless monologue about the consequences of individual decisions on the way to supposed fortune. About work, failure and understanding, exploitation and being instrumentalized. Gold is fortune, lead is work and copper stain, what remains. Embedded in dark vibrant chamber-pop of peculiar dazing intimacy.


GET THIS NICE RECORD!

Audio files via iTunes | Beatport | Bandcamp

LINKS:

www.unmapmusic.com
www.facebook.com/UNMAPBAND

COVERPICTURE:

The Gold Route 300 dpi
The Gold Route 72 dpi

BANDPICTURES: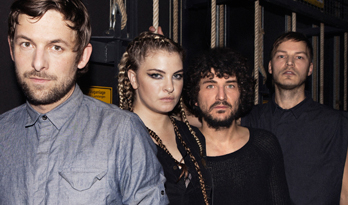 Unmap Pic 01 | Unmap Pic 02
Pictures by Christoph Neumann

Unmap Pic 03 | Unmap Pic 04
Pictures by Rosa Merk

Unmap Pic 05
Picture by Andrea Huyoff


VIDEO:


DATES:

No dates at the moment
RELATED RELASES: