01. Pirates
02. Pirates (T.Raumschmiere Remix)
Release: 10.03.2013 (world)
Listen:


Nach ihren beindruckenden Konzerten auf der 10-Jahre-Sinnbus Festivaltour gehen UNMAP nun mit ihrem aktuellen Album "Pressures" auf eigene Tour. Die Band stellt dabei auch ihre neue Single "Pirates" vor, ein kräftiges, rollendes Stück im musikalischen Spannungsfeld zwischen Elektrosoul, HipHop und Indie.

"'Pirates' beschäftigt sich mit dem Entdecken, wie man seinen Weg findet," sagt Sängerin Mariechen Danz. "Und mit dem Reisen, wenn bereits alles erobert und ausformuliert wurde. Eine tropische Überdosis in einer undeutlichen Wüstenandschaft."

Die Single enthält außerdem den düsteren, packend schlanken Remix von Shitkatapult-Gründer Marco Haas aka T.Raumschmiere, mit welchen die Band auch ihr Album produzierte.


After their stunning concerts during the 10-years-Sinnbus festival UNMAP now go on their own tour with their recent album "Pressures". With this the band also presents their new single "Pirates", a strong, rolling piece between the musical poles of Electrosoul, HipHop and Indie.

"'Pirates' considers how to discover, how to find ones way", says singer Mariechen Danz. "And how to travel when all has been conquered and everything has been mapped out. Tropical overdose in slurred desert landscape."

The single also contains the gloomy, grippingly slender remix by Shitkatapult-founder Marco Haas aka T.Raumschmiere, who the band also produced their album with.


GET THIS NICE RECORD!

Audio files via iTunes | Beatport | Bandcamp

LINKS:

www.unmapmusic.com
www.facebook.com/UNMAPBAND

COVERPICTURE:

Pirates 300 dpi
Pirates 72 dpi

BANDPICTURES: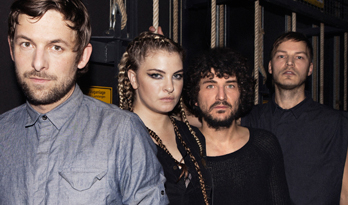 Unmap Pic 01 | Unmap Pic 02
Pictures by Christoph Neumann

Unmap Pic 03 | Unmap Pic 04
Pictures by Rosa Merk

Unmap Pic 05
Picture by Andrea Huyoff


DATES:

No dates at the moment
RELATED RELASES: