Rue Royale sind es gewohnt, auf den weniger befahrenen Wegen zu reisen - und sie haben nichts dagegen, andere mit zunehmen. Für ihr kommendes, ihr drittes Album ›Remedies Ahead‹ hat das anglo-amerikanische Duo Rue Royale seine Türen weit aufgestoßen und es Freunden und Fans ermöglicht, beim Entstehungsprozess ihrer bisher mutigsten und romantischsten Arbeit teil zu haben. Nachdem sie mehr als 100 000 Meilen auf Tour zurück legten, haben Ruth und Brookln Dekker im März 2013 ›Remedies Ahead‹ aufgenommen.

Das Paar wollte dabei von Beginn an seine Fans involvieren und startete zur Finanzierung des Albums eine Kampagne über die Crowdfunding-Plattform Kickstarter. Beiträge von vier bis zu überwältigenden 1000 Pfund wurden dabei eingebracht und Rue Royale erreichten spielend ihr Ziel. Brookln fasst die Geschichte zusammen: "Wir waren es gewöhnt, Rue Royale von unserem kleinen Zuhause in Nottingham aus völlig allein zu betreiben. Alles war selbstgemacht. In unserem Studio im Schlafzimmer im oberen Stockwerk nahmen wir die Musik auf, nähten dann die Cover zusammen und verpackten alles in unserer Küche. Wir wussten, dass wir unseren Wohlfühlbereich verlassen und uns selbst einen Stoß verpassen müssten, um den nächsten Schritt gehen zu können. Alles ging dann los, als einer unserer deutschen Fans ein Video für unsere Kickstarter Kampagne anfertigte. Der großartige Zuspruch war ja nicht gewiss. Und wir waren sehr erleichtert und auch verlegen, als das anvisierte Ziel erreicht wurde!" Die Finanzierung ermöglichte es der Band, sich für zwei Wochen im Bat Box Studio im südenglischen Lewes einzumieten. Unterstützt wurden die beiden dort durch ihren langjährigen Freund, Kollaborateur und Produzenten Paul Pilot (Duke Special, Beth Rowley, Athlete) sowie ein Eichhörnchen ohne Schwanz, das die ganze Zeit im Dachstuhl herum klapperte.

Anders als bei ihren ersten beiden Alben - ›Rue Royale‹ (2008) und ›Guide To An Escape‹ (2011 und 2012 wieder-veröffentlicht von Sinnbus) enstanden die Stücke diesmal zum grüßten Teil auf Tour. "Fast jedes Demo haben wir über mein iPhone während der Soundchecks aufgenommen", erinnert sich Brookln. "Das heißt, die Stücke nahmen ihre Form eher in großen Räumen an als in unserem Zimmer. Diese reduzierten Entwürfe nahmen wir mit ins Studio, um zusammen mit Paul einige der freien Stellen auszumalen. Oft mit nur ein oder zwei Versuchen." Diese mehr selbstbewusste Heransgesehensweise erlaubte es Rue Royale, auf ›Remedies Ahead‹ künstlerisch wesentlich mehr zu riskieren. Während der Puls der Bassdrum noch immer einige der Stücke antreibt, so tragen rhythmische Figuren zum Bespiel den Album-Opener ›Change My Grip‹ oder das Gänsehautfinale von ›Every Little Step‹. Zerschnittene Loops von Kinderschlagzeugen, Darmsaiten- und Elektrogitarren, Moog Synthies, Klavier tauchen alle auf diesem Album auf, die Hauptzutat bleibt paradoxerweise: Platz zum Atmen.

Freunde der Band, die 2006 in Brooklns Heimatstadt Chicago gegründet wurde, werden die gospelhaften und von Fleetwood Mac beeinflussten Harmoniegesänge wiedererkennen, sicher aber werden sie nicht knarrenden Syntie-Basslinien und Loops erwarten, die sich unter den rührenden Melodien von ›Tiny Parcels‹ oder ›Pull Me Like A String‹ versteckt halten. Entwurzelung ist nach wie vor das vorherrschende Thema, aber es gibt auch ein wachsendes Gefühl von hoffnungsvollem Trotz auf ›Remedies Ahead‹, versinnbildlicht im Live-Favoriten ›Try As They Might‹ mit seinem Refrain: "Try as they might/they cannot get me down" oder "With the step of a waltz/feeling low but walking tall" aus "Brought Up Somewhere Else". ›Every Little Step‹ vollendet schließlich den textlichen Bogen des Album mit den ersten zwei Zeilen: "Can't go back/Can't go backwards".

Das Heimunternehmen, das bereits bis in die entlegendsten Ecken von Europa und den Vereinigten Staaten gekommen ist, bricht nun aus und auf - auf der Suche nach Heilmitteln, die da irgendwo auf dem Weg vor ihnen liegen.


The road less traveled is a familiar place for Rue Royale - and they don't mind giving others a lift along the way. For their upcoming third album the soulful Anglo-American duo have thrown the doors wide open to help create their boldest, most romantic work to date. After notching up over 100,000 tour miles in just six years, Ruth and Brookln Dekker recorded ›Remedies Ahead‹ in March 2013.

The pair wanted fans involved from the outset and launched a campaign on pledge-site Kickstarter to finance the record. People put in everything from £4 to a mind-blowing £1,000 as Rue Royale exceeded their goal. Brook takes up the story: "We'd got used to running Rue Royale from our small home in Nottingham. It had all been self-made. We'd record in our upstairs bedroom studio and then stitch together album covers and package CDs in our kitchen. We knew that we had to step out of the comfort zone and push ourselves to get to the next level. It started when one of our German fans made a video for our Kickstarter campaign. The brilliant response to Kickstarter wasn't a given and we were relieved and humbled when we passed the target!" The funding enabled Rue Royale to decamp to Bat Box studios in Lewes. They were joined by friend and collaborator/producer Paul Pilot (Duke Special, Beth Rowley, Athlete), and a tail-less squirrel who rattled around the rafters, for a fortnight's music making.

Unlike their first two LPs - ›Rue Royale‹ (2008) and ›Guide To An Escape‹ (2011 and re-released by Sinnbus Records in 2012) - the pair wrote most of the tracks on the road. "Almost every demo was recorded into my iPhone during sound checks," Brook recalls. "This meant the songs were birthed in big, spacious rooms rather than a bedroom. We took these bare bone demos into the studio with Paul and colored in some of the spaces, often in just one or two takes." This more confident approach allows Rue Royale to venture down new artistic avenues on ›Remedies Ahead‹. While kick-drum beats still drive several tunes, bold rhythmic patterns bookend the album on opener ›Change My Grip‹ and the spine-tingling finale ›Every Little Step‹. Cut-up child's drum kit loops, gut-string and electric buzz guitars, Fender Rhodes, Moog synths, and upright piano all feature on an album that's key ingredient, paradoxically, is breathing space.

Followers of the band, who started in 2006 in their then hometown of Chicago, will recognize the Fleetwood Mac and Gospel influenced harmonies. However, they may not be expecting the rib-rattling synth bass lines and loops which lurk beneath heart-breaking melodies on ›Tiny Parcels‹ and ›Pull Me Like A String‹. Domestic and geographical dislocation are themes but there's a growing sense of hopeful defiance on ›Remedies Ahead‹, typified in live favourite ›Try As They Might‹ with it's chorus: "Try as they might/they cannot get me down" or "With the step of a waltz/feeling low but walking tall" from ›Brought Up Somewhere Else‹. ›Every Little Step‹ rounds of the album's lyrical arc with Ruth starting: "Been alive but I just woke up" and ending: "Can't go back / Can't go backwards".

A cottage industry that's already reached the farthest corners of Europe and the US, Rue Royale are breaking out - chasing the remedies ahead.


Les routes sinueuses n'ont jamais fait peur à Rue Royale, et cest d´ailleurs sur celles-ci qu´ils aiment vous emmener avec eux. Pour leur troisième album, le duo anglo-américain ont ouvert grand leurs horizons pour créer la plus audacieuse et romantique musique de leur répertoire. Après avoir parcouru plus de 106 000 km au cours de leurs tournées, c´est finalement en mars 2013 que Rue Royale compose Remedies Ahead.

Le couple formé par Brookln et Ruth Dekker tenait à impliquer leurs fans dès le début et a donc lancé une campagne Kickstarter afin de financer l´enregistrement de l´album. De 4 à 5 000 Euro, les retours obtenus ont été impressionnants, si bien que l´objectif a été largement dépassé. Brookln raconte : «Nous avions l´habitude de tout gérer depuis notre petite maison à Nottingham. Tout a toujours été fait-maison. Nous enregistrions à l´étage dans notre chambre transformée en studio et nous collions les pochettes d´albums dans la cuisine. Nous savions que nous voulions aller plus loin, sortir de notre zone de confort. Le fait que les gens répondent autant à la campagne nous a vraiment soulagé et motivé!». Le financement a permis au groupe de poser leurs guitares aux studios Bat Box à Lewes. Ils y ont été rejoints par leur ami producteur Paul Pilot (Duke Special, Beth Rowley, Athlete).

Contrairement à leurs deux premiers albums (Rue Royale 2008 et Guide To An Escape 2011 - réédité sur Sinnbus en 2012), le duo a composé la plupart des morceaux sur la route des concerts. «Presque toutes les démos ont été enregistrées sur mon iPhone pendant les sound checks» se souvient Brookln. «Les titres sont nés dans de grands espaces, plutôt que dans notre chambre, puis nous les avons amenés à Paul au studio pour qu´il y apporte plus de couleur.» Cette nouvelle approche a permis à Rue Royale de s´aventurer sur de nouvelles avenues artistiques éclairées à la caisse claire et réchauffées par l´harmonie de leurs voix.


GET THIS NICE RECORD!

Sinnbus Shop: CD | LP
Amazon: CD | LP
Audio files via iTunes
LISTEN:


LINKS:

www.rueroyalemusic.com
www.facebook.com/rueroyalemusic
www.karsten-jahnke.de (Booking)
COVERPICTURE:

Remedies Ahead 300 dpi
Remedies Ahead 72 dpi

BANDPICTURES: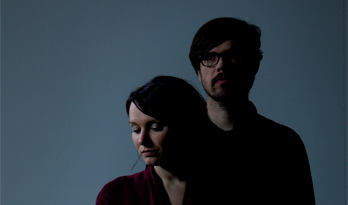 Rue Royale Pic 01
Picture by Claudio Pfeifer

Rue Royale Pic 02
Picture by Pepe Fotografia


DATES:

No dates at the moment
RELATED RELASES: