Nun ist es soweit. Am 28.02.2014 veröffentlichen HUNDREDS mit "Circus" das erste Lebenszeichen seit längerer Zeit, die erste Single ihres in Kürze erscheinenden Albums "Aftermath"!

Nach ihrem umwerfenden Debütalbum werden dann tatsächlich schon vier Jahre vergangen sein. Eine lange Zeit, und doch sind es die gleiche Aufregung, die gleiche Überzeugung und das gleiche Glühen. Nur mit Hundreds als Band, die gewachsen, die selbstbewusster, lässiger und zwingender geworden ist, ohne dass der Zauber ihrer kühlen Eleganz verloren gegangen wäre.

"'Circus' ist eine Befreiung vom Zweifel und vom inneren Zwang etwas sein zu müssen, dass man nicht sein will", sagt Sängerin Eva Milner, "auch wenn man weiß, dass er dazu gehört, dass man ihn nie ganz los wird." Das Stück ist ein leichte, tanzende Ode an diese Gewissheit. Eine Geschichte von Öffnung und Loslassen, vom Älterwerden, aber auch von erfrischender Naivität und unbedingter Utopie.

Sie ist das Ergebnis der Arbeit der zurückliegenden Zeit. Nach der langen Phase des endlosen Tourens durch die halbe Welt wurden die Geschwister Milner auf sich selbst zurück geworfen, suchten nach einem neuen Ansatz und wussten anfangs nicht mehr, wie sie arbeiten sollten. Die Band zieht aufs Land, baut sich ihr eigenes Studio im Nirgendwo und wirft alle Skizzen über den Haufen. In der Ruhe und Abgeschiedenheit setzen die beiden neu an und plötzlich greift alles ineinander, gehen die Dinge auf und bekommen den nötigen Raum zum Wachsen.

'Circus' spiegelt nun diesen Neubeginn wider. Und ist vor allem eines: großartige, für sich selbst stehende Popmusik. Und ein verheißungsvoller Ausblick auf das neue Album einer der interessantesten Bands dieser Zeit. Wir sind in heller Aufregung und freuen uns wie die Kinder auf das vor uns liegende Jahr. Mindestens!


Now it's time. With "Circus" on April 14, 2014, HUNDREDS release their first sign of life in a long time. The first single of their soon to be released album "Aftermath"!

After their stunning debut album it's actually been four years. A long time, yet it's the same conviction, passion and excitement. Only a band like Hundreds could return with the same vigour whilst maintaining that enchanting, cool elegance that has become their signature sound and attitude.

Forming in 2010, the band recorded their debut, the self-titled Hundreds. Crafting a unique sound that drew comparisons to Massive Attack, Dido and Little Dragon. As one reviewer wrote: "The Milner siblings strike a beautiful blend of post rock, synth pop, folk and electronics." Immediately following the album's release, Hundreds began touring. Rapidly finding a stride on the European festival circuit, Eva and Philip delighted audiences in Paris, London, Milan, Brussels and at SXSW in the US.

Fresh from spending more than two years on the road and building the truest form of grassroots fan base, Hundreds entered the studio in 2012 with a wealth of new experiences, influences and ideas in their arsenal. "'Circus' is a relief from doubt and from inner compulsion to be something you don't want to be", says singer Eva Milner, "even if you know that it belongs to you, that you will never get rid of it." The song is a light, dancing ode to this certainty. A story of opening up and letting go, growing older, but also of refreshing naivety and unconditional utopia.

It's the result of last time's work. After a long phase of endlessly touring half the world, the Milner siblings were searching for a new approach to writing their music. They moved to the countryside and built their own studio in the middle of nowhere, starting from scratch, they began to write Aftermath. In their quiet seclusion, the band found their new approaching, writing organically and eventually producing twelve perfect tracks.

"Circus" reflects this restart. And above all it is one thing: amazing pop music, that stands for itself. And a promising outlook to the new album of one of the most interesting bands of this time. We are in great excitement and are happy as kids while looking forward to the year in front of us. At least!


GET THIS NICE RECORD!

Audio files via iTunes | Bandcamp


LINKS:

www.hundredsmusic.com
www.skrotzki-kempf.com (Management)
www.fourartists.de (Booking)
COVERPICTURE:

Circus Cover 300 dpi
Circus Cover 72 dpi

BANDPICTURES: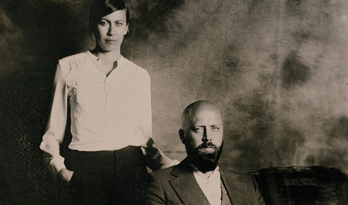 Hundreds Bandpic 01
Hundreds Bandpic 02
Hundreds Bandpic 03

Pictures by J. Konrad Schmidt
VIDEO:


DATES:

No dates at the moment
RELATED RELASES: