Anlässlich der kommenden Tour zu ihrem aktuellen Album "Aftermath" stellen HUNDREDS die zweite Single vor: Am 25.04.2014 erscheint "Our Past"!

In dem kraftvoll treibenden Stück erzählt Sängerin Eva Milner mit unaufgeregtem Ton eine Geschichte von Abschied und Weggang, von Superhelden, die Meere zu teilen vermögen, nur aber, um sich auf diesem Weg aus dem Staub zu machen. Übrig bleibt die lakonische Frage, was wohl in tausend Jahren von der Enttäuschung und der Verletzung bleiben wird.

Nach der Veröffentlichung der ersten Single "Circus" als erstes, selbstbewusstes Lebenszeichen und dem gerade dazu veröffentlichten liebevollen und detailverliebten Video von Stromberg-Regisseur und Grimme-Preisträger Arne Feldhusen, ist es nun an der Zeit für den nächsten starken Eindruck. War "Circus" mit seiner weit geöffneten Klangästhetik für viele Fans eine große Überraschung, so knüpft "Our Past" zu gleichen Teilen an den innovativen Sound vom selbstbetitelten Debütalbum an wie es auch die konsequente Weiterentwicklung einer der momentan spannendsten Bands aufzeigt, die ihren minimalistisch-elektronischen Entwurf nun um raumgreifende Melodien und große Pop-Momente erweitert.

Auf den schon lange ausverkauften Konzerten zur Album-Veröffentlichung zeigen Hundreds sich noch in einem intimeren Rahmen, um nun anschließend ihre Musik und ihre Show auf die größeren Bühnen zu bringen, wo sie ihre volle Entfaltung zeigen können. "Our Past" sei ein viel versprechender Vorbote!


Hundreds are pleased to announce Our Past, released May 12th 2014 via Sinnbus. It's the second single taken from their hotly anticipated album Aftermath due for release on 26th May 2014.

The song tells an intriguing story of farewell and departure, of superheroes using their powers only to silently steal away into the night. It's also a story of disappointment and injury, not that it will mean anything in a thousand years time. In keeping with the tone of their previous single. Our Past once again displays a technical finesse that blends electronic and traditional instrumentation to make an uplifting, and enlightening slice of introspective electronica.

Our Past, like Aftermath and Circus, is the story of opening up and letting go, growing older, but also of refreshing naivety and unconditional utopia. It also captures the sound of two musicians at the top of their game.


GET THIS NICE RECORD!
Audio file via
iTunes
LINKS:

www.hundredsmusic.com
www.skrotzki-kempf.com (Management)
www.fourartists.de (Booking)
COVERPICTURE:

Our Past Cover 300 dpi
Our Past Cover 72 dpi

BANDPICTURES: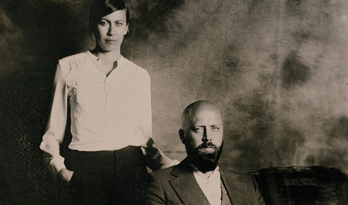 Hundreds Bandpic 01
Hundreds Bandpic 02
Hundreds Bandpic 03

Pictures by J. Konrad Schmidt
DATES:

No dates at the moment
RELATED RELASES: