Hundreds gönnen sich keine Pause. Kaum ist ein arbeitsamer Sommer mit vielen tollen Konzerten auf den geschmackvollen Festivals dieses Landes vorüber, verkündet die Band bereits die Daten für den nächsten Abschnitt ihrer "Aftermath" Tour. Im Dezember werden Hundreds ihr im März erschienenes gleichnamiges Album ein letztes Mal in die Clubs bringen, bevor sie mit den Arbeiten an neuem Material beginnen werden.

Zugleich wird mit "Ten Headed Beast" die nächste Single des Album veröffentlicht. Die von JEM (u.a. Juli, Madsen, Monta) produzierte Version des Stückes zeigt Hundreds trotz des dichten, treibenden Pulses von einer ungewohnt luftigen Seite. Über den strahlenden Harmonien erzählt Sängerin Eva Milner in typisch ruhigem Ton davon, Lebensentwürfe und Entscheidungen zu hinterfragen und von außen zu betrachten. "Die Vorstellung, sich ganz in eine andere Person hinein zu versetzen, in eine andere Haut zu schlüpfen, hat etwas befreiendes," sagt sie. "Die Wahrheit des anderen leitet mich für eine kleine Weile."

Zusätzlich erscheint ein Remix der Single von Christian Löffler. Dieser markiert außerdem den Beginn einer Kooperation, die beide Seiten schon seit langer Zeit angestrebt hatten. Die lange Version des Stückes, dem Löffler seine gewohnt geschmackvolle, introspektive Note verleiht, wird im November zusammen mit anderen Remixen (Brandt Brauer Frick, Robag Wruhme, The/Das) auf einer stilvollen EP beim Berliner Techno-Label Krakatau Records erscheinen und eine weitere schillernde Facette von Hundreds' Klangkosmos illustrieren.


Hundreds allow themselves no break. The hard-working summer with lots of great festival gigs is hardly over as the band announces dates for the next part of the "Aftermath" tour. In December Hundreds will bring their same-named album one last time into the clubs before they start working on new material.

At the same time they release their next single "Ten Headed Beast". Despite the dense, driving pulse the song's version by German top producer JEM shows Hundreds from an unfamiliarly airy angle. Over the bright harmonies singer Eva Milner tells a story of scrutinizing life designs and decisions in her characteristic calm tone. "Imagining to slip into the role of another person has something liberating to it," she says. "The truth of the other person guides me for a little while."

In addition a remix by Christian Löffler is released. It also marks the start of a cooperation both sides are aiming for for a long time. The piece's long version, which Löffler lent his tasteful, introspective touch, will be released in November together with other remixes (Brandt Brauer Frick, Robag Wruhme, The/Das) on a classy EP on Berlin's techno label Krakatau Records and illustrate another shimmering facet of Hundreds' soundscape.


GET THIS NICE RECORD!
Audio file via
iTunes
|
iTunes
|
Bandcamp
LINKS:

www.hundredsmusic.com
www.skrotzki-kempf.com (Management)
www.fourartists.de (Booking)
COVERPICTURE:

Ten Headed Beast Cover 300 dpi
Ten Headed Beast Cover 72 dpi

BANDPICTURES: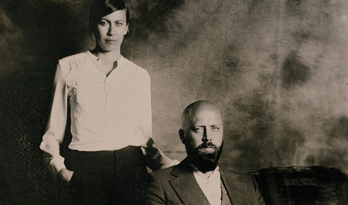 Hundreds Bandpic 01
Hundreds Bandpic 02
Hundreds Bandpic 03

Pictures by J. Konrad Schmidt
VIDEO:


DATES:

No dates at the moment
RELATED RELASES: