Der Kreis schließt sich. Ein wenig. Hundreds kehren am Ende ihrer langen Touren zum Album "Aftermath" zum Anfang zurück. Mit "Tame The Noise" zeigen sie ihre Songs in ihrer reinsten Form ohne großes Elektronikspektakel, nur Klavier, Stimme, ein paar Beats. Intim. Warm.

"Tame The Noise" war zuallererst die Idee, die Musik weniger elektronisch und organischer umzusetzen. So wurde alles noch mal umgearbeitet, reduziert auf das absolut wesentliche. Und doch zeigen die Stücke gerade in dieser Form ihrer absolute Stärke. Mit Klarheit und Raum für Stille nehmen Hundreds das Publikum mit zum Ursprung ihrer Songs.

"Tame The Noise" wurde im Frühjahr 2015 auf einer exklusiven Tour live aufgeführt. Die Resonanz auf das ganze Projekt war so groß, dass Hundreds sich auch auf Nachfrage vieler Fans entschieden haben, diese neuen Versionen im altehrwürdigen Studio Nord, Bremen aufzunehmen und über das eigentliche Konzerterlebnis hinaus zu teilen.


The circle is complete. A bit. After the long tours for their album "Aftermath" Hundreds come back to the beginning. On "Tame The Noise" they present their songs in its purest form without a big electro extravaganza. Only piano, voice, a few beats. Intimate. Warm.

"Tame The Noise" was first and foremost the idea to implement the music less electronic and more organic. Hence everything was reworked, reduced to the absolute essentials. And yet especially in this form the tracks reveal their real strength. With clarity and space for silence Hundreds take their audience to the origins of their songs.

"Tame The Noise" was performed live on an exclusive tour in spring 2015. The feedback to it was so immense, Hundreds decided to meet the requests from their fans with recording the new versions in the vintage Studio Nord in Bremen and share them beyond the actual concert experience.


GET THIS NICE RECORD!

Audio files via iTunes | Bandcamp


LINKS:

www.hundredsmusic.com
www.skrotzki-kempf.com (Management)
www.fourartists.de (Booking)
COVERPICTURE:

Tame The Noise Cover

BANDPICTURES: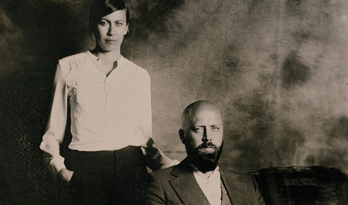 Hundreds Bandpic 01
Hundreds Bandpic 02
Hundreds Bandpic 03

Pictures by J. Konrad Schmidt
DATES:

No dates at the moment
RELATED RELASES: