The/Das have chosen an exciting path. In the so far short history under this name Fabian Fenk and Anton Feist allowed themselves the luxury to try out, discard and approach another point. They played with their musical borders and above all repeatedly questioned and fathomed the possibilities of their own cooperation. With great curiosity The/Das plunged into new collaborations and released short formats to test their margins.

Two EPs with techno tracks are released on Italy's cutting edge dance-label Life And Death. For Tale Of Us, also on Life And Death, Fenk sang his distinctive vocals. The/Das travel half the world, perform - according to the context - as a band or merge their pieces into pulsating DJ-sets. The EP "Speak Your Mind Speak" with song-oriented material is released on Sinnbus. The corresponding remixes by Uffe, Benjamin Damage and Vaal on their own label Krakatau. More and more The/Das' style condenses and their draft of subcooled and highly driving electronic music grows.

Already with their previous band Bodi Bill together with Alex Stolze they tear down genre borders like incidentally. The band smoothly brings folk-ish songwriting into sweaty electro clubs - or vice versa. And they give the extatic run a sounding soul. With a remarkable sound cosmos, a twisted imagery and above all their fantastic concerts the three of them set formative and still valid marks with ease. When Bodi Bill in the moment of the brightest shine got sent into a well-deserved breathing-pause, Stolze turned towards a darker band sound with UNMAP and Dictaphone. While Fenk and Feist look for a more flexible form of making music, for lighter luggage and a faster output, without losing themselves in no commitment.

Now with "Freezer" the first longplayer by The/Das is released and all the detours and different approaches come together. These eight tracks developed between coincidence and experiment on the one hand and experience and sovereignty on the other hand. The/Das show those as a grown entity with new self-confidence. The more distinct calmness looks as good on the album as the opening soundwise: The/Das get lesser and lesser project and more and more band, which constantly works together with more musicians, to create a clearly more organic sound pattern in a technoid frame. Next to longtime live member Thomalla (Krakatau, Running Back), Jörg Wähner (Apparat) and Gunnar Spies (Mia.) are also integrated into the live set on the drums. Apart from this conscious step The/Das allow themselves in all other concerns not having to decide for anything.

On "Freezer" the huge musical range, that is to be expected from everyone involved, is shown. Whether it's the cautiously chosen and "soundy" opener "My Made Up Spook" or the pleasently brash and rough "Parallel Worlds", the hypnotic "Miami Waters", the deeply sad "Receiver" or the exuberant title track - "Freezer" is an ode to the urge to discover, the distance, the curiousness and the confusion. And it shows The/Das as an excitingly and fascinatingly expanding band.

All along their whole output The/Das made a huge promise. With "Freezer" they deliver on it.


The/Das haben sich für einen spannenden Weg entschieden. In der bisher noch kurzen Geschichte unter diesem Namen gönnen sich Fabian Fenk und Anton Feist den Luxus, auszuprobieren, zu verwerfen und an anderer Stelle wieder anzusetzen. Sie haben mit ihren musikalischen Grenzen gespielt, vor allem aber auch Möglichkeiten der eigenen Zusammenarbeit immer wieder in Frage gestellt und ausgelotet. Mit großer Neugier stürzen sich The/Das auf neue Kollaborationen und veröffentlichen kurze Formate, um ihre Eckpunkte abzuklopfen.

Zwei EPs mit eher techno-lastigen Stücken erscheinen auf dem äußerst geschmackssicheren Label Life And Death. Den ebenfalls dort beheimateten Tale Of Us leiht Fenk seine markante Stimme. The/Das reisen um die halbe Welt, treten je nach Kontext als Band auf oder verbinden ihre Stücke einfach zu pulsierenden DJ-Sets. Die EP "Speak Your Mind Speak" mit eher song-orientiertem Material erscheint auf Sinnbus. Die dazugehörigen Remixe mit Arbeiten von Uffe, Benjamin Damage und Vaal folgen auf dem eigenen Label Krakatau. Und immer mehr verdichtet sich die Handschrift von The/Das, wächst ihr lässiger Entwurf leicht unterkühlter und in hohem Maße lebendiger elektronischer Musik.

Bereits mit ihrer vorherigen Band Bodi Bill reißen sie zusammen mit Alex Stolze wie nebenbei Genregrenzen ein. Die Band trägt raffiniert angefolktes Songwriting in die schwitzenden Electro Clubs, oder umgedreht, und geben der extatischen Abfahrt eine klingende Seele. Mit einem unverwechselbaren Klangkosmos, einer verdrehten Bildsprache und vor allem mit ihren fantastischen Konzerten setzen die drei mit Leichtigkeit prägende und nach wie vor geltende Marken. Als Bodi Bill dann im Moment des schönsten Strahlens wohlverdient in eine Verschnaufpause geschickt wird, wendet sich Stolze mit Dictaphone und vor allem Unmap einem wesentlich düsteren Bandsound zu, während Fenk und Feist mit The/Das nach einer flexibleren Form des Musikmachens suchen. Nach leichterem Gepäck und schnellerem Output, ohne sich in Unverbindlichkeit zu verlieren.

Nun erscheint mit "Freezer" das erste Langspielalbum von The/Das und all die Umwege und verschiedenen Ansätze laufen zusammen. Zwischen Zufall und Experiment einerseits sowie Erfahrung und Souveränität auf der anderen Seite sind die hier vorliegenden acht Stücke entstanden. Und die zeigen The/Das als gewachsene Einheit mit neuem Selbstbewusstsein. Die viel deutlichere Gelassenheit steht dem Album genau so gut zu Gesicht wie die klangliche Öffnung: The/Das werden immer weniger Projekt und immer mehr Band, die nun fest mit mehr Musikern zusammen arbeitet, um im technoiden Gerüst ein deutlicher organischeres Klangbild zu entwickeln. Neben Langzeit-Livemitglied Thomalla (Krakatau, Running Back) sind außerdem Jörg Wähner (Apparat) und Gunnar Spies (Mia.) am Schlagzeug zu hören, die nun ebenfalls fest in die Live-Umsetzung integriert sind. Abgesehen von diesem bewussten Schritt gestatten sich The/Das in allen anderen Belangen, sich vor allem nicht für irgendetwas entscheiden zu müssen.

So zeigt sich auf "Freezer" die große musikalische Spannbreite, die von allen Beteiligten zu erwarten ist. Ob der gewählt formulierte und sehr "soundige" Opener "My Made Up Spook" oder das schnoddrige, ungeschliffene "Parallel Worlds", das hypnotischen "Miami Waters", das tieftraurige "Receiver" oder das überbordende Titelstück - "Freezer" ist eine detailverliebte Ode an den Entdeckungsdrang und die Ferne, die Neugier und die Verwirrung. Und es zeigt The/Das als eine sich auf aufregende und faszinierende Weise ausdehnende Band.

Über ihren gesamten Output verteilt haben The/Das bisher ein großes Versprechen gegeben. Mit "Freezer" lösen sie es ein.






GET THIS NICE RECORD!

Sinnbus Shop: CD | Vinyl
Audio files via iTunes | Bandcamp

LINKS:

www.the-das.com
www.facebook.com/TheDas.TXL
www.soundcloud.com/thedas-txl


COVERPICTURE:

Freezer 300 dpi
Freezer 72 dpi

Cover art by Inga Kerber, excerpt from her series "cliché of a palm tree"
www.ingakerber.de
BANDPICTURES: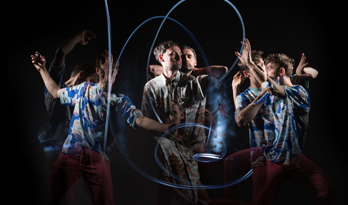 The/Das Pic 01 | The/Das Pic 02

Pictures by Anna K.O. and Rosa Merk

The/Das Pic 03 | The/Das Pic 04 | The/Das Pic 05
The/Das Pic 06 | The/Das Pic 07

Pictures by crystalmafia
VIDEO:




DATES:

No dates at the moment
RELATED RELASES: