01. My Made Up Spook (Radio Edit)
Release: 23.05.2014 (DE, AT, CH) / 23.06.2014 (world)

The/Das haben viel ausprobiert und zeitgleich erfolgreich verschiedene Ansätze Musik zu machen unter einem Dach vereint. Zwei EPs mit mit techno-lastigen Stücken auf dem äußerst geschmackssicheren Label Life And Death, treibende DJ-Sets rund um den Erdball und "Speak Your Mind Speak", die Debüt-EP mit song-orientiertem Material auf Sinnbus. Wir nennen ihn Techno-Tenderness, ihren lässigen Entwurf unterkühlter und hochgradig treibender Musik mit detailverliebtem Tiefgang. Auf diesem Weg wurden The/Das immer weniger Projekt und immer mehr Band, die mit mehr Musikern zusammen arbeitet, um im technoiden Gerüst ein deutlicher organischeres Klangbild zu entwickeln.

Nun kündigt "My Made Up Spook" als erste Single das kommende Album "Freezer" an, das im August dieses Jahres veröffentlich wird. Nach dem kürzlich online verbreiteten "Parallel Worlds", dem in seiner angenehm schnoddrigen Roheit und Ungeschliffenheit am meisten "bandmäßigen" Stück des Albums, zeigen sich The/Das mit "My Made Up Spook" eher wieder gewählt ausformuliert und bedacht in der Wahl ihrer Mittel. Aus einem Stück elektronisch gebauter Musik wächst ein lebendiges Gebilde und spielt auf dem feinen Grat zwischen Popmusik und verdrehter Krudität. Das sehr zärtlich gesetzte Stück ist eine wirkliche Liebeserklärung, ist eine Hymne an den Entdeckungsdrang und die Ferne, die Neugier und die Verwirrung und zeigt eine weitere spannende Facette in der sich weiter ausbreitenden Soundwelt der Band. Von The/Das dürfen wir ein aufregendes Jahr erwarten.


The/Das tried a lot and at the same time combined different musical approaches under one umbrella: Two EPs with techno tracks on Italys cutting edge dance-label Life And Death. Driving DJ-sets around the world. And "Speak Your Mind Speak" , their debut-EP with song-oriented material on Sinnbus. We call it techno tenderness, their laid-back draft of subcooled, highly driving, in-depth music. On this path The/Das became lesser and lesser a project but a band, working together with more musicians, to create a clearly more organic sound pattern inside the technoid frame.

Now the first single "My Made Up Spook" announces the upcoming album "Freezer", which will be released in August. The song is following up on the recently online released "Parallel Worlds", which is in its pleasantly brash roughness and crudeness the most "band-ish" track of the album. With "My Made Up Spook" the band shows itself more shaped and cautious in chosing their tools. Out of a piece of electronically build music grows a lively construct and plays on the fine line between pop music and crude twists. The very tenderly put song is a real love letter, it is a hymn to the urge to discover and the distance, the curiousness and the confusion and shows further facets in the expanding sound scape of this band. Of The/Das we can expect a thrilling year.






GET THIS NICE RECORD!

Audio files via Beatport | iTunes | Bandcamp

LINKS:

www.the-das.com
www.facebook.com/TheDas.TXL
www.soundcloud.com/thedas-txl


COVERPICTURE:

My Made Up Spook 300 dpi
My Made Up Spook 72 dpi

BANDPICTURES: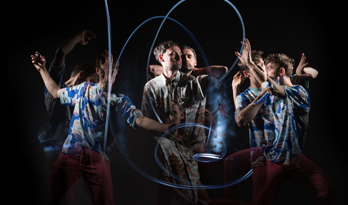 The/Das Pic 01 | The/Das Pic 02

Pictures by Anna K.O. and Rosa Merk

The/Das Pic 03 | The/Das Pic 04 | The/Das Pic 05
The/Das Pic 06 | The/Das Pic 07

Pictures by crystalmafia
VIDEO:


DATES:

No dates at the moment
RELATED RELASES:


The/Das
Speak Your Mind Speak (CD / 12")
read more ...

The/Das
It's True | Digital
read more ...
Audio files via
iTunes
|
Beatport
|
Bandcamp