01. Miami Waters (Radio Edit)
02. Miami Waters (Album Version)
Release: 29.08.2014 (DE, AT, CH) / 01.09.2014 (world)

Mit "Miami Waters" gestatten The/Das einen weiteren Ausblick auf ihr kommendes Debütalbum "Freezer". Nach dem ruppigen "Parallel Worlds" und der detail- und soundverliebten ersten Single "My Made Up Spook" spielt das zur Band gewachsene Projekt von Anton Feist und Fabian Fenk lässig in den gemeinsamen Randbereichen von intelligenter elektronischer Tanzmusik und kauzigem Kraut-Zeugs.

"Zur Miami Music Week spielte Four Tet auf einer der Underground Shows open air für ein paar hundert Leute", sagt Fenk, "es war nachts bereits muckelig warm, während es in Berlin bei Minusgraden noch schneite, einer dieser seltenen Augenblicke, wo die Müdigkeit zu einem Gefühl von Entspanntheit wird. Es gab nichts anderes zu tun als den Moment zu geniessen." Ein paar Zeilen liegen in der Luft. Mit DJ Clarian North, der nebenan steht, wandern sie einige Male im Ping Pong hin und her und legen den Grundstein für das spätere Stück. "Dieses Gefühl von Freiheit schwang für mich seit dem immer mit wenn wir an dem Song arbeiteten. Ein besonderer, optimistischer Moment, fast als könnte man ihn mit einem Song 'forever' verlängern."

Und so baut "Miami Waters" auf einen einfachen, treibenden Loop und Fenks markanten Gesang und entwickelt sich dabei zu einem ebenso hypnotischen wie zuversichtlichen Befreiungsschlag. Zu einem großen, genussvollen Atemzug an der frischen Luft.


With "Miami Waters" The/Das allow another outlook to their upcoming debut album "Freezer". After the brash "Parallel Worlds" and the details- and sound-loving first single "My Made Up Spook" the project by Anton Feist and Fabian Fenk, that has grown into a band, casually plays in the periphery of intelligent electronic dance music and odd Kraut-stuff.

"Four Tet was playing an Open Air show for a few hundred people at Miami Music Week", says singer Fabian Fenk, "it was nicely warm outside, while there was snow in Berlin, one of these few moments when tiredness turns into relaxedness. There was nothing to do than enjoying the moment." A few lines hung in the air. With DJ Clarian North, standing next to Fenk, they went to and fro and laid the foundation of the song. "From then on this feeling of freedom resonated for me when we were working on the song. A special, optimistic moment, almost as if you could extend it forever with a song."

Hence "Miami Waters" builds on a simple, driving loop and Fenk's distinct voice. It develops into a hypnotic as well as confident clearance. Into a huge, delightful breath of fresh air.






GET THIS NICE RECORD!

Audio files via Beatport | iTunes | Bandcamp

LINKS:

www.the-das.com
www.facebook.com/TheDas.TXL
www.soundcloud.com/thedas-txl


COVERPICTURE:

Miami Waters 300 dpi
Miami Waters 72 dpi

BANDPICTURES: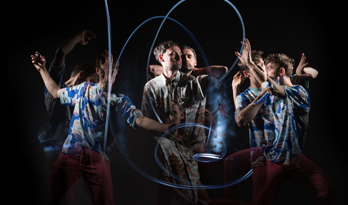 The/Das Pic 01 | The/Das Pic 02

Pictures by Anna K.O. and Rosa Merk

The/Das Pic 03 | The/Das Pic 04 | The/Das Pic 05
The/Das Pic 06 | The/Das Pic 07

Pictures by crystalmafia
VIDEO:


DATES:

No dates at the moment
RELATED RELASES: