In seiner norwegischen Heimat gilt das Einar Stray Orchestra noch immer als ein Geheimtipp im musikalischen Underground. Als vor drei Jahren das Debütalbum Chiaroscuro - damals noch unter dem Namen Einar Stray - in Norwegen erscheint, ist dies immerhin der Startpunkt eines beindruckenden Werdegangs. Die Reaktionen sind ausnahmslos positiv; die Band wird zum Beispiel noch im gleichen Jahr auf das sehr geschmackvolle By:larm Festival eingeladen. Die eigentliche Begeisterung aber bricht sich Bahn im Rest von Europa, wo diese sehr junge Band auf dem Iceland Airwaves oder der Berlin Music Week spielt und bleibenden Eindruck hinterlässt.

Im darauf folgenden Jahr wird Chiaroscuro international veröffentlicht und findet vor allem im Mutterland des Pop und in Deutschland großen Anklang. Gerade im letzteren sprechen sich die Qualitäten der Band schnell herum: mehr als die Hälfte der Konzerte der fantastischen Debüttour sind aus dem Stand heraus restlos ausverkauft. Es folgen die Einladung des Isländers Ólafur Arnalds, mit ihm in Moskau zu spielen, mehrere Klubtouren in ganz Europa und eine weitere Einladung in Russland zu touren, diesmal von Múm. Als Einar Stray Orchestra im Herbst 2012 in der überfüllten St. Pauli Kirche in Hamburg während des Reeperbahn Festivals spielt, ist es mucksmäuschenstill und der versammelten Musikindustrie stehen die Tränen in den Augen. Gut 150 Konzerte hat die Band seitdem gespielt, bevor sie im letzten Sommer mit Produzent Hasse Rosbach (Moddi, Team Me) die Arbeiten am zweiten Album beginnt. Ein Großteil des neuen Materials wird am Anfang dieses Jahres ein erstes Mal beim traditionellen Neujahrkonzert im ehrwürdigen Konzertsaal der Volksbühne in Berlin getestet. Wiederum vor restlos ausverkauftem Hause.

Seinen Startpunkt hat das spätere Einar Stray Orchestra im Jahr 2008, als der damals 18-jährige Einar Stray auf den ebenfalls aus Norwegen stammenden Künstler und Musiker Moddi trifft. Die beiden verstehen sich augenblicklich, spielen gegenseitig in ihren jeweiligen Bands, veröffentlichen eine gemeinsame Platte und touren gemeinsam. Gelegentlich spielt Einar Stray noch immer in Moddis Band, findet mit Lars Fremmerlid (Schlagzeug), Ofelia Ostrem Ossum (Violoncello), Simen Aasen (Bass) und Asa Ree (Violine) aber die Band, die immer fester zusammenwachsen wird. Und weil die praktisch schon lange nicht mehr Strays Soloprojekt ist, wird dies endlich auch im Bandnamen manifestiert: im Frühjahr benennt sich die Band um in Einar Stray Orchestra.

Das neue Album Politricks stellt zentral den bedingungslosen, kindlichen Glauben, die Heldenverehrung in Frage: es erzählt die Geschichte des Übergangs der Bandmitglieder von unschuldigen Kindheitstagen zur nicht so wirklich unschuldigen Erwachsenenwelt. Es geht um Risse, die plötzlich entstehen, um den Verlust eines Freundes ebenso wie einen Abschiedsbrief an Gott, der jedoch nie abgeschickt dafür aber zu einem der Stücke wurde. Politricks erzählt vom Konflikt mit der eigenen Herkunft, davon, aus einem Land zu kommen, das einen Friedenspreis vergibt, aber gleichzeitig seinen unglaublichen Wohlstand mit schmutzigen Ölgeschäften aufbaut.

Musikalisch wird den Ideen der Raum und die Zeit gegeben, die sie eben einfach benötigen. Kommen die Einflüsse nach wie vor von Künstlern wie Sufjan Stevens und Godspeed You! Black Emperor, so ist Politricks in seinem Facettenreichtum doch leichter zugänglich als das Vorgängeralbum. Von Hasse Rosbach produziert und von Nick Terry (Libertines, Klaxons, Serena Maneesh) gemischt, schimmert durch die dunkle Melancholie und die sorgsam gesetzten Orchesterarrangements hindurch doch immer ein Hang zur Popmusik. Das charakteristische Piano stellt Stray zudem zugunsten von Gitarrenwänden oder stimmungsvollem Shoegaze gelegentlich in den Hintergrund und lädt ein zu einer abwechslungsreichen Fahrt von zerbrechlichen, intimen a capella Stücken wie in "For The Country" hin zu ausufernden Rock-Crescendi.
In Norway Einar Stray Orchestra is still an underground phenomenon, but if you were to ask a random person on the streets of Berlin about them, it's more than likely that this person has attended one of their concerts. The Indiepop band Einar Stray Orchestra from Sandvika in the outskirts of Oslo released their debut album "Chiaroscuro" 3 years ago, and it was highly acclaimed by the Norwegian music press. Their concerts at the by:Larm festival the same year became the starting point of an international career, and rumours about this young orchestral group from Norway spread quickly throughout Europe. The same year the band also played at Iceland Airwaves and Berlin Music Week.

The following year, "Chiaroscuro" was released internationally and got high praise both from British and German music press. During the release tour in Germany, the band got the experience of their lifetime - over half of the concerts were completely sold out! The band was invited to play in Moscow by Icelandic musician Ólafur Arnalds and did several club tours in Europe before they were invited to do a tour in Russia - this time by the Icelandic band Múm.

When Einar Stray Orchestra played a packed St.Pauli Church at Reeperbahn Festival in autumn 2012. The audience consisted mostly of chatty music industry delegates that sat silent through the whole concert, with tears running down their cheeks. The Scandinavian music magazine GAFFA gave the concert 6 out of 6. Since their debut Einar Stray Orchestra has played over 150 concerts, most of them outside of Norway. During this time, the band has played festivals and club shows in countries such as Germany, England, Denmark, Iceland, The Netherlands, Austria, Switzerland, Russia, Ukraine, Estonia and Poland.

In the summer of 2013, the band headed to the studio with producer Hasse Rosbach (Moddi, Team Me) to start on their second album "Politricks". The new material was first introduced to an audience on the 1st of January at the annual new years concert in the venerable Volksbühne concert hall in Berlin. All 850 tickets were sold.

The story of Einar Stray Orchestra started when 18-year-old Einar Stray in 2008 met Moddi, a fellow musician from northern Norway. They immediately started playing in each other's bands, released a split vinyl together and played at festivals as Slottsfjell and Træna. Einar Stray still plays keys for Moddi on his recordings and tours, but his main focus the last years has been his own band which he formed in 2010 together with Lars Fremmerlid (drums), Ofelia Østrem Ossum (cello), Simen Aasen (bass) and Åsa Ree (violin). After being mistaken of being a solo project for years, the official transition to being a democratic collective took place in 2014 and the name was changed to Einar Stray Orchestra.

Einar Stray Orchestra's new album has been given the name "Politricks" and is lyrical a strong settlement with childhood heroes and beliefs that shatters when faced with the reality of the adult world. It is a personal story about finding oneself, about adolescent frustration in the middle of a blizzard of different beliefs. It is about losing a friend to death and a fare well letter to God, which was never sent but made into a song instead.

"Politricks" is an album about being ashamed of Norwegian foreign policies - about being from a country that hands out peace prizes with one hand and simultaneously makes weapons of war and builds its extreme prosperity on oil with the other. Musically, Einar Stray Orchestra is inspired by artists such as Sufjan Stevens and Godspeed You! Black Emperor with the same orchestral approach to composing. The songs will be as long as they need to be and where both shouting and whispering colours the soundscape. "Politricks" is a dynamic and colourful album. Dark melancholy and an orchestral sound that meets an accessible pop sound with more shades than in its predecessor "Chiaroscuro". The signature grand piano gets a rest at times in favour of electric guitar and shoegaze influences. "Politricks" takes you from stripped a cappella to noisy rock crescendos. The album is produced by Hasse Rosbach (Team Me/Moddi) and mixed by Nick Terry (Libertines/Klaxons/Serena Maneesh).




GET THIS NICE RECORD!

Sinnbus Shop: LP | CD
Audio files via iTunes | Bandcamp

LINKS:

www.einarstray.no
www.facebook.com/einarstrayorchestra
www.polarartist.no (Management)
COVERPICTURE (SINGLE):

Politricks Cover 300 dpi
Politricks Cover 72 dpi

BANDPICTURES: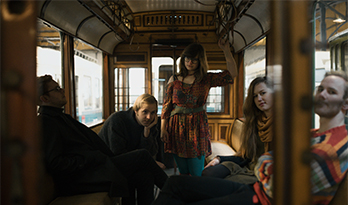 Einar Stray Orchestra Pic 1
Einar Stray Orchestra Pic 2
Einar Stray Orchestra Pic 3
Pics by Tonje Thilesen

DATES:

No dates at the moment
VIDEO:




RELATED RELASES: