Seit Einar Stray's Debütalbum "Chiaroscuro" ist viel geschehen für die fünf jungen Musiker aus Oslo. Über 150 Konzerte und Einladungen zu geschmackvollen Festivals wie Iceland Airwaves, Reeperbahn Festival oder Ja Ja Ja Festival in London haben das bei Fans und Kritikern hoch gelobte Kollektiv zu einer festen Band zusammenwachsen lassen. Die Entscheidung, dies auch im Bandnamen zu manifestieren lag daher auf der Hand: unter dem neuen Namen EINAR STRAY ORCHESTRA wird im September das zweite Album "Politricks" erscheinen und die Band mit einem reiferen, offeneren Klang präsentieren.

Im Vorfeld erscheint das Titelstück als Single und wird begleitet von einem mutigen, verstörenden Video. Im Stück werden kindlicher Glauben und Heldenverehrung in Frage gestellt, es erzählt die Geschichte des Übergangs von unschuldigen Kindheitstagen zur nicht ganz so unschuldigen Erwachsenenwelt. In offensiven und herausfordernden Bildern setzt sich das Video damit auseinander, wie es ist, allmählich fest zu stellen, dass als elementar empfundene Wahrheiten Risse bekommen und auseinander fallen.

"Uns war es wichtig, eine sehr klare Geschichte an den Lyrics entlang zu erzählen." sagt Sänger und Pianist Einar. "In der Kürze eines Popsongs mussten wir die Charaktere natürlich ein bisschen überzeichnen, um auf den Punkt zu kommen. Aber das war uns wichtiger, als eine Flut von schönen Bildern ohne Inhalt. Außerdem sollte nach all unseren bisherigen Videos endlich auch mal die Band zu sehen sein!" fügt er lachend hinzu.

Das Thema des Erwachsenwerdens zieht sich wie ein Faden auch durch alle Stücke des Albums, wird im Titelstück aber am deutlichsten besprochen. Die jugendliche Naivität, der Umgang mit Ernüchterung aber auch Erkenntnis: all das beschreibt auch den Weg, den die fünf Bandmitglieder in den letzten vier Jahren gegangen sind. "Politricks" erzählt davon auf eindringleiche Art und Weise.
It has been busy times for Einar Stray since the release of the debut album "Chiaroscuro". These five young musicians from Oslo have been on the road constantly, they've played more then 150 shows and have been invited to tasteful festivals like Iceland Airwaves, Reeperbahn Festival and Ja Ja Ja Festival in London. Over time, the critically acclaimed collective became more and more a band, it was only natural to let the band community manifest in the band name as well: their second album "Politricks" will be released in september under the new name EINAR STRAY ORCHESTRA, presenting the band with a more mature and open sound.

Before the album comes out, the title track will be released as the first single, accompanied by a courageous, unsettling Video. The song puts childhood believes and hero worship into question. It tells the story of a transition from innocent childhood to the not so innocent adult world. In challenging pictures it grapples with how it feels when essential gospel starts to tumble.

"It was important for us to tell a clear, outspoken story, close to the lyrics." says singer and pianist Einar. "Within the frames of a pop song we need to overdraw everything a little bit to get to the point. That was much more essential for us than having a convenient flow of lovely pictures. We also wanted to have the band members to be seen for the first time ever in one of our videos!" he adds laughing.

Growing up is one of the album's main topics, in the title track it gets dicussed most explicitly though. Adolescent naiveté, dealing with disillusion and perception at the same time; all this is part of the direction the five band members have taken within the last four years, and which "Politricks" impressivly reflects.


ORDER THIS NICE RECORD!

Audio files via iTunes | Bandcamp


LINKS:

www.einarstray.no
www.facebook.com/einarstrayorchestra
www.polarartist.no (Management)
COVERPICTURE (SINGLE):

Politricks (Single) Cover 300 dpi
Politricks (Single) Cover 72 dpi

BANDPICTURES: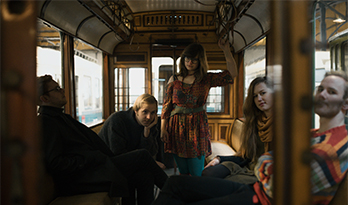 Einar Stray Orchestra Pic 1
Einar Stray Orchestra Pic 2
Einar Stray Orchestra Pic 3
Pics by Tonje Thilesen

VIDEO:


DATES:

No dates at the moment
RELATED RELASES: