01. Pockets Full Of Holes (Radio Edit)
02. Pockets Full Of Holes (Album Version)
Mit "Pockets Full Of Holes" erscheint bereits die zweite Single des kommenden EINAR STRAY ORCHESTRA - Albums "Politricks". Das Stück gibt mit seiner angenehm melancholischen Gelöstheit einen weiteren Blick frei auf den Facettenreichtum des zur Band gewachsenen jungen Osloer Kollektivs.

Wie auch auf dem vor kurzem veröffentlichten Titelstück des Albums geht es in "Pockets Full Of Holes" um das Erwachsenwerden, die jugendliche Naivität, den Umgang mit Ernüchterung. "Das Lied erzählt davon zu erkennen, dass man sich auf dem Höhepunkt seiner Jugend befindet," sagt Einar Stray, "und das von nun an nichts mehr genau so sein wird. Und dass Du Dich nicht wirklich bereit fühlst, für alles, was jetzt kommen wird." Das Stück fertig zu schreiben, war indes eine Befreiung: "Wir hatten das Streichermotiv über fünf Jahre im Kopf. Endlich haben wir es umsetzen können."

Das Video zur Single wurde am 01.01. dieses Jahres in der Volksbühne in Berlin aufgenommen, wo EINAR STRAY ORCHESTRA beim traditionellen Neujahrskonzert im ausverkauften großen Saal ein ergreifendes Konzert spielten. Sei dies ein Versprechen für das ganze Jahr.
With "Pockets Full Of Holes" the second single of the upcoming EINAR STRAY ORCHESTRA album "Politricks" is released. With its pleasant melancholic detachedness the song gives another view on the multifacetedness of the young Oslo-based collective now grown into a band.

As well as in the recently released title track of the album, "Pockets Full Of Holes" is about growing up, juvenile naivete and the handling of disillusion. "The song is about realizing that your youth is at its peak," tells Einar Stray, "and that things will never feel quite the same. You are feeling unready for what's coming." To finish the song though was a relief: "We've had the string riff in our heads for 5 years. It felt good to finally find the right song for it."

The video for the single was filmed on January 1st in Volksbühne Berlin, where EINAR STRAY ORCHESTRA played the big hall at the sold out New Year's Concert. May this be a promise for the whole year.


GET THIS NICE RECORD!

Audio files via Bandcamp

LINKS:

www.einarstray.no
www.facebook.com/einarstrayorchestra
www.polarartist.no (Management)
COVERPICTURE (SINGLE):

Pockets Full Of Holes Cover 300 dpi
Pockets Full Of Holes Cover 72 dpi

BANDPICTURES: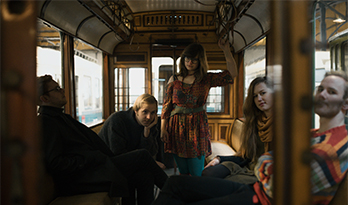 Einar Stray Orchestra Pic 1
Einar Stray Orchestra Pic 2
Einar Stray Orchestra Pic 3
Pics by Tonje Thilesen

VIDEO:


DATES:

No dates at the moment
RELATED RELASES: