Mit "Montreal" erscheint am 15.05. die dritte Single des aktuellen Einar Stray Orchestra -Albums "Politricks" und zeigt die Band von ihrer krachigen, ausgelassenen Seite. In dem lebhaften Stück mit seinem zappeligen Rhythmus geht es um das Erwachsenwerden und die Schattenseiten des Aufwachsens in einem religiösen Umfeld. "Manchmal fühlt es sich wie ein Wettstreit an." sagt Sänger Einar Stray. "Wer ist die chrichtliste Familie? Es scheint mehr darum zu gehen, wie etwas wirkt als um das tatsächliche Innenleben."

Eine ideale Umgebung projiziert der junge Norweger auf die kanadische Stadt Montreal. "Viele meiner Helden kommen dort her. Also dachte ich, ich könnte mich dort eines Tages niederlassen und zu mir finden", lacht er. Im Stück wähnt er sich in dieser Stadt, stellt dann aber fest, ganz woanders zu sein. "Darum geht es am Ende, dass man sich wahrscheinlich nie so richtig findet, jedenfalls nicht auf diese märchenhafte, alles verändernde Film-Art. Deswegen sollte man lieber den Moment genießen. Und sich nicht so viele Sorgen machen."

Einar Stray Orchestra kommen wieder auf Tour! Die fünf jungen Norweger_innen bringen ihr kleines Orchester, atemberaubende Liveshows und bunte Strümpfe im Mai und Juni zurück auf deutsche Bühnen. Nachdem ihre Konzerte im Dezember abgesagt werden mussten, packen sie nun eben nochmal neu die Koffer. Außerdem nutzten sie die Zeit, um an neuem Material zu arbeiten. Oder ganz nebenbei spannende Coverversionen aufzunehmen, wie im Falle der zur Single-EP gehörenden Version des Stückes "Forces" der ebenfalls in Oslo lebenden Künstlerin Farao. Neben Songs aus ihrem aktuellen Album "Politricks" gibt es live also vielleicht auch schon den ein oder anderen neuen Track zu hören. Es bleibt aufregend!
"Montreal" is the third single from Einar Stray Orchestra's recent album "Politricks". It shows the band from their noisy, energetic side. This lively piece with its fidgety rhythm is about the downsides of growing up in a religious home. "It sometimes felt like there was a competition", says singer Einar Stray. "Which one is the most Christian family around? Sometimes the focus seemed wrong: how the outside looked instead of the inside, fear instead of love etc."

The young Norwegian projects an ideal surrounding onto the Canadian city Montreal. "Many of my heroes live there, so I've seen it as some glorious place, where I will settle down at some point and find myself", Einar laughs. In "Montreal" he considers himself in this town, but notices to be somewhere completely different. "I suppose the moral of the song is you will never properly find yourself, at least not in that fairytale life-changing Hollywood way. You should just live in the moment, and not worry too much."

Einar Stray Orchestra are back on tour! The five Norwegians bring their small orchestra, breathtaking live shows and colourful socks back to German stages. After having to cancel their shows in December, the band now packs their bags again in late spring of 2015. In addition they used the time to work on new songs, or record fascinating cover versions like the b-side of the new single-EP: Einar Stray Orchestra's version of "Forces" by the artist Farao. Who, consequently, is living in Oslo as well! So as well as songs from their recent album "Politricks" you might be lucky enough to catch a new track in the live set. Who knows. Things stay exciting with Einar Stray Orchestra.


GET THIS NICE RECORD!

Audio files via iTunes | Bandcamp

LINKS:

www.einarstray.no
www.facebook.com/einarstrayorchestra
www.polarartist.no (Management)
COVERPICTURE:

Montreal Cover

BANDPICTURES: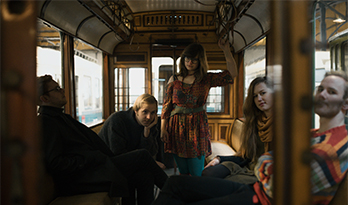 Einar Stray Orchestra Pic 1
Einar Stray Orchestra Pic 2
Einar Stray Orchestra Pic 3
Pics by Tonje Thilesen

VIDEO:


DATES:

No dates at the moment
RELATED RELASES: