Wohin mit all der Energie? Cayne McKenzie, Andrew Huculiak und David Menzel scheinen davon im Übermaß zu besitzen. Zunächst betreiben die drei jungen Männer aus Vancouver seit fast einer Dekade, seit ihrer gemeinsamen Zeit in der High School ihre Band: WE ARE THE CITY. Mit der sie unermüdlich touren, das unvermeidbare Auf und Ab gemeinsam überwinden und nach der sie ganz allgemein ihr Leben ausrichten. Darüber hinaus sind sie in wechselnden Konstellationen als Regisseure, Drehbuchautoren und/oder Filmproduzenten in ein nicht ganz leicht zu entknotendes Geflecht verwickelt, das neben mehreren hochwertigen Musikvideos einen eigenen Film produziert hat. Zusätzlich zum Teil Familienväter. Und nebenbei vollführen sie diesen Spagat mit einer ansteckenden Verve.

Aber der Reihe nach.

Die drei lernen sich auf der High School kennen, gründen eine Band, nehmen ein Album auf, gehen auf Tour, erspielen sich einen Namen. Und entwickeln allmählich ihren eigenen, zeitgemäßen Indie-Entwurf. So weit, so klassisch. Es sieht gut aus. Sie gewinnen eine ordentliche Summe Geld, die sie in die Produktion des nächsten Albums stecken wollen. Doch Gitarrist David Menzel verlässt aus persönlichen Gründen die Band. Also verwerfen sie die neuen Songs und veröffentlichen erstmal eine EP, gehen wieder auf Tour, ziehen immer weitere Kreise. Als Gitarrist Menzel plötzlich wieder zurückkommt, werden jene Songs mit neuem Enthusiasmus fertiggestellt. Die Band schreibt ein Jahr lang in einem liebevoll "Magic House" getauften Haus am neuen Album. Sie sind die letzten Bewohner; "Violent" ist das letzte was das Haus hört, danach wird es abgerissen. Produziert und aufgenommen wird das Album dann zusammen mit Tom Dobrzanski (Said The Whale, The Zolas, Hey Ocean) in Vancouvers Monarch Studios.

Gleichzeitig dreht die Band einen gleichnamigen Film. Mit einem Skript, das komplett auf Norwegisch entsteht obwohl keines der Bandmitglieder Norwegisch spricht, reisen sie nach Bergen. Obwohl am Ende nur Fragmente der Musik darin auftauchen, legen andersherum die Bilder des Films die visuelle Einheit von "Violent" fest. Es geht um eine junge Norwegerin, deren letzte Erinnerungen an die fünf Menschen, die sie am meisten liebten, während eines katastrophalen Ereignisses zurückgerufen werden. Der Film lotet gleichermaßen wie das Album Extreme wie Tod, Liebe, Einsamkeit, Alleinsein und Erinnerung aus. Während "Violent" (Film) auf der ganzen Welt Preise gewinnt (u.a. Vancouver International Film Festival, San Sebastian International Film Festival), tritt "Violent" (Album) nun gleichermaßen die Reise aus seiner Heimat Kanada heraus an.

Auf "Violent" also erobern sich We Are The City eine spannende, eine wilde Landschaft. Ihre clevere Musik erklimmt etliche Berge, lässt sich fallen, klettert wieder empor, entfaltet sich in ebenso leisen wie gewaltigen Stücken. Aus dem Zuschauen und Miterleben heraus, aus jedem Auf und Ab, jedem Lärm und jedem Leise schaut man auf diese, ihre Stadt. So haben We Are The City ihren Namen gewählt: Ein Blick auf einen verlässlichen in der Ferne liegenden Punkt. Ein Signal von Weitem. Ein hoffnungsvolles Ziel. Also steigt man den Berg wieder hinab.
We Are The City are three young Canadians with boundless energy. This is channelled into their music, touring and various creative projects. They work as directors, script writers and film producers, creating their own music videos and even their own film 'Violent'. For some, this would be too much, but these three simply can't stop.

Meeting in high school, Cayne McKenzie, Andrew Huculiak and David Menzel quickly formed a band, recorded an album, toured and made a name for themselves. Over time, they honed their sound, carving their own space within the contemporary indie genre. When guitarist David eventually left the band, their journey was not abandoned - merely changed. The band recorded and toured an EP, and quickly found themselves accruing an even larger fan base. Finally, upon David's return, We Are The City finished their album, Violent. This was a year long process in a place they lovingly called 'The Magic House'. It was the perfect creative environment, but they would be the last residents of the fabled house, as it was torn down shortly after. The finishing touches were added by Tom Dobrzanski (Said The Whale, The Zolas, Hey Ocean) who produced and recorded the album with the band in Vancouver's Monarch Studios.

Around the same time, We Are The City shot a film in Bergen, Norway with a Norwegian script, despite none of them being able to speak a word of Norwegian. It depicts a young woman and her last memories of the five people who loved her most, recalled while experiencing a catastrophic event. In keeping with the film, the album portrays extremes - death, love, loneliness and reminiscence. Now that the film 'Violent' is travelling the world and winning awards (u.a. Vancouver International Film Festival, San Sebastian International Film Festival) it is finally time for the album 'Violent' to leave Canada's borders.

On 'Violent', We Are The City explore wild and exciting soundscapes. Their innovative sound scales sonic peaks, and descends into canyons before rising back up. The further you venture into their world, the more the view of their city unfolds revealing a beacon in the far distance. A signal, if you will, from far way. This is We Are The City.




GET THIS NICE RECORD!

Sinnbus Shop: LP | CD
JPC: LP | CD
Amazon: LP | CD
Audio files via iTunes | Bandcamp | Amazon

LINKS:

www.wearethecity.ca
www.facebook.com/wearethecity
www.burningeaglebooking.de (Booking)
COVERPICTURE:

Violent Cover

BANDPICTURES: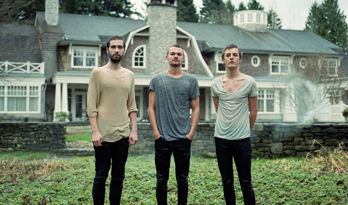 We Are The City Pic 1
We Are The City Pic 2
We Are The City Pic 3
We Are The City Pic 4

Pics by Kirsten Berlie

DATES:

No dates at the moment
VIDEOS:



RELATED RELASES:


We Are The City
King David (Digital Single)
read more ...