Wohin mit all der Energie? Cayne McKenzie, Andrew Huculiak und David Menzel scheinen davon im Übermaß zu besitzen. Zunächst betreiben die drei jungen Männer aus Vancouver seit fast einer Dekade, seit ihrer gemeinsamen Zeit in der High School ihre Band: WE ARE THE CITY. Mit der sie unermüdlich touren, das unvermeidbare Auf und Ab gemeinsam überwinden und nach der sie ganz allgemein ihr Leben ausrichten. Auf ihrem kommenden Album "Violent" erobern sich We Are The City eine spannende, eine wilde Landschaft. Ihre clevere Musik erklimmt etliche Berge, lässt sich fallen, klettert wieder empor, entfaltet sich in ebenso leisen wie gewaltigen Stücken. "Violent" erscheint am 20. März 2015 auf Sinnbus. Im Frühjahr geht die Band ausgiebig auf Tour.

In "King David" verhandeln We Are The City die Werte, mit denen man aufwächst und nach denen man erzogen wird und stellen diese in Frage. Das Stück verweist außerdem in einer ironischen Seitennotiz auf das ständige, juvenile Gefühl, immer nur selbstbezogen zu sein, sich aber eigentlich das Gegenteil zu wünschen.
We Are The City are three young Canadians with boundless energy. This is channelled into their music, touring and various creative projects. For almost 10 years, since meeting in high school, they play together. Over time, they honed their sound, carving their own space within the contemporary indie genre. On top of this they work as directors, script writers and film producers, creating their own music videos and even their own film "Violent". For some, this would be too much, but these three simply can't stop. On their upcoming album "Violent", We Are The City explore wild and exciting soundscapes. Their innovative sound scales sonic peaks, and descends into canyons before rising back up. "Violent" will be released on March 23rd, 2015, on Sinnbus.

In "King David" We Are The City question values that you grew up and were brought up with. The track refers in an ironic side note to the constant, juvenile feeling to be selfish or self-centred and wishing you weren't.




GET THIS NICE RECORD!

Audio file via iTunes | Bandcamp
LINKS:

www.wearethecity.ca
www.facebook.com/wearethecity
www.burningeaglebooking.de (Booking)
COVERPICTURE:

King David Cover
BANDPICTURES: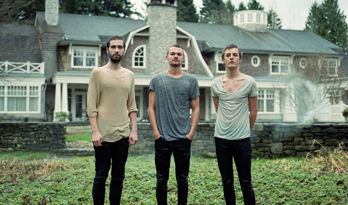 We Are The City Pic 1
We Are The City Pic 2
We Are The City Pic 3
We Are The City Pic 4

Pics by Kirsten Berlie

VIDEO:


DATES:

15.01.2019 - DE - Berlin - Kantine am Berghain
16.01.2019 - DE - Dresden - Ostpol
17.01.2019 - CZ - Brno - Kabinet Muz
18.01.2019 - SLO - Bratislava - Kulturak Klub
19.01.2019 - AT - Wien - FM4 Fest
21.01.2019 - AT - Salzburg - Rockhouse w/ Friska Viljor
22.01.2019 - AT - Dornbirn - Conrad Sohm w/ Friska Viljor
23.01.2019 - DE - Nürnberg - Club Stereo
25.01.2019 - AT - Weyer - Bertholdsaal
26.01.2019 - AT - Aflenz - Sublime
28.01.2019 - FR - Paris - Supersonic
29.01.2019 - DE - Mainz - Schon Schön
30.01.2019 - LU - Luxemburg - De Gudde Wellen
31.01.2019 - DE - Jena - Café Wagner
01.02.2019 - DE - Hamburg - Nochtwache
02.02.2019 - DE - Leipzig - UT Connewitz

presented by detektor.fm, Kulturnews, laut.de
RELATED RELASES:


We Are The City
Violent
read more ...