Auf "Holygram", dem lange versprochenen Debütalbum, zeigt sich La Boum Fatale kompakter und selbstbewusster, gradliniger und kratziger.

Seit der Veröffentlichung von La Boum Fatale's Debüt-EP "Damwild" ist ungewöhnlich viel Zeit vergangen. Das musikalische Alter Ego des Musikers und Produzenten Antonio de Spirt startet aus dem Nichts mit großer Leichtigkeit mit dem heimlichen Hit "AAA" sowie einer guten Handvoll bemerkenswerter Electronica-Listening-Schönheiten. Doch statt der üblichen Veröffentlichungsroutine zu folgen, gönnt sich de Spirt für La Boum Fatale zunächst den Luxus des Experiments. Mit offenem Ausgang arbeitete er mit verschiedenen Setups an den treibenden Livekonzerten, probiert die Musik an der Grenze zu Grafik aus, kollaboriert mit Produzenten wie Glenn Astro, Sieren oder 9b0 und zaubert wie nebenbei regelmäßig unkonventionelle Remixes für Kolleg_innen wie Me And My Drummer, Hundreds oder Sizarr aus der Tasche.

In der Zwischenzeit ist de Spirt viel unterwegs gewesen zwischen seiner Heimatstadt Berlin und seiner damaligen Wahlheimat Hamburg. Er verbringt die Fahrten damit, über neue Musik nachzudenken und schließlich an neuem Material zu arbeiten. Es mag dabei an der der Trostlosigkeit der Käffer links und rechts der Strecke liegen, den vormals blühenden Landschaften, den liegen gelassenen Chancen: de Spirt sieht sich versetzt in seine eigenen 90er Jahre und sucht nun auch für die Musik von La Boum Fatale nach Reminiszenzen an diese seltsame Zeit. Alles ist offen und möglich, alles ist Anfang und Abenteuer. An dieser Bruchstelle zügelt er überladene Skizzen, lässt knochigen Jungle wieder aufleben, Ost und West zusammen tanzen. Es ist sicher kein Zufall, dass das treibende und weit geöffnete "Handpagode" als erstes Stück fertig gestellt wird und den Weg freiräumt für alle kommenden Ideen.

La Boum Fatale ist von jeher das Zeugnis von Kooperation, von kreativem Austausch und Reibungsfläche. Der überwiegende Teil des Albums besteht aus gemeinsamen Arbeiten mit Künster_innen, deren Output de Spirt am Herzen liegt. Dabei stellt er die Musik als Experimentierfeld zur Verfügung und ist dabei gelassen genug, im Grunde keine Bedingung zu stellen. Stücke wie das aufgeheizte "No Tongue In Cheek", dem der dänischen Künstler Asbjørn seine Stimme verleiht oder das wilde "Ghosts" zusammen mit Pantasz, die lässig fließenden "Lovers Dough" (mit Fee Kürten / Tellavision) und "He Just Might" (mit Brookln Dekker / Rue Royale) oder das überlaufende "When We Fall / Razor Wires" mit dem Gesang von Petula: Sie alle geben dem offenen Ansatz Recht.

Textlich und musikalisch verdichtet schließlich "Walls" einen der Kernpunkte von La Boum Fatale und auch von "Holygram": Das Stück, für das Andreas Bonkowski (Corwood Manual, Siva., I Might Be Wrong) für den Gesang gewonnen werden konnte, ist eine Einladung, die Scheu vor Veränderung abzuschütteln, sich durch neue Einflüsse aus gewohnten Bahnen locken zu lassen und mit Genuss zuzuschauen, wie sich Bedenken und Einschränkungen allmählich auflösen.

"Holygram" ist wahr geworden und hat eine flirrende, berauschende Form angenommen. "Holygram" erscheint am 08.04.2016.


On "Holygram", the long announced debut album, La Boum Fatale shows himself more solid and self-conscious, straight-lined and rough.

Since the release of La Boum Fatale's debut EP "Damwild" a lot of time passed. The musical alter ego of the at that time Hamburg based musician and producer Antonio de Spirt started out of nowhere with surprising ease and the secret hit "AAA" as well as a couple of remarkable electronica listening beauties. Rather than following the usual releasing routine, de Spirt - having moved to Berlin in the meantime - allows himself the luxury of the experiment. With an open outcome he works on driving live gigs in different set-ups, tries out music on the edge of graphic design, collaborates with producers like Glenn Astro or Sieren and pulls out unconventional remixes for Me And My Drummer, Hundreds or Sizarr.

In the meantime de Spirt is on the road a lot between his hometown Berlin and Hamburg. He spends the drives to think about new music and to work on new material finally. It may be the desolation of the dumps alongside the route, the once blooming landscapes, the left chances: de Spirt finds himself set back in the 90s and seeks to find reminiscences to this weird time for the music of La Boum Fatale. Everything is possible, beginning and adventure. At this breakpoint he tames cluttered sketches, livens up bony jungle, lets East and West dance together. It's surely no coincidence the driving and widely open "Handpagode" was finished first and clears the path for all coming ideas.

La Boum Fatale has always been testimony of cooperations, of creative exchange and friction. Most parts of the album are joint works with artists, whose output de Spirt appreciates a lot. He offers the music as a field for experimentation and is calm enough to basically impose no conditions. Tracks like the heated "No Tongue In Cheek", sung by Danish artist Asbjørn; or the wild "Ghosts" together with Pantasz; the floating "Lovers Dough" (with Fee Kürten/Tellavision); "He Just Might" (with Brookln Dekker/Rue Royale) or the overflowing "When We Fall/Razor Wires" with vocals by Petula: They all prove the open approach to be right.

Lyrically and musically "Walls" summarizes one of the central points of La Boum Fatale as well as "Holygram": The track - for which Andreas Bonkowski (Corwood Manual, Siva., I Might Be Wrong) did the vocals - is an invitation to shaking off the dread of change, letting yourself get dragged away from the usual run and enjoy watching doubts and constraints disappear.

"Holygram" came true and took a shimmering, intoxicating shape. "Holygram" will be released April 8, 2016 on Sinnbus.




GET THIS NICE RECORD!

Sinnbus Shop: LP | CD
Audio files via iTunes | Bandcamp | Amazon

LINKS:

www.laboumfatale.com
www.facebook.com/laboumfatale
www.soundcloud.com/la-boum-fatale
www.oha-music.com (Booking)
COVERPICTURE:

Holygram Cover

BANDPICTURES: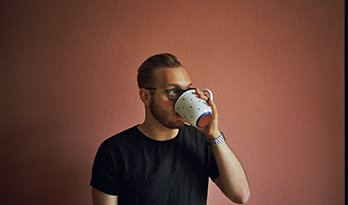 La Boum Fatale Pic 01
La Boum Fatale Pic 02

Pics by Miguel Murrieta Vásquez

DATES:

No dates at the moment
RELATED RELASES: