Mit "Walls" eröffnet La Boum Fatale einen ersten Blick auf neues Material des im Winter erscheinenden Debütalbums. "Holygram", so der Albumtitel, dokumentiert die zurückliegende Entwicklung und zeigt La Boum Fatale kompakter und selbstbewusster, gradliniger und kratziger. Für die erste Single "Walls" konnte Andreas Bonkowski (Corwood Manual, Siva., I Might Be Wrong) für den Gesang gewonnen werden. Textlich und musikalisch verdichtet "Walls" einen der Kernpunkte von La Boum Fatale und auch von "Holygram":  die Scheu vor Veränderung abzuschütteln, sich durch neue Einflüsse aus gewohnten Bahnen locken zu lassen und mit Genuss zuzuschauen, wie sich Bedenken und Einschränkungen allmählich auflösen.

Seit der Veröffentlichung von La Boum Fatale's Debüt-EP "Damwild" ist ungewöhnlich viel Zeit vergangen. Das musikalische Alter Ego des damals in Hamburg ansässigen Musikers und Produzenten Antonio de Spirt startet aus dem Nichts mit großer Leichtigkeit mit dem heimlichen Hit "AAA" sowie einer guten Handvoll bemerkenswerter Electronica-Listening-Schönheiten.

Doch statt der üblichen Veröffentlichungsroutine zu folgen, gönnt sich de Spirt - inzwischen nach Berlin umgezogen - für La Boum Fatale zunächst den Luxus des Experiments. Mit offenem Ausgang arbeitete er mit verschiedenen Setups an den treibenden Livekonzerten, probiert die Musik an der Grenze zu Grafik aus, kollaboriert mit Produzenten wie Glenn Astro oder Sieren und zaubert wie nebenbei regelmäßig unkonventionelle Remixes für Kollegen wie Me And My Drummer, Hundreds oder Sizarr aus Tasche.

Im letzten Jahr arbeitet de Spirt endlich konzentriert an Stücken für ein komplettes Album. "Holygram" erscheint im Frühjahr 2016.


La Boum Fatale's "Walls" opens up a first view on new material from the soon to be released debut album "Holygram". The album documents the past development and shows La Boum Fatale more solid and self-conscious, straight-lined and rough. For the first single "Walls" it was possible to win Andreas Bonkowski (Corwood Manual, Siva., I Might Be Wrong) for the vocals. Lyrically and musically "Walls" summarizes one of the central points of La Boum Fatale as well as "Holygram": shaking off the dread of change, letting yourself get dragged away from the usual run and enjoy watching doubts and constraints disappear.

Since the release of La Boum Fatale's debut EP "Damwild" a lot of time passed. The musical alter ego of the at that time Hamburg based musician and producer Antonio de Spirt started out of nowhere with surprising ease and the secret hit "AAA" as well as a couple of remarkable electronica listening beauties.

Rather than following the usual releasing routine, de Spirt - having moved to Berlin in the meantime - allows himself the luxury of the experiment. With an open outcome he works on driving live gigs in different set-ups, tries out music on the edge of graphic design, collaborates with producers like Glenn Astro or Sieren and pulls out unconventional remixes for Me And My Drummer, Hundreds or Sizarr.

Last year de Spirt finally works focused on tracks for a whole album. "Holygram" will be released in spring 2016.




GET THIS NICE RECORD!

Audio files via iTunes | Beatport | Bandcamp

LINKS:

www.laboumfatale.com
www.facebook.com/laboumfatale
www.soundcloud.com/la-boum-fatale
www.oha-music.com (Booking)
www.elektropastete.de (Live Visuals)
COVERPICTURE:

Walls 300 dpi

BANDPICTURES: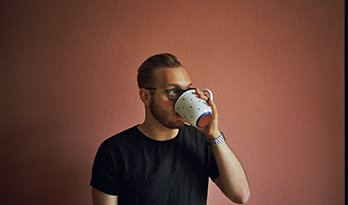 La Boum Fatale Pic 01
La Boum Fatale Pic 02

Pics by Miguel Murrieta Vásquez

DATES:

No dates at the moment
RELATED RELASES: