01. No Tounge In Cheek (Original)
02. No Tounge In Cheek (Austin Edward Remix)
03. No Tounge In Cheek (9b0 Remix)
04. No Tounge In Cheek (NGHT DRPS Remix)
05. No Tounge In Cheek (Liam Back Remix)
06. No Tounge In Cheek (Kirrin Island Remix)
07. No Tounge In Cheek (Matvrak Remix)
Release: 11.03.2016
Kurz vor der Veröffentlichung von "Holygram", dem Langspieldebüt vom La Boum Fatale, gibt die zweite Single "No Tongue in Cheek" einen weiteren Blick auf das Album frei. Das Stück dokumentiert die zurückliegende Entwicklung und zeigt La Boum Fatale kompakter und selbstbewusster, gradliniger und kratziger.

Für den Musiker und Produzenten Antonio de Spirt ist La Boum Fatale von jeher das Zeugnis von Kooperation, von kreativem Austausch und Reibungsfläche. Der überwiegende Teil des Albums besteht aus gemeinsamen Arbeiten mit Künster_innen, deren Output de Spirt am Herzen liegt. So ist "No Tongue in Cheek" eine Kollaboration mit dem dänischen Musiker und Sänger Asbjørn. Das Lied kommentiert die selektiven Tendenzen moderner Dating-Kultur und sozialer Muster allgemein. "Wie kann wahre Liebe wachsen, wenn alle so sehr individualisiert geworden sind", fragt sich Sänger Asbjørn. Im Text des aufgeheizten Stückes ist der Erzähler auf der Such nach jemanden, der dies zu beantworten und schließlich zu lehren vermag.

Wie auch schon die erste Single "Walls" wird "No Tongue In Cheek" wieder von einer Remix-EP flankiert. Auf ganzen sechs geschmackssicheren Bearbeitungen versammelt Antonio de Spirt alte und neue Bekannte wie 9b0, Matvrak oder Kirrin Island und klangvolle Namen wie NGHT DRPS, Liam Black und Austin Edward.

Seit der Veröffentlichung von La Boum Fatale's Debüt-EP "Damwild" ist ungewöhnlich viel Zeit vergangen. Das Projekt startet aus dem Nichts mit großer Leichtigkeit mit dem heimlichen Hit "AAA" sowie einer guten Handvoll bemerkenswerter Electronica-Listening-Schönheiten. Doch statt der üblichen Veröffentlichungsroutine zu folgen, gönnt sich de Spirt - inzwischen nach Berlin umgezogen - für La Boum Fatale zunächst den Luxus des Experiments. Mit offenem Ausgang arbeitete er mit verschiedenen Setups an den treibenden Livekonzerten, probiert die Musik an der Grenze zu Grafik aus, kollaboriert mit Produzenten wie Glenn Astro oder Sieren und zaubert wie nebenbei regelmäßig unkonventionelle Remixes für Kollegen wie Me And My Drummer, Hundreds oder Sizarr aus Tasche.

Im letzten Jahr arbeitet de Spirt endlich konzentriert an Stücken für ein komplettes Album. "Holygram" erscheint am 8. April 2016.
Just before the release of "Holygram", the debut album of La Boum Fatale, the 2nd single "No Tongue in Cheek" is out. The track documents the past development and shows La Boum Fatale more solid and self-conscious, straight-lined and rough.

For the musician and producer Antonio de Spirt, La Boum Fatale has always been testimony of cooperations, of creative exchange and friction. Most parts of the album are joint works with artists, whose output de Spirt appreciates a lot. "No Tongue In Cheek" is a collaboration with the Danish musician and singer Asbjørn. The song comments on the selective tendencies in modern dating and general social culture. "How does true love blossom when we have become so individualized", singer Asbjørn wonders. In the heated track the narrator is looking for someone capable of answering and eventually teaching this.

Like the first single "Walls", "No Tongue In Cheek" is accompanied by a remix EP. In six tasteful reworks Antonio de Spirt assembles old and new pals like 9b0, Matvrak or Kirrin Island and illustrious names as NGHT DRPS, Liam Black and Austin Edward.

Since the release of La Boum Fatale's debut EP "Damwild" a lot of time passed. The musical alter ego of the at that time Hamburg based musician and producer Antonio de Spirt started out of nowhere with surprising ease and the secret hit "AAA" as well as a couple of remarkable electronica listening beauties. Rather than following the usual releasing routine, de Spirt - having moved to Berlin in the meantime - allows himself the luxury of the experiment. With an open outcome he works on driving live gigs in different set-ups, tries out music on the edge of graphic design, collaborates with producers like Glenn Astro or Sieren and pulls out unconventional remixes for Me And My Drummer, Hundreds or Sizarr.

Last year de Spirt finally works focused on tracks for a whole album. "Holygram" will be released April 8, 2016 on Sinnbus.




GET THIS NICE RECORD!

Audio files via iTunes | Bandcamp

LINKS:

www.laboumfatale.com
www.facebook.com/laboumfatale
www.soundcloud.com/la-boum-fatale
www.oha-music.com (Booking)
COVERPICTURE:

No Tounge In Cheek EP 300 dpi

BANDPICTURES: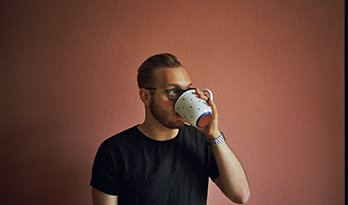 La Boum Fatale Pic 01
La Boum Fatale Pic 02

Pics by Miguel Murrieta Vásquez

Liam Back:
Liam Back Pic 01
Liam Back Pic 02

DATES:

No dates at the moment
RELATED RELASES: