01. When We Fall (Radio Edit)
02. When We Fall (VIP)
03. When We Fall (Constantijn Lange Remix)
04. When We Fall (Christoph Vogel Remix)
05. When We Fall (Masaki Uchida Asencion Remix)
06. Razor Wires
Release: 09.02.2017
Auf dem im letzten Jahr erschienenen Debütalbum "Holygram" zeigt sich La Boum Fatale kompakter und selbstbewusster, gradliniger und kratziger als auf allen vorangegangenen Veröffentlichungen auf kürzeren Formaten. Der Berliner Musiker und Produzent Antonio de Spirt versetzt sich mit seinem musikalischen Alter Ego in seine eigenen 90er Jahre und spielt mit Reminiszenzen an diese seltsame Zeit. Alles ist offen und möglich, alles ist Anfang und Abenteuer. An dieser Bruchstelle zügelt er überladene Skizzen, lässt knochigen Jungle wieder aufleben, Ost und West zusammen tanzen.

La Boum Fatale ist dabei schon immer das Zeugnis von Kooperation, von kreativem Austausch und Reibungsfläche. Der überwiegende Teil des Albums besteht aus gemeinsamen Arbeiten mit Künster_innen, deren Output de Spirt am Herzen liegt. Dabei stellt er die Musik als Experimentierfeld zur Verfügung und ist gelassen genug, im Grunde keine Bedingung zu stellen.

So gibt auch das überlaufende "When We Fall" dem offenen Ansatz Recht. Den Gesang steuert Sebastian Cleemann bei, die Stimme hinter so unterschiedlichen Projekten wie dem leisetretenden Loopfolk von Petula als auch der schrillen Neon-Polit-Avantgarde-Disko der Berliner Band U'N'S. Über dem sich immer weiter aufschwingenden Stück pendelt der Text zwischen Liebe und Gesellschaft, zwischen Resignation und Hoffnung und stellt sich die Frage, warum es eigentlich so gut geht, während um einen herum doch alles auf den Abgrund zusteuert. "Wie lebt es sich so als Teil des Problems?" überlegt Cleemann und fügt melancholisch hinzu: "Geht so."

Das Ergebnis dieser Zusammenarbeit reicht La Boum Fatale folgerichtig weiter. Der aus Nordeutschland stammende und nun in Berlin lebende Musiker Constantijn Lange sucht darin Sounds auf mikroskopischer Ebene und steuert eine elegant und hypnotisch fließende Version bei. Christoph Vogel, der u.a. mit dem früheren La Boum Fatale-Mitglied Levente Pavelka das Deep-House-Duo Suburb betreibt, geht mit seinem Remix etwas offensiver und wesentlich technoider an die Arbeit, während der Japaner Masaki Uchida furchtlos das ursprüngliche Stück komplett dekonstruiert.

In diesem Sinne fügt sich die EP nahtlos in La Boum Fatales bisherigen Output: als eine Einladung, die Scheu vor Veränderung abzuschütteln, sich durch neue Einflüsse aus gewohnten Bahnen locken zu lassen und mit Genuss zuzuschauen, wie sich Bedenken und Einschränkungen allmählich auflösen.
On last year's debut album "Holygram" La Boum Fatale shows himself more solid and self-conscious, straight-lined and rough. The musical alter ego of the Berlin based musician and producer Antonio de Spirt finds himself set back in the 90s and seeks to find reminiscences to this weird time for the music of La Boum Fatale. Everything is possible, beginning and adventure. At this breakpoint he tames cluttered sketches, livens up bony jungle, lets East and West dance together. La Boum Fatale has always been testimony of cooperations, of creative exchange and friction. Most parts of the album are joint works with artists, whose output de Spirt appreciates a lot. He offers the music as a field for experimentation and is calm enough to basically impose no conditions.

Hence the overflowing "When We Fall" with vocals by Petula proves the open approach to be right. The vocals come from Sebastian Cleemann, voice behind the diverse projects of the likes of the gently loop folk of Petula or the fancy neon-political-avantgarde-disco of Berlin's U'N'S. Over the further and further soaring piece the lyrics float between love and society, between resignation and hope and asks why everything's so fine while around you it's plunging into ruin. "How's life as part of the problem?" Sebastian Cleemann wonders, and melancholically adds: "Not too bad."

Consequently La Boum Fatale passes the result of this collaboration on. Musician Constantijn Lange, originally from North Germany, now living in Berlin, looks for sounds on a microscopic level and contributes an elegant and hypnotically floating version. Christoph Vogel, who among others is part of the deep house duo Suburb together with former La Boum Fatale member Levente Pavelka, approaches his remix more offensive and techno-ish while Japanese Masaki Uchida deconstructs the original song completely.

Therefore the "When We Fall" EP fits seamlessly to La Boum Fatale's previous output: an invitation to shaking off the dread of change, letting yourself get dragged away from the usual run and enjoy watching doubts and constraints disappear.




GET THIS NICE RECORD!

Audio files via iTunes | Beatport | Bandcamp
Stream via Spotify | Apple Music | Deezer

LINKS:

www.laboumfatale.com
www.facebook.com/laboumfatale
www.soundcloud.com/la-boum-fatale
COVERPICTURE:

When We Fall EP 300 dpi

BANDPICTURES: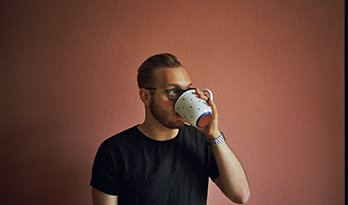 La Boum Fatale Pic 01
La Boum Fatale Pic 02

Pics by Miguel Murrieta Vásquez

DATES:

No dates at the moment
RELATED RELASES: