Mit der "Holygrains" EP präsentiert La Boum Fatale drei neue Stücke und zwei Remixes und schließt den Kreis um das aktuelle Album "Holygram".

Der erhaben treibende Track "Purity Call", das rabiate "Levi & Claus" sowie das düster pulsierende "Tide" entstehen in der gleichen Zeit wie die Stücke des Debütalbums "Holygram" und sind nun endlich zusammen veröffentlicht.

La Boum Fatale ist schon immer ein offenes Experiment und die Einladung zur Kooperation. Besteht schon der überwiegende Teil des Album aus gemeinsamen Arbeiten mit Künster_innen, deren Output de Spirt am Herzen liegt, so werden diese mit den vorliegenden Remixes noch um eine neue Stufe erweitert. Von Heart Island kommt ein sperrig-nerdiger Remix der Zusammenarbeit mit der Hamburger Sound-Künstlerin Tellavision. Die Hamburger Deo & Z-Man steuern einen legeren und angenehm patinierten Mix des Stücks mit dem britisch-amerikanischen Indiepop Duo Rue Royale bei.

Mit dem Debütalbum "Holygram" zeigt sich La Boum Fatale kompakter und selbstbewusster, gradliniger und kratziger als auf allen vorangegangenen Veröffentlichungen auf kürzeren Formaten. Der Berliner Musiker und Produzent Antonio de Spirt versetzt sich mit seinem musikalischen Alter Ego in seine eigenen 90er Jahre und spielt mit Reminiszenzen an diese seltsame Zeit. Alles ist offen und möglich, alles ist Anfang und Abenteuer. An dieser Bruchstelle zügelt er überladene Skizzen, lässt knochigen Jungle wieder aufleben, Ost und West zusammen tanzen.

Auf den drei zum Album gehörenden Remix EPs stellt La Boum Fatale die Musik als Experimentierfeld zur Verfügung und ist dabei gelassen genug, im Grunde keine Bedingung zu stellen. So finden höchst unterschiedliche Arbeiten Künstler_innen wie NGHT DRPS, 9b0, Kirrin Island, Constantijn Lange oder Masaki Uchida unter einem aufregden Spannungsbogen zusammen.

Nach der Veröffentlichung der "Holygrains" EP wird La Boum Fatale sich ausschließlich auf neues Material konzentrieren.


With the "Holygrains" EP La Boum Fatale reveals three new tracks and two remixes closing the circle of his latest album "Holygram".

The loftily driving track "Purity Call", the rough "Levi & Claus" as well as the dark, pulsating "Tide" were all written during the same time as La Boum Fatale's debut album "Holygram" and are finally released altogether.

The musical alter ego of Berlin based musician and producer Antonio de Spirts has always been testimony of cooperations, of creative exchange and friction. As most parts of his album are joint works with artists, whose output de Spirt appreciates a lot, the remixes on this EP take him one step further. Heart Islands contributes a bulky-nerdy remix of La Boum Fatale's collaboration with sound artist Tellavision. The Hamburg based Deo & Z-Man did a casual and pleasantly patinated remix of a piece with British-American indie pop duo Rue Royale.

On his debut album "Holygram", La Boum Fatale shows himself more solid and self-conscious, straight-lined and rough than on the former releases on shorter formats. He finds himself set back in the 90s and seeks to find reminiscences to this weird time for the music of La Boum Fatale. Everything is possible, beginning and adventure. At this breakpoint he tames cluttered sketches, livens up bony jungle, lets East and West dance together.

On the three remix EPs accompanying the album, La Boum Fatale offers the music as a field for experimentation and is calm enough to basically impose no conditions. Thus very different artists like NGHT DRPS, 9bO, Kirrin Island, Constantijn Lange or Masaki Uchida coincide under one exciting arc of suspense.




GET THIS NICE RECORD!

Download / Stream via smarturl.it/holygrains

LINKS:

www.laboumfatale.com
www.facebook.com/laboumfatale
www.soundcloud.com/la-boum-fatale
COVERPICTURE:

Holygrains Cover

BANDPICTURES: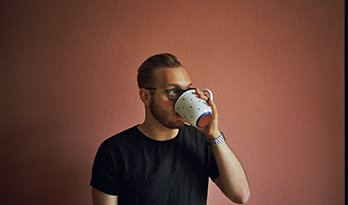 La Boum Fatale Pic 01
La Boum Fatale Pic 02

Pics by Miguel Murrieta Vásquez

DATES:

No dates at the moment
RELATED RELASES: