Mit Beständigkeit aufregend, dabei aber ausgesprochen unvorhersehbar: mit ihrem bisherigen Œuvre haben sich We Are The City Schritt für Schritt einen hervorragenden Ruf zugelegt. Ihr letztes Album "Violent" wurde zudem von Sinnbus in Europa, von Tooth & Nail in den USA und in Kanada von Boompa Records veröffentlicht und erhielt international große Anerkennung; ebenso wie der gleichnamige von der Band produzierte Spielfilm.

Mit den in Kürze anstehenden Aufnahmen zu ihrem dritten Album verfolgen We Are The City einen ebenso impulsiven wie experimentellen Ansatz. Die Band hat vor, alles zu übertreffen, was sie selbst bisher kreiert hat. Das Resultat kann dabei paradoxerweise entweder zum größten oder aber auch zum am wenigsten bedeutungsvollen im Schaffen der Band werden.

"Keep On Dancing" ist ein erster Vorstoß in Eigenproduktion und wurde im Hinterzimmer eines Fahrradladens im Osten Vancouvers aufgenommen. Die Single enthält einen hypnotischen, improvisierten Refrain: "Whatever God is, It's here with me now." In der Aufnahme hört man wie Text und Melodie das allererste Mal aufgeführt werden. Die visuelle Begleitung passt sich an den Einfallsreichtum des Stücks an.
Based in Vancouver, We Are The City has slowly gained the reputation of Canada's consistently exciting, yet markedly unpredictable, cult-band. Their last full length, Violent, was released in Europe by Sinnbus, in America by Tooth & Nail Records, and in Canada by Boompa Records. Violent achieved international success, both the album and the film.

Now, looking towards recording their 3rd full length album, the band have an impulsive and experimental approach in mind. We Are The City is embarking on an idea with the intent to outdo all that the band has previously created, resulting in what, paradoxically, could either become the biggest or the smallest thing they have ever done.

Keep On Dancing, We Are The City's first venture into self producing, was recorded in the back of a bike shop in East Vancouver. This single features a hypnotic improvised chorus, "Whatever God is, It's here with me now." Captured in the recording is the first time the lyric and melody of this chorus were ever performed. The visual accompaniment aligns with the inventive nature of the track.




GET THIS NICE RECORD!

Audio file via iTunes | Bandcamp
Stream on Spotify | Deezer

LINKS:

www.wearethecity.ca
www.facebook.com/wearethecity
www.burningeaglebooking.de (Booking)
COVERPICTURE:

Keep On Dancing Cover
BANDPICTURES: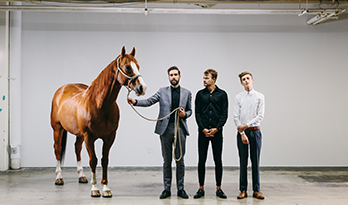 We Are The City Pic

Pic by Kirsten Huculiak

VIDEO:


DATES:

No dates at the moment
RELATED RELASES:


We Are The City
Violent
read more ...