Mehr geht fast gar nicht: Eine zufällige Begegnung in einer Sommernacht. In Berlin. Ein singender und songwritender Singer/Songwriter, zwei spleenige Nerds aus Finnland. Zwei, drei Schaffenskrisen, Auszeit in Buenos Aires. Internet, ein unübersichtlicher Berg analoger Synthesizer und - natürlich - ein fensterloses Kellerloch irgendwo in Skandinavien. Hier sind Lessons.

Auf der Suche nach Inspiration und frischem Wind unterbrechen die Brüder Samu und Ville Kuukka ihre Produktionen und fahren nach Berlin. Die beiden Filmkomponisten arbeiten an Material für ihre eigene Ambient/Postrockband The Gentleman Losers und wollen sich eine Pause gönnen. Sie stolpern in ein Konzert von Montauk, einem der vielen Aliasse von Patrick Sudarski, Musiker, Schöngeist und Hans Dampf in allen Gassen, der bereits mit früheren Bands wie Speed Mountain, A Heart Is An Airport oder Palestar gern und ausgiebig Löcher in die Membranen zwischen Noise, Kraut, Folk und Shoegaze stich. Man kommt ins Gespräch, man tauscht sich aus, man verliert sich danach. Als die drei den Faden erneut aufnehmen, sitzen die Kuukkas bereits wieder in Helsinki, während Sudarski in Südamerika auf neue Gedanken kommt.

Den folgenden Winter verbringen die drei in Helsinki in einem freudlosen Kellerraum ohne Fester, der aber überquillt vor gefährlich antiquierten Drum Maschinen und klobigen Synthesizern. Der instrospektive Ansatz, den alle drei bisher musikalisch verfolgen, wird komplett umgestülpt. Die spezifische Atmosphäre des Raumes mag eine Rolle dabei spielen. Die Musik wird laut, kratzend und treibend. Sie ist unterkühlt und distanziert und bis zum Rand gefüllt mit der Abwesenheit von Tageslicht. Vor allem aber atmet sie tief, setzt Herzschlag gegen Midi Clock und geht spürbar in genau diesem Moment von echten Menschen aus. Wenn diese auch im Zwielicht verschwimmen.

"Es war Zeit für etwas Neues für uns alle," sagt Sudarski. "Lessons ist der nächste logische Schritt."
As much as possible: A fortuitous encounter on a sweltering night one summer. In Berlin. A singing and song writing singer/songwriter, two quirky nerds from Finland. Two or three creative crises, hiatus in Buenos Aires. Internet, an unclear pile of analogue synths and - or course - a windowless basement somewhere in Scandinavia. Here's Lessons.

In search for inspiration and fresh air the brothers Samu and Ville Kuukka pause their productions and go to Berlin. The film composers work on their own Ambient/Postrock band The Gentleman Losers and wanted to take a break. They stumble into a concert of Montauk, one of the many aliases of Patrick Sudarski, musician, aesthete and jack of all trades. Sudarski already used to pierce holes into the membranes between noise, kraut, folk and shoegaze with his earlier bands Speed Mountain, A Heart Is An Airport or Palestar. They get into conversation, exchange ideas, but lose each other. When the three take up the thread again, both Kuukkas are back in Helsinki while Sudarski takes his mind off things in South America.

The following winter the three of them spend together in a cheerless basement room without windows yet overflowing of adventurously antiquated drum machines and clunky synthesizers. The introspective approach all three used to follow is turned inside out completely. The specific atmosphere of the room might have played a role. The music becomes loud, scratchy and driving. It is subcooled and distanced as well as brimmed with the absence of daylight. But above all it breathes deeply, confronts midi clock with heartbeat and in that moment noticeably hails from real human beings. Even if they blur in the twilight.

"It was time for a new thing, for all of us", says Sudarski. "This was a natural progression."




GET THIS NICE RECORD!

Audio files via iTunes | Bandcamp | Amazon
Stream on Spotify | Deezer

VIDEO:


LINKS:

facebook.com/LSSNS
lessonsband.tumblr.com
COVERPICTURE:

Tempest EP Cover
BANDPICTURES: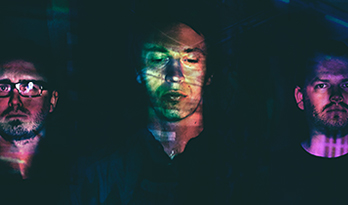 Lessons Pic 01
Lessons Pic 02
Lessons Pic 03
Lessons Pic 04
Lessons Pic 05

Pics by Teemu Kurko
DATES:

No dates at the moment
RELATED RELASES:


Lessons
Tempest Remixes
read more ...