Du sitzt eher ungemütlich auf einem Bierharass und guckst den Sternen beim Drehen zu. Wahrscheinlich neigt die Welt sich langsam in den Arsch, aber mit diesem Gedanken ist dir nicht geholfen. Du bist Austauschschüler auf Lebzeit, betrinkst dich mit Schlangenwein, gestern noch stapftest du im Mondschein auf der chinesischen Mauer herum. Du glaubst, dass dein einziges Problem ist, dass dich so gottverlassen fühlst und schüchtern bist. Dabei hast du keinen Empfang. Nicht mal ein Sendungsbewusstsein. Ladies and Gentlemen: Odd Beholder

Die Wärme von Säugetieren. Der Klang des Meeres. Ein Junge, der lächelt. Wenn man etwas lange und gründlich genug betrachtet, wird man zu diesem etwas. Und wenn das passiert, verschwindet man. Gelassenheit. Krachfetzen. Das Getöse, mit dem Blut durch Adern fließt. Die Schüchternen, angezogen vom Rampenlicht.

Er stürmt instinktiv nach vorn. Sie züchtet Notizen wie Bakterien in einer Petrischale. Alles Forschung. Zögern. Dinge, die nicht gesagt wurden. Bis zur Lähmung nachdenken. Chaos. Die Perspektive verändern. Lieder schreiben, um Rührung haltbar zu machen für raue Zeiten.

Regen. Elektrizität. Klang als Textur. Klänge sammeln. Synthesizer und Drum Machines. Wege finden, dem umtriebigen Geist zu entkommen und Angst in Schach zu halten. Zum Glück ist Poesie ein Kode, die gefährlichsten Dinge lassen sich aussprechen, ohne sie tatsächlich zu sagen.

Odd Beholder wurde 2013 in einem Luftschutzkeller in Dietikon gegründet. Daniela Weinmann schrieb die Lieder in der Wohnung des Künstlers Curdin Tones in Amsterdam. Aufgenommen wurde die Musik in Berlin. Live ist Odd Beholder von minimalistischem Drumprogramming und Synthsounds geprägt. Den Videoclip zur Single "Landscape Escape" drehten die Berliner Filmer Grambow & Kirchknopf in Aserbaidschan in Zusammenarbeit mit der Azerbaijan Social & Modern Dance Association. Für das EP-Cover konnten sie die Künstler Taiyo Onorato und Nico Krebs gewinnen. Ihre Debüt-EP erscheint am 16. September 2016.
So you're sitting on a crate, watching the stars turn and possibly also witnessing the slow decay of the earth. But you can't use a thought like that. You're an exchange student for lifetime. Was it only yesterday that you trudged around on the great wall of China, drinking snake wine by moonlight? You wonder if your only problem is that you're shy and lonely. But your real problem is that you haven't got reception. Let alone a sense of mission. Ladies and gentlemen: Odd Beholder.

The warmth of a mammal. The sound of the sea. A boy's smile. When you truly behold something you become it, and when this happens, you disappear. Serenity. Patches of noise. The roaring sound of blood rushing through the veins. Introverts attracted by the limelight. He rushes forward instinctively. She cultivates notes like bacteria in a petri- dish. It's all research. Hesitation. Things left unsaid. Thinking so much that it leads to paralysis. Chaos. Shifting perspectives. Writing songs to preserve delicate emotions during rough times. Rain. Electricity. Sound as texture. Collecting sounds. Synthesizers and drum machines. Ways to escape a busy mind and keep fear at bay. Luckily poetry is a code and you can say the most dangerous things out loud without actually saying them.

Odd Beholder was founded in a bomb shelter in Dietikon in 2013. Daniela Weinmann wrote her songs in the flat of the artist Curdin Tones in Amsterdam. The final recording sessions took place in Berlin. Their live sound is characterized by minimalistic drum programming and analogue synth sounds. The video for their single "Landscape Escape" was shot by the Berlin film maker Grambow + Kirchknopf in collaboration with the Azerbaijan Social & Modern Dance Association. The artist duo Taiyo Onorato and Nico Krebs contributed the artwork for the EP. Their debut will be released on September 16th.


GET THIS NICE RECORD!

Sinnbus Shop: 12" EP
Audio files via iTunes Bandcamp
Stream via Spotify Deezer

VIDEO:




LINKS:

www.facebook.com/oddbeholder
www.instagram.com/oddbeholder

COVERPICTURE:

Lighting Cover

BANDPICTURES: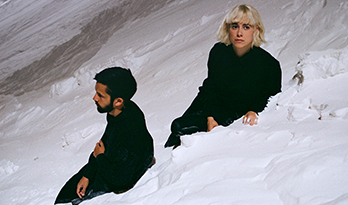 Odd Beholder Pic 01
Odd Beholder Pic 02
Odd Beholder Pic 03


DATES:

No dates at the moment
RELATED RELASES:


Odd Beholder
ATlas (12")
read more ...