"Wir befinden uns in einer künstlerischen Renaissance. Wir haben unsere Ausdrucksform geschärft."

Einar Stray Orchestra, die farbenfrohe, überbordende Indie-Band aus Sandvika in Norwegen kündigt ihr drittes Studioalbum an. "Dear Bigotry" erscheint am 17.02.2017.

Das Album entsteht im letzten Winter auf einer kleinen Insel an der Nordwest-Küste Norwegens. Während vor den Studiofenstern Stürme wüten, nehmen die fünf Bandmitglieder zusammen mit den Produzenten Marius Hagen (Frontmann von Team Me) sowie Rumble In Rhodos-Gitarrist Øyvind Røsrud die zehn Stücke dieses Albums auf und lassen sich in der Abgeschiedenheit für ihre Klanglandschaft von allem beeinflussen was es zwischen Arabischem Folk, Stravinskij, japanischem Metal, Mars Volta, Dirty Projectors and Lana Del Rey zu hören gibt.

Dabei ergibt sich der Klang der Band vor allem auch aus einer für Indierock ungewöhnlichen Besetzung: Der überwiegenden Abwesenheit von Gitarren setzt das Quintett Strays Piano sowie Cello und Violine entgegen und spielt mit den Erwartungen. Die Streichinstrumente werden nicht lieb, zerbrechlich oder fiedelnd eingesetzt sondern sind und waren schon immer wichtiger Bestandteil der ausufernden Song-Kaskaden.

Einar Stray veröffentlicht 2012 sein Debütalbum "Chiaroscuro", das vor allem in Großbritannien und Deutschland hohe Anerkennung erhält. Ursprünglich angelegt mit Stray als Bandleader und einer festen Besetzung um ihn herum, wächst das Kollektiv immer mehr zu einer vollen demokratischen Band. Das zweite Album "Politricks" erscheint dann auch unter dem Namen Einar Stray Orchestra, um diesem Prozess Rechnung zu tragen. Auf "Politricks" setzt die Band sich kritisch mit ihrer christlichen Erziehung und den immer offener auftretenden Widersprüchen darin auseinander.

Ein Tiefschlag erfolgt Ende 2014, als zwei Mitglieder aussteigen. Das Einar Stray Orchestra muss sich neu besinnen. In Maja Gravermoen Toresen und Steinar Glas finden sich zwei neue Musiker_innen, die ihrerseits aus Norwegens Folkmusik- und Drone/Postrock-Szene stammen und neue Einflüsse einbringen. Zusammen taucht das Quintett vollständig ab und beginnt mit den Arbeiten an den Stücken, die später "Dear Bigotry" ergeben werden.

"Auch wenn das Album aus unserer Perspektive geschrieben ist," erzählt Stray, "so ist 'Dear Bigotry' doch ein universeller Titel."

Einen ersten Einblick gewährt bereits die Single "Penny For Your Thoughts". Das Stück ist aus ihrem modernen norwegischen Blickwinkel heraus eine Auseinandersetzung damit, in ein privilegiertes Leben hineingeboren zu werden, so viele Möglichkeiten offen zu haben, dass es einen verschluckt. "Diese Kids haben alles was es bräuchte um die Welt zu retten, aber um dies zu tun, müssen sie sich zuerst selbst retten", betont die Band.

Die Stücke "Synthesis", "Glossolalia" und "As Far As I'm Concerned" potraitieren die Hassliebe der Band zu Oslo, nachdem sie dort fünf Jahre gelebt hat. Träume sind zerplatzt, andere sind in Erfüllung gegangen. Überall in den Straßen lauern sehr glückliche oder auch sehr traurige Erinnerungen. "Diese drei Stücke sind möglicherweise die am meisten maximalistischen Stücke, die wir je aufgenommen haben - es gibt zu viele Instrumente und Ebenen, um sie alle aufzuzählen."

Mit den Stücken "Last Lie", "Seen You Sin" und "Caravelle" knüpft die Band inhaltlich an das Vorgänger-Album "Politricks" an und setzt sich mit dem Aufwachsen und kirchlichen Gemeinden auseinander, vor allem mit dem Konzept der Sünde.

Und doch zieht sich das Thema Doppelmoral als thematischer Faden durch das gesamte Album. "Unsere Generation scheint mehr daran interessiert, likes zu erhalten und daran, den Eindruck zu erwecken, sich um die wichtigen Belange unserer Zeit zu kümmern, als dies tatsächlich zu tun", schließt Stray ab. "Und wir als Band kritisieren das, obwohl wir selbst ein Teil davon sind. Wir ertappen uns in unserer Doppelmoral in unserem Bestreben, Doppelmoral zu benennen. Und das ist in meinen Augen der Kern des gesamten Albums."

"Dear Bigotry" erscheint am 17. Februar 2017 auf Sinnbus.
"We find ourselves in an artistic renaissance. We have sharpened our expression."

Einar Stray Orchestra, the colourful, exuberant indie band from Sandvika in Norway announces its third studio album. "Dear Bigotry" is released February 17, 2017.

The album was created last winter on an island in the Northwest-coast of Norway. While winter storms were roaring outside the studio windows the five band members and producers Marius Hagen (frontman of Team Me) as well as Rumble In Rhodos guitarist Øyvind Røsrud recorded the ten songs on their third album. In this seclusion they let their soundscape be inspired by Arabic folk music, Flying Lotus, Stravinskij, Japanese metal, Mars Volta, Dirty Projectors and Lana Del Rey.

And yet the band's sound arises from an unusual setting in indie rock: The predominant absence of guitars is met by Stray's piano as well as cello and violin and plays with expectations. The strings though aren't used kindly, fragile or fiddling but are - and were always - an essential element of the sprawling song cascades.

In 2012 Einar Stray releases his debut album "Chiaroscuro", which is highly acclaimed especially in the UK and Germany. Initially set with Stray as band leader and a fixed set-up around him, the collective grows more and more into being a democratic band. The 2nd album "Politricks" is then released under the new name Einar Stray Orchestra to take this process into account. On "Politricks" the band critically covers their Christian upbringing and the more and more openly occurring contradictions.

In 2014 the band hits bottom when two band members quit. The Einar Stray Orchestra has to recollect itself. In Maja Gravermoen Toresen and Steinar Glas they find new musicians out of Norways folk music and drone/postrock scene that bring in new influences. Together the quintet fully disappears and starts working on the songs that later become "Dear Bigotry".

"Even though the album is written from a Norwegian perspective," says Stray "'Dear Bigotry' is a universal title."

A first glimpse offers the single "Penny For Your Thoughts". The song is a modern Norwegian take on the curse of the silver spoon - privileged kids whose lives are so full of possibilities that it swallows them. "They have everything they need to go save the world, but in order to save it, they need to start with saving themselves", stresses the band.

The tracks 'Synthesis', 'Glossolalia' and 'As Far As I'm Concerned' are portraying the band's lovehate relationship with Oslo, the capital of Norway, after living there for 5 years. Some dreams crushed, some fulfilled. Memories profoundly happy and memories profoundly sad are all around the streets they stroll daily. "Those are probably the most maximalistic songs we've ever recorded - there are too many instruments and layers in there to mention."

'Last Lie', 'Seen You Sin' and 'Caravelle' are trails to the band's second album's theme: their upbringing in church communities, especially about the concept of sin. And yet double moral is a red thread on the album: "People of our generation seeming like they care about the world when they only care about how it looks like they care," Stray explains. "We as a band criticise this although we're a part of it. We write songs of criticism, but are we really any better? Is it enough to only speak out without any actual action? What is authentic?"

"Dear Bigotry" is out February 17, 2017, on Sinnbus and Toothfairy.


GET THIS NICE RECORD!

Sinnbus Shop: LP (burgundy vinyl) | CD
Audio files via iTunes | Bandcamp | Amazon
Stream via Spotify | Apple Music | Deezer

MUSIC:


LINKS:

www.einarstrayorchestra.com
www.facebook.com/einarstrayorchestra www.instagram.com/einarstrayorchestra
COVER PICTURE:

Dear Bigotry Cover

BAND PICTURES: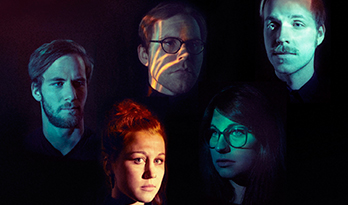 Einar Stray Orchestra Pic 1
Einar Stray Orchestra Pic 2
Einar Stray Orchestra Pic 3

Pics by Sara Angelica Spilling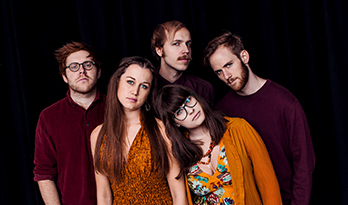 Einar Stray Orchestra Pic 4
Einar Stray Orchestra Pic 5
Einar Stray Orchestra Pic 6

Pics by Christian Zervos

VIDEO:


DATES:

No dates at the moment
RELATED RELASES:

Einar Stray Orchestra
Politricks
read more...

Einar Stray
Chiaroscuro
read more...