In zwei Ländern beheimatet, sind Laura Loeters aus Utrecht/Niederlande und der in Hamburg lebende Gregor Sonnenberg es gewohnt, mit ihrer Band THE DAY permanent unterwegs zu sein. Zu reisen, beweglich zu bleiben, von sich immer ändernden Punkten aus gemeinsam zu arbeiten.

Seit beide sich an der ArtEZ School of Music in Arnhem kennen lernten, bringen sie Entfernungen, Unterschiede, immer neue Ansätze und immer neue Blickwinkel unter einen Hut. Was sich dabei durch alles hindurch zieht, ist der Anspruch, die Dinge selbst in die Hand zu nehmen und auszuprobieren und gemeinsam daran zu wachsen.

"In 'Grow' geht es ziemlich wörtlich um das erwachsen werden durch unterschiedliche Phasen des Lebens hindurch und die eigene Jagd nach der Weisheit" erzählt Sängerin Laura Loeters. Es ist ein Stück über Abschiede. Ein Stück auch darüber, am eigenen, engen Umfeld ablesen zu können, wie man selbst älter wird.

Laura fügt hinzu: "Wie bei vielen unserer Stücke klang meine erste Idee viel ruhiger und folkig. Als ich aber bei der Probe mit unserem Schlagzeuger den E-Bass in die Hand nahm, wurde anders als ursprünglich gedacht viel mehr ein treibender Popsong daraus."

The Day haben bisher zwei sehr schöne EPs in Eigenregie aufgenommen, waren unentwegt unterwegs und haben dabei ihre eigene Version zurückgenommener, melancholischer Popmusik weiter ausformuliert. Mag es an den Distanzen liegen, die beide immer wieder überbrücken, dem ständige Blick in die Ferne (und aus dem Fenster), der vielen Zeit zum Nachdenken: Die Musik von The Day ist intim ohne sich aufzudrängen und erzählt mit von innen kommender Ruhe.

The Day werden im Februar neue Musik auf dem Berlin Label Sinnbus veröffentlichen und präsentieren diese auf ihrer Tour im April.
Resident in two countries, Laura Loeters from Utrecht/Netherlands and the Hamburg based Gregor Sonnenberg are used being on the road permanently with their band THE DAY. To travel, stay in motion, to work together from constantly changing points.

Since meeting at ArtEZ School of Music in Arnhem the two keep reconciling distances, differences and always new approaches and perspectives. What runs like a thread through all of this is the interest to take charge of things themselves, try out and grow on it together.

"'Grow' is quite literally about growing up through different phases of life and your very personal 'pursuit of wisdom'" says Singer Laura Loeters. The song is about farewells" and realizing how you grow older yourself by watching close people around you getting older.

Laura adds: "Like many of our songs when I came up with the first idea it sounded more like a quiet more folky song. But when I picked it up on electric bass with our drummer at rehearsals it became much more of a grooving pop song than we first intended."

The Day have released two EPs by themselves, were constantly on the road and have formulated their own version of melancholic pop music. May it be the distances both have to bridge again and again, the permanent view into the remoteness (and out of the window), all that time to ponder: The music by The Day is intimate without being intruding and speaks with an inner calmness.

The Day will release new music in March on Berlin based label Sinnbus and presents it on their tour in April.
<!
GET THIS NICE TRACK!

Stream / Audio files via smarturl.it/TheDay-Grow
LINKS:

www.thedayisaband.com
www.facebook.com/thedayisaband
www.instagram.com/thedayisaband
COVER PICTURE:

Grow Cover

BAND PICTURES: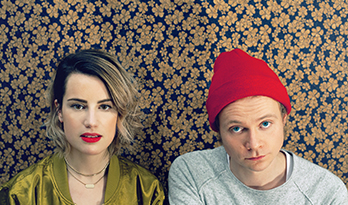 The Day Pic

VIDEO:


DATES:

No dates at the moment
RELATED RELASES:


The Day
Leave The Dark
read more...