Nach der Veröffentlichung des Understatement-Hits "Grow" im letzten Jahr präsentieren THE DAY mit "Leave The Dark" nun eine verspielte Dream-Pop-Coverversion ihrer Labelkollegen Yeah But No.

The Day sind Laura Loeters aus Utrecht/Niederlande und der in Hamburg lebende Gregor Sonnenberg. Beide lernen sich an der ArtEZ School of Music in Arnhem kennen, tauschen musikalische Ansätze und Ansichten aus und bringen Entfernungen, Unterschiede und immer neue Blickwinkel in ihrer Band unter einen gemeinsamen Nenner.

Die beiden lernen Yeah But No auf einem gemeinsamen Konzert in Berlin kennen. In deren Stück "Leave The Dark" geht es um das Aufrütteln nach einer Trennung, eigentlich um das Positive nach einer schmerzhaften Veränderung. "As I finally leave the dark, there's a cold hope calling me." Im Moment der Unsicherheit findet der Protagonist den Ausweg im Rituellen. Für the THE DAY kein ungewohnter Ansatz: sie sind es gewohnt, permanent unterwegs zu sein und von sich immer ändernden Punkten aus gemeinsam zu arbeiten. Gemeinsam entwickelte Routinen helfen dabei, beweglich zu bleiben.

The Day haben bisher zwei sehr schöne EPs in Eigenregie aufgenommen, waren unentwegt auf Tour, haben für Kate Tempest eröffnet. Und ganz nebenbei arbeiten die beiden weiter an der Formulierung ihrer eigenen Version zurückgenommener, melancholischer Popmusik. Die Stücke von The Day sind intim ohne sich aufzudrängen und erzählen mit von innen kommender Ruhe. Im Moment produzieren The Day ihr Debütalbum. Im Frühjahr wird die erste Single "Yet To Come" veröffentlicht. Das Album erscheint im Oktober 2018.
After the release of their understatement hit "Grow" last year THE DAY present "Leave The Dark" - a playful dream pop cover version of label mates Yeah But No.

The Day are Laura Loeters from Utrecht/Netherlands and Hamburg based Gregor Sonnenberg. Since meeting at ArtEZ School of Music in Arnhem the two keep reconciling distances, differences and always new approaches and perspectives. What runs like a thread through all of this is the interest to take charge of things themselves, try out and grow on it together.

The two get to know Yeah But No at a concert in Berlin. Their song "Leave The Dark" is about the arousal after a break-up and the positive things after a hurtful change. "As I finally leave the dark, there's a cold hope calling me." In the moment of the biggest insecurity the protagonist finds a way out in a ritual. No unknown approach for THE DAY who are used to being constantly on the road and work together though from always changing places. They develop mutual routines that help them to be flexible.

The Day have released two EPs by themselves, were constantly on the road, supported Kate Tempest live and have formulated their own version of melancholic pop music. May it be the distances both have to bridge again and again, the permanent view into the remoteness (and out of the window), all that time to ponder: The music by The Day is intimate without being intruding and speaks with an inner calmness. At the moment The Day produce their debut album. In spring the first single "Yet To Come" is out. The album is planned for October 2018.
<!
GET THIS NICE TRACK!

Stream / Audio files via smarturl.it/TheDay-LeaveTheDark
LINKS:

www.thedayisaband.com
www.facebook.com/thedayisaband
www.instagram.com/thedayisaband
COVER PICTURE:

Leave The Dark Cover

BAND PICTURES: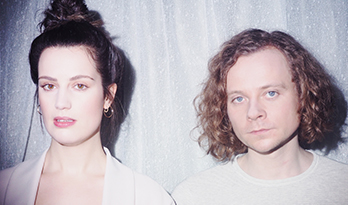 The Day Pic

Pic by Lumi Lausas.
VIDEO:


DATES:

14.07.2022 - DE - Bremen - Breminale
03.09.2022 - DE - Gelsenkirchen - Wohnzimmer GE

RELATED RELASES:


The Day
Grow
read more...