Entrückte und dennoch beinahe nüchterne Musik, die so erhaben ist wie ein leerer Parkplatz im Morgenlicht: Im Frühling 2017 erscheint Odd Beholders zweite EP "Atlas" und führt die unterkühlten, minimalistischen Elektronika der ersten EP fort.

Odd Beholder artikulieren Entfremdung. Als Betrachter einer seltsamen Welt stehen sie neben dem Geschehen, sehen sich selbst aber nicht als unbeteiligt. Viel mehr versuchen Daniela Weinmann und James Varghese die Eindrücke zu ordnen und ihnen einen Sinn zu geben.

"Atlas" setzt dort an, wo die Debüt-EP "Lighting" endete. Während sich die Stücke auf der ersten EP um den Akt des Betrachtens drehen, steht nun der Betrachter selbst im Zentrum. Wie ein Tourist oder Pilger bewegt er sich in der Welt und sucht nach einer Richtung. Er geht pleite, er macht sich Sorgen, hat Schwierigkeiten, sich zu verorten und er sehnt sich nach Begleitung. "Die Stücke auf 'Atlas' setzen sich mit der Angst auseinander und damit, wie wir damit umgehen und wie weit sie unsere Ethik und Logik bestimmt. Sie sind eine Aufforderung, die Angst abzulegen und sich stattdessen etwas zu widmen, das es Wert ist, festgehalten zu werden und dafür zu kämpfen", erklärt die Band.

Während "Isometry" und "Moon" den Zwang behandeln, nicht loslassen zu können, spielt sich in "Garden" der Kreis von säen, warten, ernten, sterben, keimen und auferstehen ab. "Coins" und "Atlas" sind Hymnen gegen die Angst. Letztere betrachtet die Tatsache, dass man obwohl man sie nicht kennt sich mit der Zukunft auseinandersetzen muss - ohne sich zu viele Sorgen zu machen. "Coins" wiederum stellt die Frage, welcher Wert mit Geld bemessen wird.

Nach wie vor suchen Odd Beholder ihren Weg aus dem Experiment in die Einfachheit. Popmusik ist das Ziel, nicht der Ausgangspunkt. In ihrer präzisen, unprätentiösen Musik findet sich das Interesse wieder, das beide für ambivalente Stimmungen teilen. Gemeinsam schreiben sie introvertierte und auf das wesentliche reduzierte Musik, die zum Trojanischen Pferd für Größeres wird.

Seit der Veröffentlichung von "Lighting" ist für Odd Beholder einiges in Bewegung geraten. Im Kleinen wie im Großen ist das Duo wortwörtlich unterwegs und konnte auf den vielen Konzerten und vor allem mit dem heimlichen Hit "Landscape Escape" sowie dem dazugehörigen in Aserbaidschan gedrehten Video einige Aufmerksamkeit erhalten. "Atlas" stellt nun in doppelter Bedeutung - als mythologische Figur und als Kartensammlung - die Frage nach der Orientierung und danach, worüber wir uns Sorgen machen und wofür wir Sorge tragen. "Die erste EP eröffnet mit den Worten: 'I've been young all my life (...), I just couldn't find the strength to really care'", erzählen die beiden. "Das hat sich offenbar verändert. Es ist uns nicht egal, was geschieht. Wir interessieren uns nicht mehr für Gleichgültigkeit."


Both sober and dreamy: Odd Beholder's music is as sublime as an empty parking lot in early morning light. In spring 2017, the band will release its second EP "Atlas" that takes up the cool and minimalistic electronica of the first EP "Lighting".

Odd Beholder articulate alienation. As beholders, they stand next to what's going on in a strange world, but they don't perceive themselves as innocent bystanders. Instead, Daniela Weinmann and James Varghese try to sort things out and make sense of their impressions.

"Atlas" continues where "Lighting" left off. While the first EP put the act of beholding in the centre of the songs, the second EP highlights the beholder himself. Like a tourist, like a pilgrim he roams the earth in search of direction. He's broke, he worries, he has difficulties to find his point of view and he yearns for a companion. "The songs on 'Atlas' discuss fear, our strategies of coping with it and its danger of corrupting our moral compass and our logic. The songs are an invitation to let go of fear and to dedicate oneself to something that is worth finding, keeping and fighting for", explains the band.

"Isometry" and "Moon" talk about the difficulties of letting go. "Garden" follows the cycle of sowing, waiting, reaping, dying, sprouting and resurrecting. "Coins" and "Atlas" are hymns against fear, the latter examining the fact that although you don't know the future you still have to take care of it yourself - without worrying too much. "Coins" asks the question what is actually measured with money.

Odd Beholder develop their songs by experimenting but their goal is simplicity. The precise, unpretentious music reflects the both's shared interest in ambivalent moods. They create introverted, stripped-down music that becomes a Trojan horse for bigger things.

Since the release of "Lighting" a lot has been set in motion for Odd Beholder. Both on the large and small scale the duo literally has been on the move and gathering attention with their many concerts and above all the underground hit "Landscape Escape" as well as the corresponding video shot in Azerbaijan. Now "Atlas" - in both meanings as a mythological figure and as a collection of maps - depicts a metaphor for orientation and worries. "The first EP opened with the words: 'I've been young all my life (...), I just couldn't find the strength to really care'", Daniela explains. "Obviously, this has changed. We've changed. We care. Indifference isn't interesting anymore."


GET THIS NICE RECORD!

Sinnbus Shop: 12" EP
Audio files via iTunes | Beatport | Bandcamp
Stream via Spotify | Apple Music | Deezer

VIDEO:


MUSIC:


LINKS:

www.facebook.com/oddbeholder
www.instagram.com/oddbeholder

COVERPICTURE:

Atlas Cover

BANDPICTURES: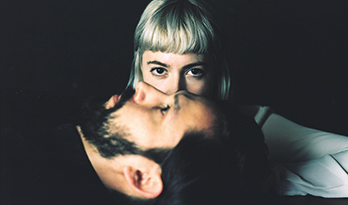 Odd Beholder Pic


DATES:

No dates at the moment
RELATED RELASES:


Odd Beholder
Lighting
read more ...