Die Schönheit des Übergangs Am 10.11.2017 erscheint das Debütalbum von Yeah But No. Das zur Band gewachsene Projekt der in Berlin lebenden und arbeitenden Musiker Douglas Greed und Fabian Kuss spürt in regnerischer Electronica der Schwere von Bruch und Ende nach. Es zelebriert die in jedem Wandel liegenden Energie und die Schönheit des Neubeginns. In cleveren Kompostionen kartografiert das Duo wie nebenbei die in Synthesizer und drum machines verborgen liegende Melancholie.

Greed und Kuss lernen sich vor vier Jahren kennen, als ersterer einen Sänger für neue Tracks sucht. Das geschmackvolle Erfolgslabel Freude am Tanzen veröffentlicht zu diesem Zeitpunkt Greeds Musik. Er tourt damit quer durch Europa, spielt in Mexiko und Australien. Mit Mooryc hat Greed außerdem ein Album mit dem gemeinsamen Projekt Eating Snow veröffentlicht. Doch Greed schreibt und produziert unermüdlich weiter. An dieser Stelle laufen er und Fabian Kuss sich über den Weg. "Ich habe einen Profi gesucht," erinnert er sich. "Das war sehr spontan. Es stand ein Konzert auf der Fusion an, und das war alles mit ziemlich heißer Nadel gestrickt. Aber es hat sofort funktioniert. Sehr gut sogar. Unsere Ideen passten hervorragend zusammen."

Auf gut hundert gemeinsamen Auftritten in Klubs und auf Festivals national und international entwickeln die beiden eine so lässige wie mitreißende Bühnenpräsenz. Und nach der Veröffentlichung von gut einem Dutzend gemeinsamer Tracks - unter anderem auf BPitch Control, Noir und Cocoon Records - entscheiden die beiden, sich die künstlerische Verantwortung zu teilen und in Zukunft gemeinsam Stücke zu schreiben. "Auf den langen Fahrten haben wir uns gegenseitig musikalisch heraus gefordert und unsere Schnittmenge gefunden," erzählt Kuss. "Und auf all den Konzerten wurde uns immer mehr klar, dass wir unser Projekt zu einer verbindlichen Band machen wollen."

Greed und Kuss beziehen Ihre Energie dabei aus ihren grundsätzlich anderen Herangehensweisen. Greed beschreibt sich als Autodidakt, lässt gern Zufall oder Fehler entscheiden. Kuss hat Gesang studiert, sich mit seinen Bands und Projekten von Jazz über Funk oder Pop in allen erdenklichen Musikrichtungen ausprobiert und lässt jede Menge Außensicht mit in das Projekt einfließen. In diesem Spannungsfeld verschmelzen sie elektronische Musik mit klassischen Songstrukturen zu einem klugen und mitreißenden Hörgenuss.

So beginnt das Album mit "Bankruptcy" zwar mit Understatement, aber programmatisch turbulent. Nach kurzem und plötzlichem Aufblenden der Musik gerät man unvermittelt in den Sog des nervösen Stücks. Kuss singt von Zerwürfnissen, Vorwürfen und nicht mehr zu lösenden Widersprüchen. Das abrupte Ende macht Platz für das elegante und leichtfüßig pulsierende "The Way We Chose" und das ruhig treibende "Leave The Dark". Beide Stücke schöpfen aus dem Rückblick Zuversicht und münden inhaltlich im folgenden kurzen Interlude: "I Don't Give Up".

Das knapp und präzise formulierte und mit stoischem Achtelbass treibende "Hold It All Back" bildet zusammen mit dem düster-technoiden "Sand" eines der Zentren des Albums. Beinahe meditativ wird das Sich-zurücknehmen besprochen und - vor der dosiert über die Ufer gehenden Klanglandschaft - über das Aufgehen, in einander oder in etwas größerem.

Das nächste Interlude "Renew Me" öffnet das finale Kapitel des Albums. "In Your Sheet" ist großartig sparsam arrangiert und erzählt davon, den richtigen Moment für den entscheidenden Schritt verpasst zu haben. Mit Haltungslosigkeit setzt sich das ebenfalls sparsame aber wie elektrisch aufgeladene "Chamaleon" auseinander, bevor "New Again" das Album abschließt. Das angenehm verschrobene Stück ist eine Ode an den Neuanfang und die nie verklingende Einladung, sich neue Herausforderungen zu suchen.

Yeah But No schreiben weiter an den Greatest Hits of Niemals-Ankommen. Immer ein schweres Ende, immer ein hoffnungsvoller Anfang.
The beauty of transition.

On November 10th the debut album of Yeah But No is released. The project of Berlin based musicians Douglas Greed and Fabian Kuss, that has grown into a band, tracks down the heaviness of breach and ending in rainy Electronica. It celebrates the energy within every change and the beauty of a new start. With smart compositions the duo airily maps the melancholy hidden in synths and drum machines.

Greed and Kuss get to know each other four years ago when the former was looking for a singer for new tracks. The tasteful success label Freude am Tanzen is releasing Greed's music at that time. He's touring through Europe, plays in Mexico and Australia. Also, with Mooryc he's releasing an album with the mutual project Eating Snow. However Greed is tirelessly writing and producing new music. At this point he crosses Kuss' path. "I was looking for a professional", he remembers. "There was a gig at Fusion Festival coming up. It was very spontaneous but it worked instantly. And it worked very well. Our ideas matched terrifically."

After one hundred gigs in national and international clubs and on festivals the two develop a stage presence as nonchalant as thrilling. After the release of a dozen of tracks together - among others on BPitch Control, Noir and Cocoon Records - both decide to split the artistic responsibility and start writing tracks jointly. "On long drives we challenged each other musically and found our overlap", tells Kuss. "And on all these concerts it became clearer and clearer that we wanted to let this project grow into a committed band."

In doing so, though, Greed and Kuss draw their energy from fundamentally different approaches. Greed describes himself as an autodidact, likes things to be decided by accident or mistakes. Kuss studied voice, has tried out every musical style imaginable in various bands and projects from jazz to funk or pop and let's the outsider's view affect this project. Between these poles they merge electronic music with classic song structures into a smart and captivating listening enjoyment.

Hence with "Bankruptcy" the album admittedly starts with understatement, but programmatically turbulent. After a short and sudden glimpse into the music you unexpectedly get into the undertow of this nervous track. Kuss sings of disagreement, blame and unsolvable conflicts. The abrupt end makes way for the elegant and lightly pulsating "The Way We Chose" and the calmly driving "Leave The Dark". Both tracks take confidence from looking back and lyrically lead into the short interlude: "I Don't Give Up".

The concise and precise "Hold It All Back" with its stoic straight bass and the dark-technoid "Sand" form one of the centres of the album. In an almost meditative way it's discussed to restrain oneself and - in front of the controlledly overflowing soundscape - to rise in each other or in something bigger.

The next interlude "Renew Me" opens up the final chapter of the album. "In Your Sheets" is amazingly sparsely arranged and tells of missing the right moment for the vital step. The likewise sparse but electrically charged "Chameleon" deals with the lack of attitude before "New Again" concludes the album. The pleasantly quirky piece is an ode to a new beginning and the never fading invitation to look for new challenges.

Yeah But No continue writing their Greatest Hits of Never Arriving. Always a hard ending, always a hopeful beginning.


GET THIS NICE RECORD!

LP / CD via Sinnbus Shop
Download / Stream via smarturl.it/YeahButNo

LINKS:

www.facebook.com/yeahbutnomusic
www.instagram.com/yeahbutnomusic
COVER PICTURE:

Yeah But No Cover

BAND PICTURES: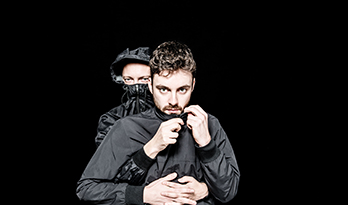 Yeah But No Pic 1
Yeah But No Pic 2
Yeah But No Pic 3

Pics by Anna K.O.

VIDEO:


DATES:

No dates at the moment
RELATED RELASES:


Yeah But No
Sand EP
read more...