Elektronische Musik mit klassischen Songstrukturen zu einem klugen und mitreißenden Hörgenuss verschmelzen, ist das Anliegen von Yeah But No. Das Dou aus Berlin besteht aus dem Techno-Produzenten und Musiker Douglas Greed und Sänger Fabian Kuss. Ersterer hat sich bereits einen Namen in der Techno-Szene gemacht und zuletzt zusammen mit Mooryc ein Album mit dem gemeinsamen Projekt Eating Snow veröffentlicht. Währenddessen sammelt Kuss in allen erdenklichen Musikrichtungen Erfahrungen und lässt jede Menge Außensicht mit in das Projekt einfließen.

Das Duo lernt sich vor vier Jahren kennen, als Greed einen Sänger für seine Tracks sucht. Das geschmackvolle Erfolgslabel Freude am Tanzen veröffentlicht zu diesem Zeitpunkt seine Musik und er tourt damit quer durch Europa, spielt in Mexiko und sogar Australien. In Fabian Kuss findet er das passende Gegenüber. Dieser hat nicht nur Gesang studiert, sondern ebenfalls schon auf Bühnen in allen Ecken der Republik gestanden und mit seinen Bands Musikstile von Jazz über Funk bis Pop erforscht.

Nach gut hundert gemeinsamen Auftritten in Klubs und auf Festivals national und international sowie der Veröffentlichung von gut einem Dutzend gemeinsamer Tracks - unter anderem auf BPitch Control, Noir und Cocoon Records - entscheiden die beiden sich, das Projekt in eine Band übergehen zu lassen und beginnen, gemeinsam Stücke zu schreiben.

So wird Yeah But No geboren. "Hold It All Back" gibt nun einen ersten Einblick. Das Debütalbum wird im Herbst 2017 erscheinen. Bis dahin wird die Band live zu erleben sein.
Merging electronic music with classic song structures into a smart and captivating listening enjoyment. That's Yeah But No's objective. The duo from Berlin is comprised of techno producer Douglas Greed and singer Fabian Kuss. The former made a name for himself in the techno scene and recently released an album together with Mooryc with their mutual project Eating Snow. Meanwhile Kuss gained experiences in all imaginable styles of music.

The two get to know each other four years ago when Greed was looking for a singer for his tracks. Tasteful success label Freude am Tanzen releases his music during that time and he tours through Europe, plays in Mexico and Australia. In Fabian Kuss he finds the matching counterpart. Not only has he studied voice but also stood on stages all across the country and explored musical styles from jazz to funk and pop with his bands.

After one hundred gigs in national and international clubs and on festivals as well as the release of a dozen of tracks together - among others on BPitch Control, Noir and Cocoon Records - both decide to let the project grow into a band and start writing tracks together.

This is how Yeah But No is born. "Hold It All Back" offers a first glimpse. The debut album will be out in autumn 2017. Meanwhile the band will play live.


GET THIS NICE TRACK!

Audio files via iTunes | Beatport | Bandcamp
Stream via Spotify | Apple Music

LINKS:

www.facebook.com/yeahbutnomusic
COVER PICTURE:

Hold It All Back Cover

BAND PICTURES: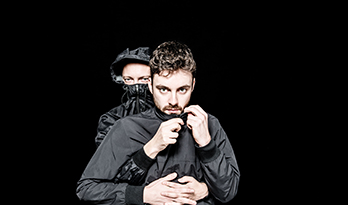 Yeah But No Pic 1
Yeah But No Pic 2
Yeah But No Pic 3

Pics by Anna K.O.

VIDEO:


DATES:

No dates at the moment
RELATED RELASES:


Yeah But No
Leave The Dark
read more...