Yeah But No aus Berlin haben im November ihr selbstbetiteltes Debütalbum veröffentlicht, begleitet von mehreren Singles und einer schöne Remix EP mit Beiträgen von den Labelmates Lessons, von Phonique und von Ruede Hagelstein. Nachdem sie anschließend auf eigener Tournee und als Support für Sylvan Esso und Zoot Woman unterwegs waren, steht ein weiterer umfangreicher Tourabschnitt im Frühjahr 2018 bevor.

Außerdem veröffentlicht die Band mit "My Secret Beating" eine neues Stück als Single, das nicht auf dem Album enthalten ist. Auch in diesem spürt das gemeinsame Bandrojekt der in Berlin lebenden und arbeitenden Musiker Douglas Greed und Fabian Kuss in regnerischer Electronica der Schwere von Bruch und Ende nach. Wenn auch äußerlich etwas positiver klingend als das Material auf dem Album, wird in "My Secret Beating" der Moment besungen, in dem man feststellt, dass die Person, die man unfassbar anhimmelt, nichts für einen empfindet, dass man dieser Person gar nichts bedeutet. Alles Gesagte bedeutet gar nichts. Die Enttäuschnung darüber ist so groß, dass man sich einfach langsam auflöst.

Elektronische Musik mit klassischen Songstrukturen zu einem klugen und mitreißenden Hörgenuss verschmelzen, ist das Anliegen von Yeah But No. Das Dou aus Berlin besteht aus dem Techno-Produzenten und Musiker Douglas Greed und Sänger Fabian Kuss. Ersterer hat sich bereits mit Veröffentlichungen bei BPitchControl, Noir, Freude Am Tanzen oder Cocoon Records einen Namen in der Techno-Szene gemacht und zuletzt zusammen mit Mooryc ein Album mit dem gemeinsamen Projekt Eating Snow veröffentlicht.

Das Duo lernt sich vor vier Jahren kennen, als Greed einen Sänger für seine Tracks sucht. Das geschmackvolle Erfolgslabel Freude am Tanzen veröffentlicht zu diesem Zeitpunkt seine Musik und er tourt damit quer durch Europa, spielt in Mexiko und sogar Australien. In Fabian Kuss findet er das passende Gegenüber. Dieser hat nicht nur Gesang studiert, sondern ebenfalls schon auf Bühnen in allen Ecken der Republik gestanden und mit seinen Bands Musikstile von Jazz über Funk bis Pop erforscht.

Zeitgelich zu ihren Touraktivitäten arbeiten Yeah But No gerade an den Stücken ihres zweiten Albums, das im November 2018 erscheinen wird.


Yeah But No from Berlin released their self-titled debut album in November, accompanied by a couple of singles singles, and a nice remix EP with contributions from label mates Lessons, from Phonique and Ruede Hagelstein. After touring on their own and as support for Sylvan Esso and Zoot Woman, another extensive tour segment is due to begin in the spring of 2018.

The band also releases "My Secret Beating", a new single track, which is not included on the album. Although sounding a bit more positive than the material on the album, "My Secret Beating" is about the moment when you realize that the person you adore is not feeling anything like you. in fact you mean nothing to that person. Anything said means nothing. The disappointment is becoming so great that you slowly dissolve.

Merging electronic music with classic song structures into a smart and captivating listening enjoyment. That's Yeah But No's objective. The duo from Berlin is comprised of techno producer Douglas Greed and singer Fabian Kuss. The former made a name for himself in the techno scene and recently released an album together with Mooryc with their mutual project Eating Snow.

The two get to know each other four years ago when Greed was looking for a singer for his tracks. Tasteful success label Freude am Tanzen releases his music during that time and he tours through Europe, plays in Mexico and Australia. In Fabian Kuss he finds the matching counterpart. Not only has he studied voice but also stood on stages all across the country and explored musical styles from jazz to funk and pop with his bands.

In addition to their tour activities, Yeah But No are currently working on the tracks of their second album, which will be released in November 2018.


GET THIS NICE RECORD!

Download / Stream via smarturl.it/MySecretBeating

LINKS:

www.facebook.com/yeahbutnomusic
www.instagram.com/yeahbutnomusic
COVER PICTURE:

My Secret Beating Cover

BAND PICTURES: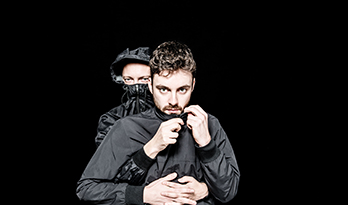 Yeah But No Pic 1
Yeah But No Pic 2
Yeah But No Pic 3

Pics by Anna K.O.

VIDEO:


DATES:

No dates at the moment
RELATED RELASES: