01. Renew Me (Miyagi Remix)
02. Leave The (Dark The Micronaut Remix)
03. In Your Sheets (Schlepp Geist Remix)
04. The Way We Chose (Dapayk Remix)
Release: 22.02.2018
Yeah But No announce the release of "Remixes II", the second one of two EPs containing contributions by friends made along the way, and artists Yeah But No became friends and fans of. This time the likes of Miyagi (Einmusika, Katermukke, Soso), The Micronaut (3000° Records, Freude Am Tanzen), Schlepp Geist (Katermukke, Fenou, Ursl), and Dapayk (Mo's Ferry Prod., Fenou, Stil vor Talent) deliver a wide range from elegant deep house to fiddly electronica to hypnotic techno, making this EP again a tasteful listening pleasure.

Yeah But No from Berlin released their self-titled debut album in fall 2017, accompanied by extensive touring. Merging electronic music with classic song structures into a smart and captivating listening enjoyment is the band's objective. The duo from Berlin is comprised of techno producer Douglas Greed and singer Fabian Kuss.

The two get to know each other five years ago when Greed was looking for a singer for his tracks. Tasteful success label Freude am Tanzen releases his music during that time and he tours through Europe, plays in Mexico and Australia. In Fabian Kuss he finds the matching counterpart. Not only has he studied voice but also stood on stages all across the country and explored musical styles from jazz to funk and pop with his bands.


GET THIS NICE RECORD!

Download / Stream via smarturl.it/YeahButNo-Remixes2

LINKS:

www.facebook.com/yeahbutnomusic
www.instagram.com/yeahbutnomusic
COVER PICTURE:

Remixes II Cover

BAND PICTURES: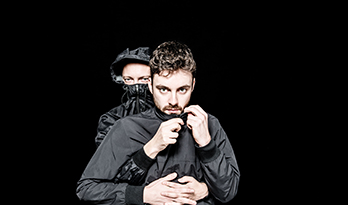 Yeah But No Pic 1
Yeah But No Pic 2
Yeah But No Pic 3

Pics by Anna K.O.

VIDEO:


DATES:

No dates at the moment
RELATED RELASES: