01. Manches Ist OK
02. Die Lustigen Fünf Minuten
03. Der Gummipeter
04. Achtzig Mehr Als Zehn
05. Banone
06. Achtung! Frau Spinne!
07. Sechs Millionen Dollar
08. Zwei Lange Hankel
09. Endlich M.J. Endlich
10. Je Suis Deux Baguettes
Release: 25.10.2017

The long lost art of Analog-Live-Elektro. AMPL:TUDE veröffentlichen ihr viertes Album namens "ENDLICH MITTWOCH". Ein ungeschrubbter Juwel organisch-elektronischer Musik.

Der Beat rumpelt köstlich unter freudig aus Oszillatoren gekitzelten Melodien. Die Akkordarbeit besteht auf Lässigkeit und der schöne Bögen schlagende Cut-Off-Regler des Synthis winkt dir verschmitzt zu. In diesen Stücken kommen die große Geste und das gekonnt Klapprige zusammen, um mit dir zu feiern, dass manches ganz einfach echt OK ist. Ampl:tude interessieren sich immer noch nicht für Breitband-Elektro oder Kompromisse in Richtung 'funktionierendem' Sound. Auch nach über 15 Jahren Bandgeschichte wird auf gebügelte Fatness und Quantisierungssterilität verzichtet. "Endlich Mittwoch" ist was die musikalischen Einflüsse angeht: eklektizistisch, was die entstandenen Songs angeht: vielfarbig, entspannt ungestüm und eigen.

Es ist das jüngste Album und doch die große Schwester der früheren Platten. Zu naheliegenden Computerspielmusik-Referenzen gesellt sich auf "Endlich Mittwoch" eine Prise Soul, ein Esslöffel Post-Rock und ein Kelle Noise-Bastelei. Die altehrwürdigen Geräte aus dem Analog-Synth-und-Keyboard-Fundus der vier Berliner zog sich für ein Weilchen zurück, um sich in Ruhe mit ein paar neuen Sounds und befreundeten Instrumenten zu lümmeln. Das Ergebnis ist ein gereiftes, sehr gute 40 Minuten langes Album, dem man anhört, dass sich über die letzten Jahre eben auch auf das konzentriert wurde, worum es auf "Endlich Mittwoch" geht: die Sorgen der kleinen Leute. Studien abschließen, Jobs schmeißen, neu angefangen, Kinder kriegen, die Stadt verlassen, bleiben, Lehrer werden, Kunst machen, Pizza ausliefern, Baguette kaufen und - wenn es passt - den Gummipeter tanzen. Ampl:tude schicken uns durch einen genauso liebevoll hingeworfenen wie penibel gepflanzten Park aus ehrlich-ernster Quatschigkeit und Geschichten erzählendem Handgemachten. Wir hören live gespielte Elektronik, sprudelnde Knertzereien, auf die 12 gehende Grooves und melancholische Parts neben euphorischer Zappelei. Und dann ein Moment der Erkenntnis: Solche Musik... macht sonst niemand! No Shit. Diese Platte mag Fragen aufwerfen: Hört man da ein Vibraphon? Ist das John Cage's Toy-Piano? Singen die da eine DDR-Puppen-Melodie? Haben die tatsächlich das cool-krepelig gespielte Solo auf Vinyl gepresst? Kommt da der Beat nicht zu spät rein? Kenn ich die in Hall gekleidete Klaviermelodie nicht vom ersten Album?

Alles ist möglich. Es ist Endlich Mittwoch!


The long lost art of analogue live electro. AMPL:TUDE are releasing their fourth album called "ENDLICH MITTWOCH" ("Wednesday at last!"), a raw masterpiece of organic electronic music.

Here's the beat, rumbling deliciously beneath melodies joyously tickled from oscillators. Here's the casual chord work and the cheeky wave and marvellous curves of the synth's cut-off knobs. In these songs, the grand gesture and the skilfully clumsy come together to celebrate with you: some things really are okay! Ampl:tude still don't care about broadband electro or any compromise to make their sound, you know, "work". Even after more than 15 years as a band, these guys steer clear of polished fatness and sterile quantisation. In terms of musical influences, "Endlich Mittwoch" is an eclectic album. Its songs: colourful, relaxed, impetuous, idiosyncratic.

It's their latest album. And yet, it's also the big sister to all their earlier releases. On "Endlich Mittwoch", the obvious video game music references welcome a new pinch of soul, a tablespoon of post-rock and a helping of noisy tinkering into the mix. The time-honoured devices from the analogue-synth and keyboard collection of the four Berliners have spent some time away. In a quiet place, they hung out with a few new sounds and their instrument friends. The result: a mature and very good 40 minutes that betray how the last years have been spent focusing on what "Endlich Mittwoch" is about: everyday worries of everyday people. Getting degrees, quitting jobs, starting over, having kids, leaving town, staying in town, becoming teacher, creating art, delivering pizza, buying baguettes and - whenever it suits the occasion - doing the rubber peter. Which sounds so much naughtier in English than it does in German.

Ampl:tude send us on a walk through a park full of honest and serious nonsense and handmade things full of stories, lovingly tossed into being, meticulously planted. Here's live electronic music, bubbling Knertzisms, bull's-eye grooves and melancholy next to euphoric fidgetries. And then: a moment of clarity. This music... no one else really does it like they do. No shit. This record also raises questions: Do we hear a vibraphone? Is that John Cage's toy piano? Are they singing a GDR doll melody? Did they really press this cool, bumbling solo onto vinyl? Isn't this beat coming in a bit late? Don't I know this reverb-drenched piano melody from their first record?

Hey, everything is possible! It's Wednesday at last!


GET THIS NICE RECORD!

Download / Stream via smarturl.it/EndlichMittwoch
LP via knertz.de
Tape via froggirecords.de
VIDEO:


LINKS:

www.elektro-on.de
www.facebook.com/ampl.tude

COVERPICTURE:

Endlich Mittwoch Cover

BANDPICTURES: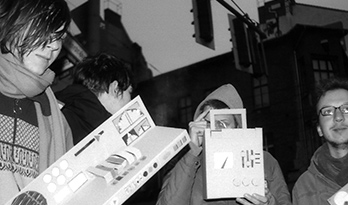 Ampl:tude Pic
Pic by Robert Boede
DATES:

No dates at the moment
RELATED RELASES: